It's great to be able to use two monitors at the same time. It not only expands your Windows desktop view but also makes a lot of tasks easier for you. Whether you are in IT, animation, or in any other field, dual monitor setup is extremely helpful for professionals.
This setup helps you work with different programs at the same time in full screen. It's like having two video displays connected to each other for those who want to have an expanded view. However, the downside is, there are not many settings for configuring more than one monitor setup. Another downside is that there's no taskbar in Windows 7 on the second visual display. In fact, you have to quite literally struggle with the several functions like moving one application from one monitor to other, difficulty in stretching an application across both the displays, etc.
So, how do you tackle these situations? The best way to overcomes these challenges is to use a dual-monitor software on Windows. They help you in many ways like stretching the taskbar across all the added displays, insert additional title bar options, and more.
Here is a quick list of some of the best dual monitor tools that not just offer added features, but can also be pocket-friendly.

As the name suggests, Dual Monitor Tools is one of the best software in the category. It features hotkeys that help you to move windows around from one monitor to the others. It also limits the movement of the mouse/cursor among the monitors and comes equipped with other features like the wallpaper designer and changer, screen recording tool, and application launcher.
While it lets you move Windows swiftly among the different monitors, it also fixes the cursor over a monitor. Alternatively, it can also limit the movement of cursors between monitors. Additionally, it can also capture images from the main display and project on the connected displays. It can also push applications to start on a specific display.
What's more? It also helps you create customized wallpapers with different images on each display. Alternatively, you can also extend the current wallpaper to a secondary monitor. Option to change wallpapers time and again, and a bunch of new hotkeys for Windows XP and Vista users, are some of its other key features.
Price: free and open source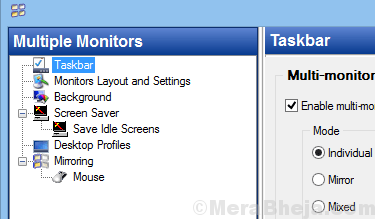 This software is perfect for those working on multiple monitors and on Windows OS. It focuses on improving the Windows user interface as you work on different monitors at the same time. This software comes equipped with all the required functions like the Start menu, system tray, taskbar, and task switcher for multiple VDUs on all the linked monitors.