Whenever you are buying a new computer/hard disk it's quite common that you may need to either create additional partitions, shrink/delete the current ones. Hard disk partitions are as if having separate hard disks.
So, how do you achieve that? If there are any unassigned spaces in the hard disk, you can generate partitions from these, once you have logged in as an administrator. However, if space is completely taken up, you can create a slot by re-sizing the partitions (decreasing or removing).
Why do you need to create partitions?
The key reason to create partitions is to disconnect user files from operating system files that help the user files to remain in place whenever you need to re-install your operating system. Also, separating the user files from one partition and moving it to another that manages the operating system, allow you to arrange for a multi-booting system from a single hard disk.
There are many of us who are comfortable using the integrated "Disk Management" tool that can be launched by entering the command "diskmgmt.msc", but it's just a basic tool with limited features. That's why there also many of us who rather prefer getting a third-party partition manager that can fulfill your requirements effortless and for free! These usually offer additional features and are user-friendly. So let's get going with the top free partition manager for Windows..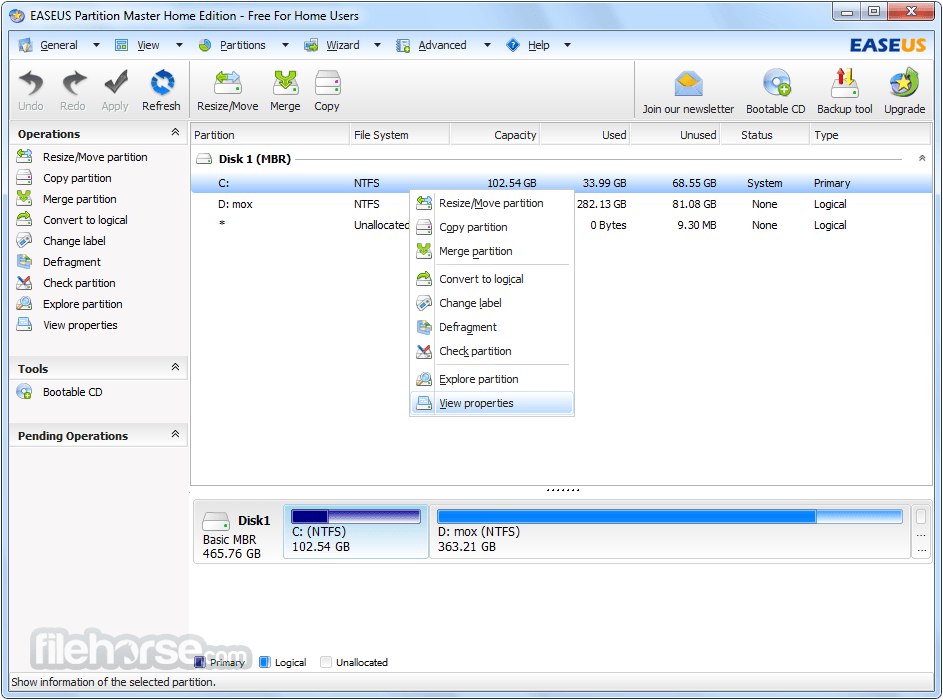 EaseUs Partition Master Home Edition is hands down, one of the most powerful and user-friendly software for disk management that is available for free. What makes this easy to use is the known design consisting of the hard disk map, along with a complete User Manual and many other Help options for you start comfortably. This freeware helps you copy, shrink, delete, move, manage, or format disk partitions strongly as it's paid competitors.
It comes with an intuitive interface that presents the options in a clear manner and ready to go. Carry out all that you want like, moving, merging, checking, searching, changing labels, resizing, converting or copying the partitions easily from the interface. You also have the option to defragment so that you can preserve your files in a single location.
Manage your partitions both graphically and numerically suing the EaseUs Partition Master Home Edition and you will not be prompted to restart your PC during the NTFS partition resizing process. If that's not enough for you, you can even retrieve the deleted or lost partitions using the partition recovery solution. You can look for the lost/deleted partition inside the unassigned space of the hard drive and enliven them up using the Disk Clone utility. That's not all, as this free software also assists you to migrate all your data from the existing disk to the one that is newly bought while you can reboot from the same.
Make use of the wizard available on the toolbar that helps move your OS to a new Hard Disk Drive or to a blazing-fast SSD. Get a Business License with the free version in just a few clicks.
Download: http://download.cnet.com/EaseUS-Partition-Master-Free-Edition/3000-2248_4-10863346.html
Compatibility: Windows 2000/XP/Vista/7/8/10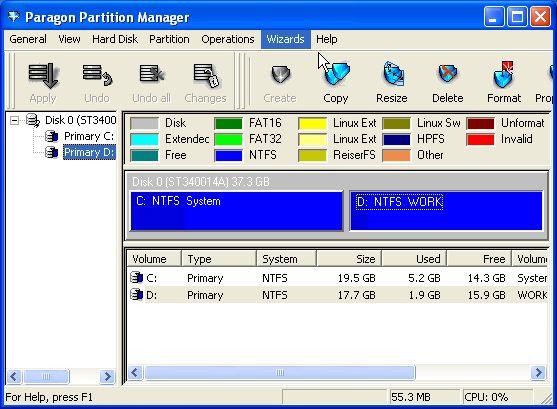 Create, resize, copy or remove partitions effortlessly with Paragon Partition Manager. It's one of the few utilities that carry out analytical hard disk functions carefully and without making any changes to user data. It comes with comprehensive features and manages to migrate, shrink, delete or enhance partitions effortlessly using integrated wizards that take you through each step of the operation.
It scans your hard disks to find out current partitions and any free space. You simply need to verify some of the essential options and the application will perform the rest of the functions. Not just that, you can also make the Windows disc available to Mac or Mac disks that can be used in Windows, via the integrated NTFS/HFS+ conversion utility.
The graphical user interface of the Paragon Partition Manager is straightforward, well-ordered, offers shortcuts to all of its wizards. The software is easy to install with the standard installation process. Whether you want to create a new partition, merge, shrink or delete it, it can be easily performed without any hassle, However, if you face any difficulties during the process you can seek helps from their support team.
You can migrate the data to a new hard drive (of any size) while you are copying or moving the section. You can also create a copy of the partition while you can easily backup your data using Backup and Rescue functions, and even burn a bootable SystemRescueCD. You can configure the boot criteria of your systems operating system with the help of the Boot Mangement section, while you can get ready for the installation of the new operating system.
Download: http://download.cnet.com/Paragon-Partition-Manager-Free-Edition-64-bit/3000-2248_4-10904411.html
Compatibility: Windows XP/Vista/7/8/10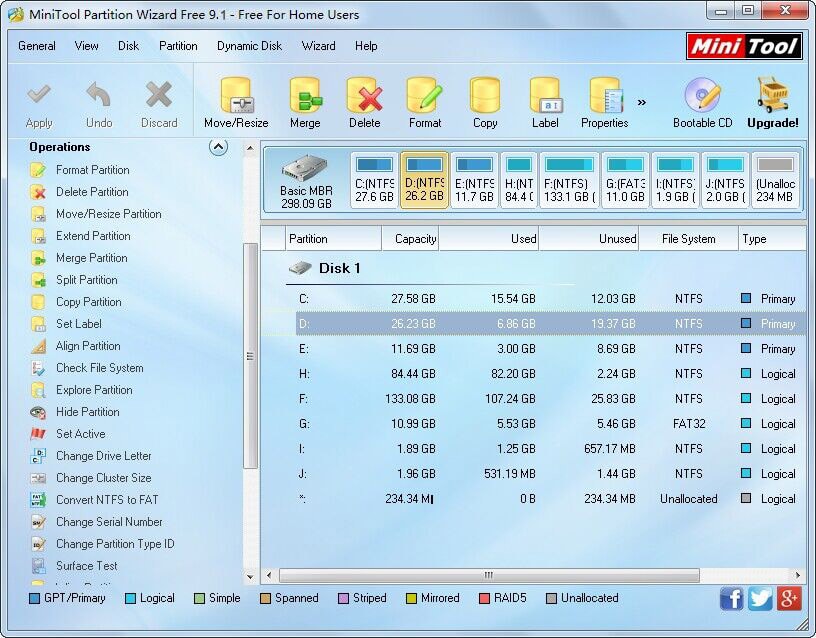 Whether you are a home user, professional user or a system administrator, Partition Wizard by Minitool can be your best bet hands down. This free, user-friendly and Windows based software helps you to perform actions related to partitions conveniently. It is compatible with both MBR and GUID partition table setup that runs on 32 or 64 bits Windows platform.
It offers robust and professional features that help you to administer partitions that include activities like, Create, Migrate, Shrink, Delete, Copy, Convert, Explore, Format, recover partitions and many more functions. You can perform partitioning activities quickly and safely with this freeware. It comes with a built-in Enhanced Data Protecting Technology that helps protect your data during power cuts or hardware crash.
If you are a home user, you can execute even complex partitioning activities using this application that helps you manage your disks. While you can carry out almost all critical partitioning activities with Partition Wizard Free Edition, you can also use the "Align Partition" wizard to enhance the performance of SSD inout/output or convert FAT/FAT32 to NTFS files without the disk command option.
Download: https://www.partitionwizard.com/free-partition-manager.html
Compatibility: Windows 2000/XP/Vista/7/8/10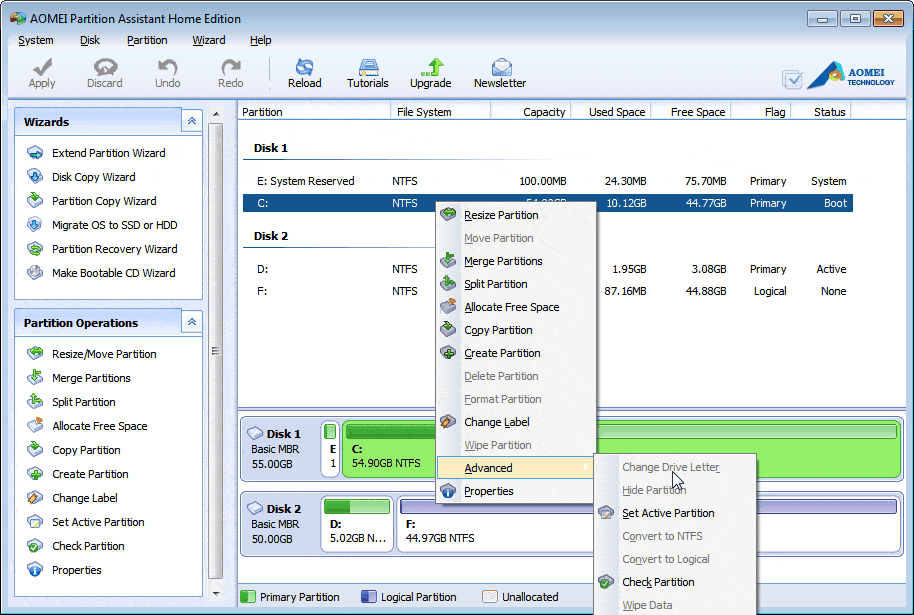 A free partition manager, AOMEI Partition Assistant Home Edition enables you to manage your disk space with convenience irrespective of your previous expertise. The best part is that if you know how to manage things you can easily use the state-of-the-art feature like, file system converter. On the other hand, you can choose to be guided through different commonly used operations using step-by-step guide.
It comes equipped with eight successive wizards that take you through some of the usual utilities. These utilities guide you through some of the usual disk operations like, copying the disk, enlarging a partition, recovering partitions and building a Windows To Go disk. The software also allows you to backup files by duplicating the drive keeping the same data on the both the disks. In situations where you cannot see any data in the sections, you can simply copy the information here. This helps save data from a damaged hard drive easily.
AOMEI Partition Assistant Home Edition lets you manage and carry out several activities on your HDD partitions like, Copy, Merge, Resize, Extend, Migrate, or Create new partitions, and also other operations like, disk surface testing, formatting, hiding, deleting partitions, copying the entire disk, checking partitions, assigning free space from one partition to another, and many more.
Download: http://download.cnet.com/AOMEI-Partition-Assistant-Standard-Edition/3000-2248_4-75118871.html
Compatibility: Windows 2000/XP/Vista/7/8/10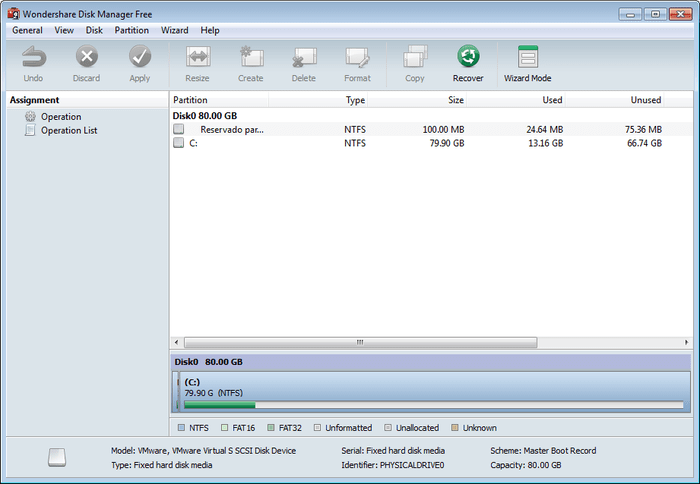 Wondershare Disk Manager Free is a software that's easy to use and can be used by beginners and experts alike to manage their computer's hard disk partitions. It offers some real comprehensive set of wizards that helps you to perform operations like, creating partitions, copy, resize, move, delete or recover partitions effortlessly. Above all, it helps retain your important data and saves it from getting lost in the process of partitioning.
Whether you create a fresh partition or re-partition it for better usage, delete one or all partitions, shred data in the partition, enlarge a partition or shrink it with no data loss, copy a partition while you create a backup, retirive lost partitions caused due to virus attack, mishandling or hardware crash, convert FAT16 or 32 file system to NTFS, let the PC boot from the active partition, format or hide/unhide partition, Wondershare Disk Manager Free gives you the freedom to perform all possible partitioning action on your hard disk.
With the function Disk Copy and Management you can copy the data on your computer's hard disk for backup purpose or upgrade to a new hard drive, and remove all partitions at once. Also, using the five intuitive partition tools you can perform the Multiple Partitioning Tasks easily while your important data is still intact.
Download: http://download.cnet.com/Wondershare-Disk-Manager-Free/3000-2248_4-75326772.html
Compatibility: Windows 2000/XP/2003/Vista/7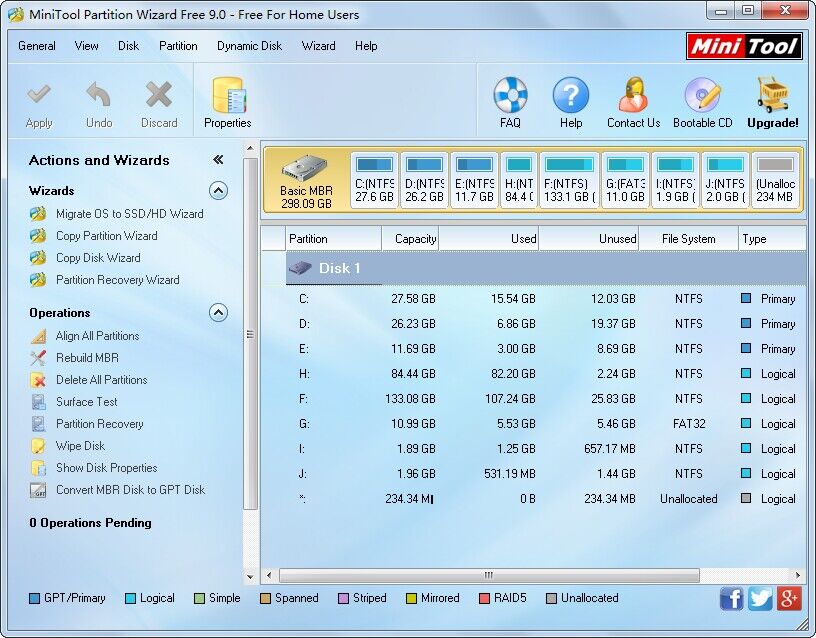 Maximize the potential of your computer's hard disk drive and help your PC to run smoothly by tracking its status using the free software, Minitool Partition Wizard Home Edition. What's good about this freeware is that it comes with an extremely simple interface that makes it a cakewalk even for the beginners to look for the wizards. The GUI offers a platform with a state-of-the-art and crisp look with the options arranged in a well-ordered manner and highlighted with intelligent symbols.
You can find all the identified storage devices at the center with supported details like the free space or used space, file type, system, and also the status. You can conveniently carry out the partitioning actions from the context menu of the software, or by selecting options from the toolbar. Moreover, this free application comes loaded with several handy features like, merge partitions, converting partitions, and dynamic disk operations that are available only in other advanced applications.
You can take advantage of its different handy features such as, changing the label, copy data from hard drive, format hard drives, surface testing action, and many other functions. You can also use a few utilities to copy disk data, partitions or even retrieve the entire data within the partition.
The action that you choose to be performed, gets stored in a queue until any further action is taken. Unless you select the "Apply" button, there will be no changes applied to the drives. Therefore, this helps your important data from being lost or damaged.
Download: http://download.cnet.com/MiniTool-Partition-Wizard-Free-Edition/3000-2094_4-10962200.html
Compatibility: Windows 2000/XP/Vista/7/8/10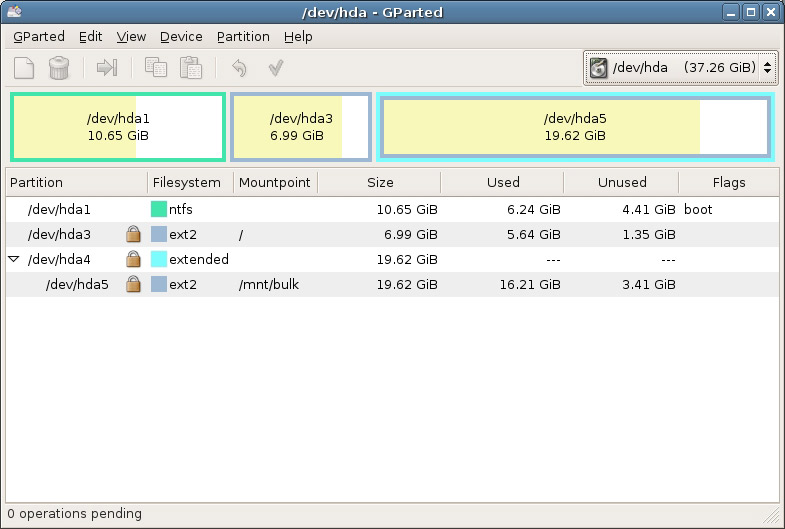 A GNOME ( Linux based) partition editor, GParted helps manage your hard disk drive partitions graphically and for free. You need to unzip this application's ISO file and burn the file to a CD so that it can launch on boot and can be used. The best part is that, to use this software you do not need to have any prior knowledge about Linux, as it comes with an extensive help manual, support from the team, and a guiding interface that helps you to perform the partitioning tasks easily.
With this application you can copy, migrate, extend or shrink partitions without losing any of your critical data. This helps create space on your partitions for the new OS, recover data from lost partitions, and extend or shrink the C: drive. It also allows you to perform various other operations such as, check partitions, label them, copy and paste partition data, set fresh UUID or create partition table while you enable/disable the boot and hidden options (partition flags).
It supports several types of file systems like Fat16/Fat32, NTFS, HFS/HFS+, NILFS2, BTRFS, UFS and more. The software needs to be booted from a CD or from some similar source to be able to manage your hard drive. This process becomes much easier with its intelligent interface. While GParted Live can be installed and executed from a CD or something similar, it can also be executed from a hard disk, USB drive or PXE server.
With several help resources available for this freeware for installation and usage; you will not face any difficulties using this. It also comes along with graphical help, command line wizards, boot parameters and forums for your guidance.
Download: http://download.cnet.com/GParted-Live/3000-2094_4-10698802.html
Compatibility: Windows XP/Vista/7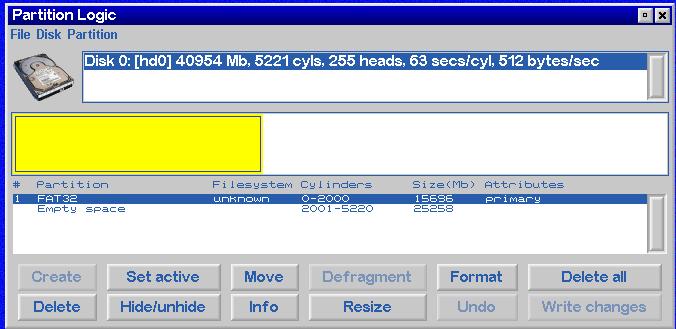 Partition Logic is a free tool that provides services for hard disk partitioning and data management. You can create, move, shrink, delete, copy, resize, format, or defragment partitions and even make any changes to their aspects. Not just that, it can even copy the entire data from one hard disk to another.
This application can be set up either from a CD or from a floppy disk and works as a separate program independent from the usual operating system. The best part is that it works with most elementary computer hardware and it does not even need any added configuration. It requires 32 MB RAM memory, Pentium class/x86 processor, IDE/SATA/USB disks, and similar configurations to run.
While the application boots, you will be able to see the size and type of partition, filesystem, cylinders and aspects. Additionally, you can also use this tool to turn a specific partition active in just a single click of mouse. In situations when you need to use any files or migrate data from the desired partitions while the program is functioning, you can make use of some of the tools offered by the program that can help you to perform the tasks easily.
Download: http://download.cnet.com/Partition-Logic/3000-2248_4-10503522.html
Compatibility: Windows 95/98/Me/NT/2000/XP/Vista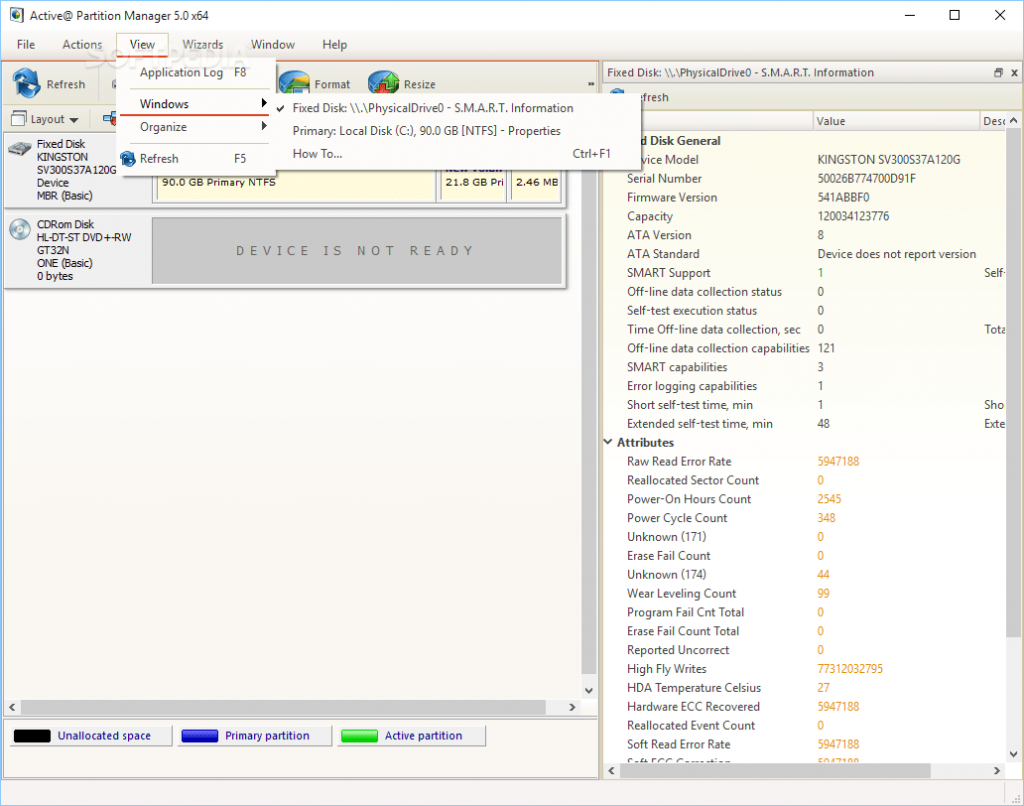 If you are looking for an advanced hard disk management software, Cute Partition Manager is the right bet for you. With this, you can create, copy, move, delete or manage the hard disk partitions on your PC without any hassle. Most of the computer hard disks have enough space to easily allow more than two operating systems to be fitted in, therefore, there's a need to partition the space efficiently store and accommodate huge amounts of data or fit I more than one operating systems using this free tool.
It comes with DOS circa 1994 interface that offers simple text with a solid backdrop. The best part is that the interface is stuffed with effective information. It quickly detects any of the hard drives on your computer. You can view all the details at one glance such as the type of the boot, partition, start and end of the partitions, file system and the overall size. Functions are pretty quick to handle such as, adding or modifying partitions is really smooth. The elementary partitioning features are most of the times better than the DOS functions and are easy to fix. The best part is that you can add over 100 partitions per disk and even view the changes in advance. However, the only downside is that you cannot merge or resize partitions with this tool.
If you are a fan of ISO images, you will be glad to know that you can create CPM's ISO from the interface straight away.
Download: http://download.cnet.com/Cute-Partition-Manager/3000-2094_4-10605516.html
Compatibility: Windows 3.x/95/98/Me/NT/2000/XP/Vista
A robust partitioning manager with a great level of control for running several operating systems like Windows, FreeDOS, Linux and FreeBSD, Ranish Partition Manager is a good option for free. It is created to help you with creating, resizing and removing partitions without any loss of data. It comes with command line interface and simulation mode which are compatible with bigger files. This is to ensure that you can harmlessly analyze before performing any action on the partitions in the actual hard drive.
While it formats partitions like FAT16 and FAT32, it also lets you copy the partition data and duplicate the disks. It comes attached to a Boot manager that lets you install more than one operating system on the same hard disk drive.
Download: http://download.cnet.com/Ranish-Partition-Manager/3000-2248_4-10031986.html
Compatibility: Windows 98/NT/XP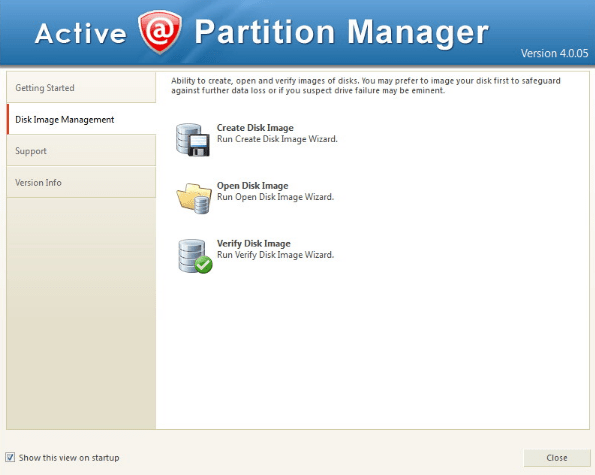 Active Partitions Manager is equipped with a straightforward interface that controls all the operations from a single pane that lets you access easily. If any of your external media storage devices is connected to the computer, it will be detected immediately as it supports portable drives.
You can add new partitions, or remove the current ones with the help of the commands that are queued in the main window in an orderly manner. You can also this freeware to format partitions and also the logical drives, while it works in sync with file systems like FAT 16, FAT 32, and NTFS. This software can help you to find more details about the partition or modify its aspects. Moreover, it also offers the facility to view and edit the boot sector values.
While adding new partitions, you can choose among the Primary, Extended or Logical to manually set the partition geometry and use it as measurement units like sectors or megabytes. That's not all, as using this free utility you can also allocate any drive that is available to the freshly added partitions and label them as Active. For the formatting options, Active Partition Manager offers elementary settings like selecting the file system, assigning the size of the unit and writing a volume label.
Download: http://download.cnet.com/Active-Partition-Manager/3000-18512_4-75532380.html
Compatibility: Windows 98/Me/NT/2000/XP/2003/Vista/7