Your system privacy is of utmost important to you, especially when you have sensitive data stored in it. Most of us are habituated to store photos, videos, official data, files, and more on our Windows systems and we want that data to stay safe from unwanted access. Windows Defender is one very useful Windows built-in utility that provides the 1st line of safety to your system.
However, when some users are opening the Windows Defender app, under the Virus and threat protection section, they find a message that says "Your Virus And Threat Protection Is Managed By Your Organization". Fortunately, there is a fix for the "Your Virus And Threat Protection Is Managed By Your Organization" error in Windows .
This error is usually caused by malwares which insert registry entries in registry editor.
Let's see how to get rid of it.
Solution: Using the Registry Editor
Before you make any changes to the Registry Editor, make sure that you create backup of the registry data. This is to ensure that in case, you lose any data in the process, you can recover the lost data.
Step 1: Go to Start and type Regedit in the search box.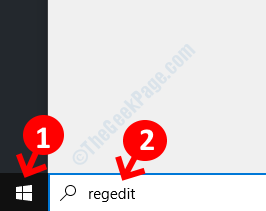 Step 2: Left-click on the result to open the Registry Editor window.
Step 3: In the Registry Editor window, navigate to the below path:
HKEY_LOCAL_MACHINE\SOFTWARE\Policies\Microsoft\Windows Defender
Now, go to the right side of the pane, select the  DisableAntiSpyware value and hit Delete.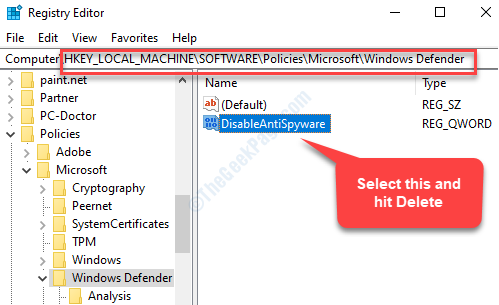 Now, exit the Registry Editor and restart your PC for the changes to be effective. Go back to your Windows Defender app and you should no more see the error message below the Virus and threat protection section. You can now find all the options below it and you can now run a scan or modify settings like before.
Note: – If this problem persists try to uninstall any program in the past which you may have installed and is capable of acting as a malware.