Windows users can manage their system startup using a small, handy tool named System Configuration. But, if you have misconfigured the startup on your computer, your computer may stuck at the Selective Startup configuration you have set! Your computer won't boot normally until you take the matter into your own hands. So, without ado, follow these steps to get back to your system once more.
NOTE –
There are several types of system startups that your machine may use. These three startup options are –
Normal startup – Normal startup, as the name suggests is the startup your computer normally does.
Diagnostic startup – This startup boots up the system with only the main system services. In this method, other interference of third-party drivers won't affect any diagnostics scan you may run.
Selective startup – This startup is meant to give users more control over their startup choices.
How to get back to the Normal startup using MSCONFIG
It is very easy to get back to the normal startup. Just follow these easy steps to fix the problem.
Method 1 – Use normal startup
The first method you should try is to use the normal startup using the System Configuration page.
1. Using the search box, type "msconfig".
2. Then, tap "System Configuration" on the search results to access it.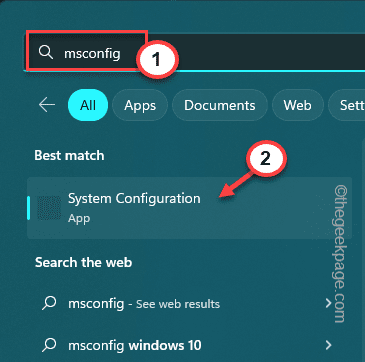 3. Now, go to the "General" tab, if you aren't already there.
4. Just, make sure to check the "Normal startup" option.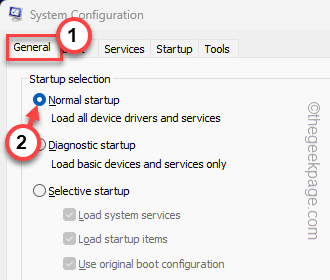 5. Then, tap "Apply" and "OK" to save the modifications.

6. As soon as you hit the OK button, a prompt to restart your computer will appear.
7. So, tap "Restart now" to reboot the system.

Now, your machine starts up normally.
If this doesn't work, follow the second method to clear out the advanced boot settings and retry.
Method 2 – Clean Advanced Boot settings
1. Use the Windows key and the R keys together to bring up the Run box.
2. Then, type this there and hit the "OK" button.
msconfig

3. This opens up the System Configuration utility page.
4. Here, head on to the "Boot" section.
5. Now, click on "Advanced Options…" to open it.

6. On the BOOT Advanced Options page, make sure to uncheck all the boxes to disable any modifications.
7. Then, click "OK" to save this change.

8. After that, tap "Apply" once and then, click "OK" to save the changes.

9. You will see a prompt with the following message –
You may need to restart your computer to apply these changes. Before restarting, save any open files and close all programs.
10. So, tap "Restart" to restart the system instantaneously.

When your computer restarts, you will notice it is starting up normally.