Is the WhatsApp icon missing from the Home page of your mobile screen? This will take you longer than usual to open the WhatsApp at the time of need, ultimately affecting your productivity. It is extremely easy to bring the WhatsApp icon back to the Home page on your Android phone. Just follow our guide to do this.
Fix 1 – Check if WhatsApp is hidden
If you have hidden WhatsApp from your App Drawer, you may not find the WhatsApp icon no where on your phone.
NOTE – We have demonstrated these steps on an OnePlus device featuring Android 12. If you are using a different smartphone, the steps will be almost same on other devices also.
Step 1 – Pull down from the top of the screen to see the Settings icon.
Step 2 – Tap the ⚙️ to open it.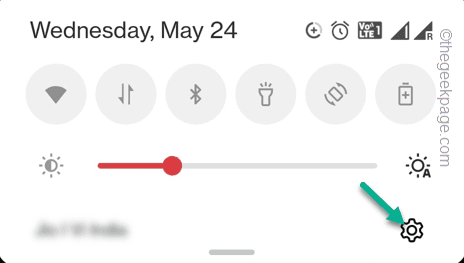 Step 3 – Now, search for "Hide apps" using the search box.
Step 4 – Tap "Hide apps" when you see it.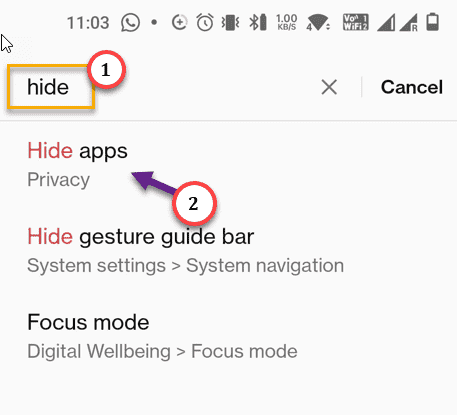 [If the Settings on your phone doesn't have a search bar to begin with, you will find it either here –
Settings > Home screen
Or, in here –
Settings > Privacy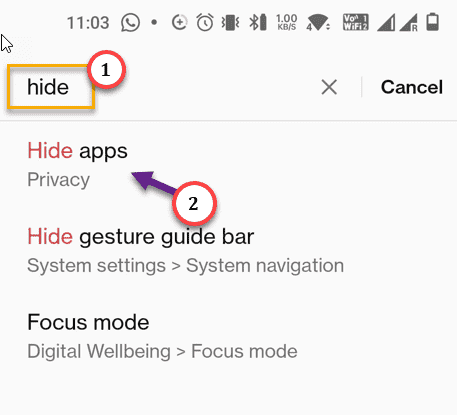 ]
Step 5 – Open "Hide apps" settings.

Step 6 – You have to enter your privacy password (for some users it can be the PIN or Pattern).
Input that password and you will be inside the Hide Apps page.
Step 7 – Here, you can scroll down through the entire list of apps or head on to the "Hidden" tab.
Step 8 – However, stop when you have found "WhatsApp". Just turn off the hidden feature for it.
Some users may have to enter the privacy password once more to make this change.

Now, go back to the App Drawer or the Home Screen page. You will see WhatsApp icon again!
Fix 2 – Manually add the WhatsApp icon to the Home
Can you see the WhatsApp on the App Drawer, but not on the main home screen? Then, you have to manually add the WhatsApp icon to the main home screen.
Step 1 – Locate the WhatsApp icon on your App Drawer.
Step 2 – Then, right-click that and tap "Add to Home Screen" option to add the app directly to the home screen.

If you don't any such options, drag WhatsApp icon from the App Drawer and place it on suitable position on the Home Screen.

This way, you will have the WhatsApp at your fingertips.
Hope this helps!