How many times you have tried to search something directly from your search box and Microsoft Edge has shown that same annoying prompt "Use Microsoft recommended browser settings"? The never-ending prompt comes as Microsoft is urging their best to make you use their Microsoft Edge as the default browser and the Bing as the default search engine, even if you don't want to! Don't worry, we understand your frustration of seeing the same message again and again. Just follow these detailed instructions to solve the problem quickly.
How to disable the 'Use recommended browser' settings prompt in Microsoft Edge
Follow these steps minutely –
Step 1 – Update Edge to the latest version
At first, you have to make sure that you are using the latest version of Microsoft Edge.
1. Open the Microsoft Edge.
2. Then, click on the three-bar menu on the right-hand corner and click on "Help and Feedback".
3. After that, click on the "About Microsoft Edge".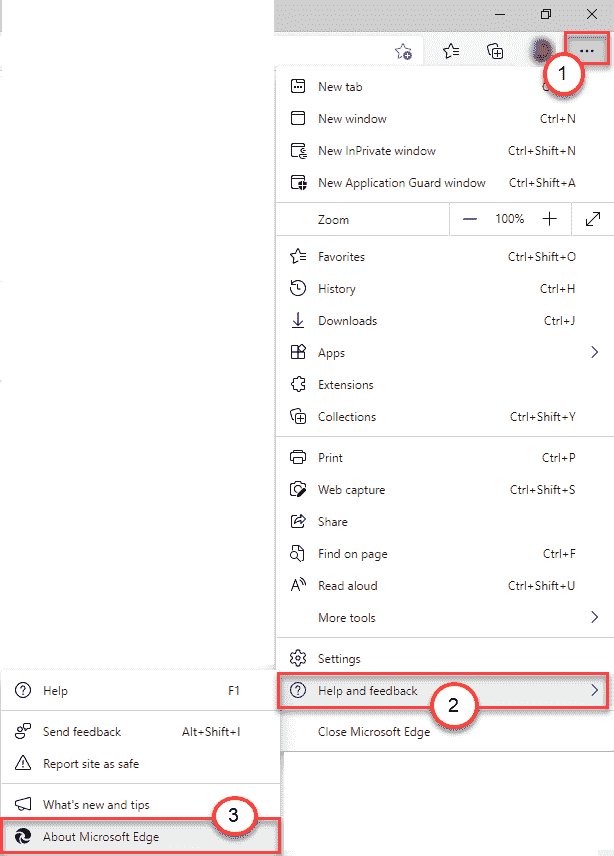 4. On the right-hand pane, you will notice that Microsoft Edge is downloading the latest version automatically.
6. Once the update is installed, just click on the "Restart".

Now, proceed to disable the annoying prompt.
STEP 2 – DISABLE the prompt
You have to disable a particular flag in Microsoft Edge.
1. Open the Microsoft Edge on your computer.
2. When the Edge opens up, paste this line in the address bar and hit Enter.
edge://flags/#edge-show-feature-recommendations

3. The flags page will open up.
4. You will notice that the "Show feature and workflow recommendations" flag in the list of flags.
5. Click on the drop-down and choose the "Disabled" from the drop-down.


6. You will notice a prompt has appeared at the bottom of the Edge browser.
7. Just click on "Restart".


This will restart the Microsoft Edge on your computer. Once the Microsoft Edge relaunches, check if you are still seeing the default browser prompt and the default search engine prompt.
This should have fixed your problem. You won't be seeing the annoying prompt when you open the Microsoft Edge.