Lots of iPhone users have started reporting that their screen gets stuck on Prepare Update while trying to download and install the latest update from Apple on their iPhones.
After they click Download and install, it simply shows the Preparing update and does not show any progress further. It stays like that forever and users are not sure how long they need to wait. Such an issue could be happening due to poor internet connection on the iPhone, network settings may be tampered with by the user, an update file being corrupted due to some bug from the other side, etc.
In this post, you will find many troubleshooting tips which will help you in resolving this error easily and update your iPhone efficiently.
Fix 1 – Force Restart your iPhone
Sometimes due to software bugs, these problems arise on any iPhone. So try force restarting your iPhone for fixing it.
Step 1: To start with, you need to press the volume up button once and leave it.
Step 2: Then press the volume down button and release the button.
Step 3: Now you have to press the power button of your iPhone once and hold it long enough that an Apple logo appears on your iPhone's screen.
Step 4: This force restarts your iPhone.
Fix 2 – Charge your iPhone enough
When there is not enough charge left on your iPhone battery (very low than 20%), it goes into a low-power mode which may interrupt the updating process on your iPhone.
So we suggest our users try charging their iPhones till it reaches a sufficient level to start updating their iPhones. Please plug your charger in and keep it for charging and check if this helped.
Fix 3 – Check the Internet Connection
The major reason that was experienced by many iPhone users for causing this issue is the lack of internet connection on their iPhones. If you are facing an unstable internet connection, you are bound to get such issues.
So try restarting your Wi-Fi router once and reconnecting your Wi-Fi network on your iPhone to get a better signal strength. If you are still facing the internet connection due to a weak Wi-Fi signal, switch to the mobile data connection by going to Settings > Mobile Data and then turning the mobile data on by tapping on its toggle button.
Fix 4 – Delete Files to increase iPhone Storage
Step 1: Open the Settings app first of all.
Step 2: Now select the General option by clicking on it.

Step 3: After that, scroll down and you have to click on iPhone Storage.

Step 4: This might take some time to load the iPhone storage data.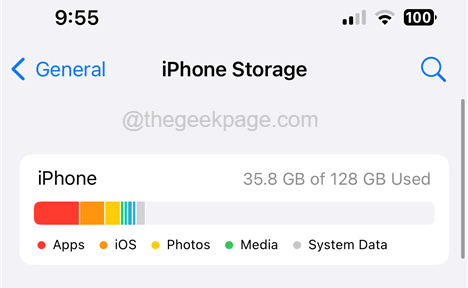 Step 5: Check which files or apps are occupying your iPhone storage space from the data available and delete or uninstall them to make more space.
Fix 5 – Delete the Current Update and Try again
Step 1: To start with, launch the Settings app on your iPhone.
Step 2: Go to the General option by tapping on it from the settings menu list.

Step 3: Scroll down the general page and click on iPhone Storage.

Step 4: Once it loads the iPhone Storage page with all the data, search for the Software Update option and tap on it.
NOTE – Some iPhone displays the interrupted update file as iOS 14, 15, etc. on the list instead of Software Update. If so, you need to click on it.
Step 5: After this, click Delete Update at the bottom.
Step 6: Confirm it by clicking on Delete Update on the pop-up window on the screen.
Step 7: This deletes the leftover software update file from the iPhone.
Step 8: When done, try updating your iPhone afresh.
Fix 6 – Reset Network Settings
Step 1: First of all, you need to go to the Settings app.
Step 2: Move to the General option.

Step 3: Select the Transfer or Reset iPhone option at the bottom as shown below.

Step 4: Now click Reset.

Step 5: It pops up a menu on the screen.
Step 6: Click Reset Network Settings.

Step 7: To continue with the process, you may have to enter your iPhone passcode.
Step 8: After successfully verifying the passcode, confirm the selection by tapping on Reset Network Settings once on the screen as shown below.

Step 9: This starts resetting your network settings on your iPhone.
Fix 7 – Update iPhone Via iTunes
When nothing worked in your favor, you can try updating your iPhone through iTunes on any PC or Mac using the steps mentioned below.
Step 1: To update via iTunes, connect your iPhone to a PC/Mac using a lightning cable preferably Apple authorized.
Step 2: After that, you have to open the iTunes app on your PC/Mac.
Step 3: Now click the Mobile icon at the bottom of the main menu panel as shown in the below image.

Step 4: You should now select the Summary option on the left side panel as shown.

Step 5: Then click Check for Update on the right side section.

Step 6: It will start checking for any updates and then follow the onscreen instructions to complete the rest of the updating process.