When you are setting up a Windows-based PC for first the time, there is a process that you have to go through, where you select the language, region, Privacy settings like setting up a PIN, accepting the licensing, etc. This process is referred to as Out of the Box Experience (OOBE) by Microsoft. in very rare cases, you encounter an error that states,
Something Went wrong

But you can try again

 OOBESETTINGS
If you have encountered this error while setting up your system, there is nothing to worry about as this issue doesn't involve any hardware change. This error is seen as the result of a certain timing issue in the OOBE process. In this article, let us discuss two different ways of resolving the error.
Method 1: Click on the Try Again button
Click on the Try again button at the bottom-right corner of the window as shown below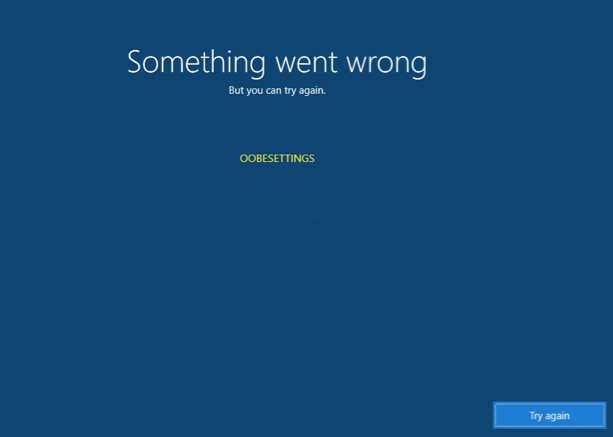 The OOBE Process runs again. Mostly, this should fix the issue. In case you happen to see the error again, try the next fix.
Method 2: Press & Hold the Power Button
Press the Power Button and hold it till the system turns off.
Power On the system and go through the OOBE settings again
That's All
We hope this article has been helpful. Thank you for Reading