Google Chrome is one of the most commonly used browsers around the world due to the performance it offers compared to other browsers. However, it makes use of a lot of the system resources and can be laggy at times while scrolling web pages. In order to improve the browsing experience, Chrome provides options to customize the browser. But, these additional features and tweaks provided by Chrome are not available to the user by default. These experimental features in Chrome are hidden and can be accessed through the Chrome flags.
Smooth Scrolling is one such experimental feature in Chrome that can be enabled or disabled through the Chrome flags. This feature allows you to scroll and navigate through the page content smoothly. If you notice that scrolling on the webpage is laggy or there is a jerky animation while browsing the internet, then you need to enable this smooth scrolling feature.
If you are noticing this stuttering animation on Chrome while scrolling through a website, then read this article. Here, we have detailed the steps to enable/disable smooth scrolling in Chrome for all the websites.
Steps to Enable or Disable Smooth Scrolling in Chrome
1. Launch the Google Chrome browser.
In the address bar, type chrome://flags and hit the Enter key.

2. On the Experimental features page, type smooth scrolling in the search box at the top labeled as Search flags.
You will see the Smooth scrolling feature in the search result.
3. Next to the Smooth Scrolling flag, you will find a dropdown box.
Click on this dropdown and select the option Enabled to enable the feature or the Disabled option if you want to disable this feature.
4. As soon as you choose one of the options based on the required setting, a Relaunch button will pop up at the bottom-right corner.
Click on this Relaunch button for the smooth scrolling flag to come into effect.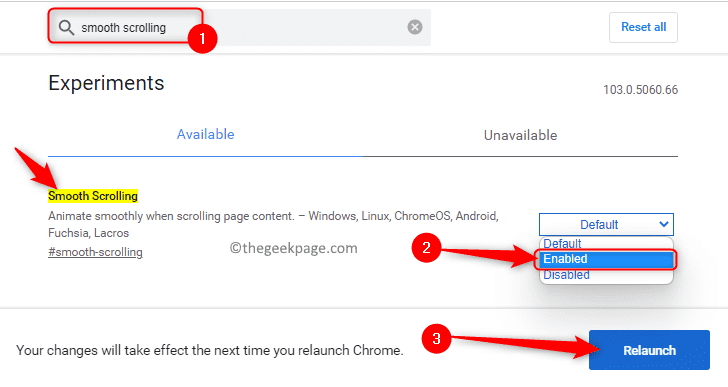 5. Now, Chrome reboots and opens any web pages that were previously opened by you.
Check whether the smooth scrolling flag has come into effect while scrolling through any website content.
That's it!
Thanks for reading.
We hope this article has helped you to enable or disable the smooth scrolling feature in Google Chrome. Comment below and let us know your thoughts on this topic.