Our computer devices have plenty of files, folders, apps and other features. Most of the time, we do not remember the exact location of what we want. And we often are too busy to explore our system and perform an exhaustive search to find out the location of the file we are looking for. The search bar or the Cortana bar comes handy at these times. With Cortana, you just have to enter what you are looking for and in no time, the best results appear. And more frequently, we wouldn't be knowing the exact name of the entity that we are searching. So we just end up typing a few letters or a phrase that we recollect rather than entering the complete name. Although this is of great help, the problem with this kind of search is that it shows too many results. And obviously, most of these results wouldn't be of much help. But here's a little hack! You would definitely be knowing what type of entity you intend to search if not the exact name. Depending on what you are searching(i.e. app, file, setting or web search) you can filter your results. Here's how:
Also read: – How to force windows 10 to search inside file's content
How to Perform Enhanced Search in Windows 10
Click on the Cortana bar(search) and type the letter/word/phrase of the entity that you are searching.
Click on the ellipsis menu(the icon with three dots) at the top right corner of the search bar.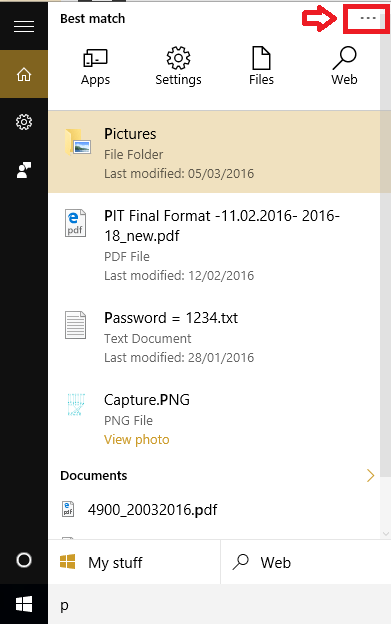 You will see a few options.
If you click on Apps, all the apps with the related result will appear.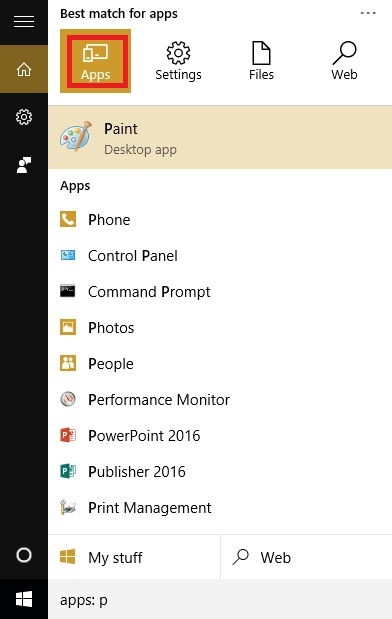 I have searched for the letter p and all the apps with the letter p appear in the search result. The recently used and frequently used apps appear at the top.
If you click on Settings, the corresponding setting options pop up.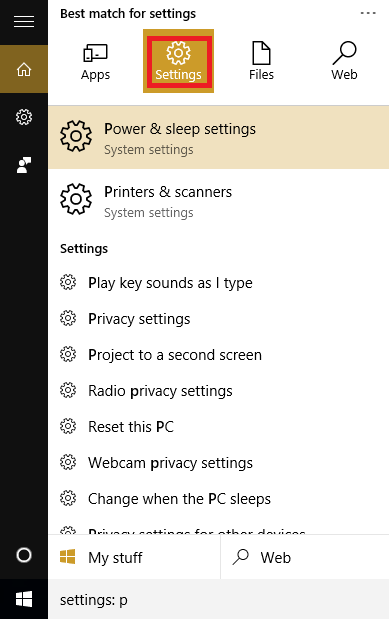 Here also the settings that match to the letter p are shown in the search results.
If you click on Files, the file names that start with or contain the search keyword will be shown in the results that follow.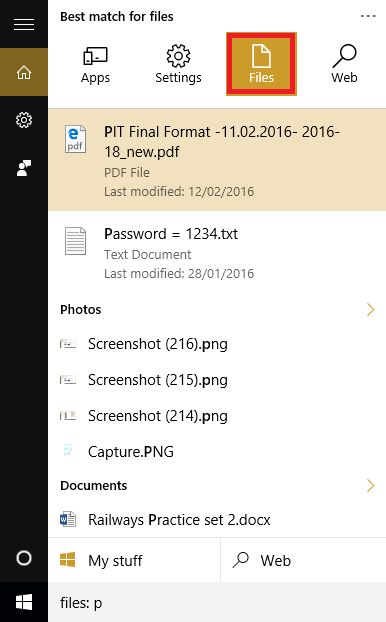 All files starting with the letter p or have p anywhere in the name are seen. The extensions are also included in the search results. So you can choose File and type png to get a result that contains all the images.
And finally, clicking on the Web icon will show the best results of the internet search. You can click on the result that you want and it takes you to the webpage in Microsoft Edge which uses the Bing search by default.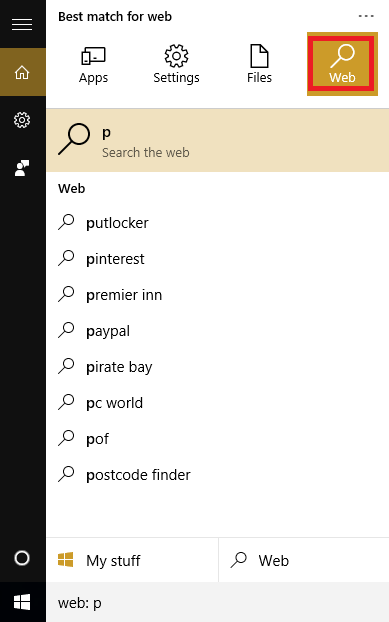 Web search shows the top results of what you are searching.
Hope this post was informative. If you want to save more of your valuable time spent on searches, click here to read about filtered search options in Gmail.