A number of iPhone users are facing an issue where their iPhones have gotten stuck on a black screen with a spinning wheel. This mostly happens when they restarted their iPhones all by themselves or after any update process is done. The reboot process gets stuck on a spinning wheel and it remains like that forever. Usually, these problems occur when there are some internal glitches found within the iPhone, very low battery percentage, iPhone parts get damaged, etc. This can be easily rectified using the following fixes explained in the article below. Don't worry if you are also encountering similar type of problems with your iPhone. Please try the fixes below.
Fix 1 – Force Restart your iPhone
If this issue is due to internal software bugs, it can be fixed by simply force restarting your iPhone using the steps below.
Step 1: First, you need to press and release the volume up button of your iPhone.
Step 2: After doing that, press the volume down button and leave it.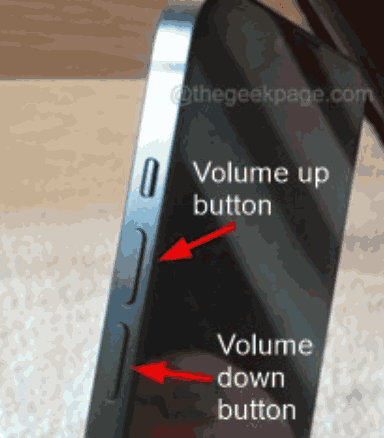 Step 3: When done, you have to press the power button which is present on the other side of the iPhone, and hold it until the Apple logo appears on the iPhone screen.
Step 4: This restarts your iPhone forcefully.
Fix 2 – Restore your iPhone using iTunes
Step 1: Take a lightning cable and connect your iPhone to a PC using it.
Step 2: After that, open the iTunes app on your PC.
Step 3: Once the iTunes app is open, it will auto-detect your iPhone and finds it in recovery mode.
Step 4: Now this pops up a context menu on the iTunes app automatically.
Step 5: Click Restore to start restoring your iPhone and gets it fixed.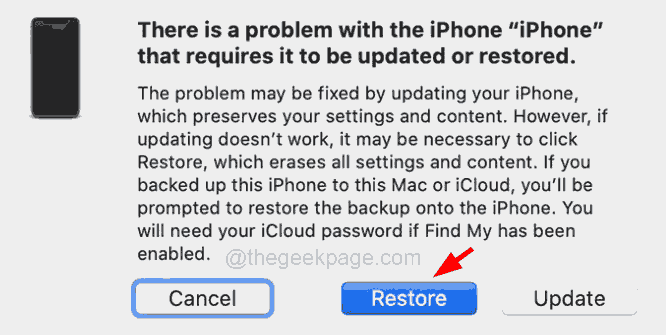 Step 6: Follow the onscreen instructions if there are any to complete the restoring process.
Additional Fixes
This type of issue happens whenever any part of the iPhone internally gets damaged because of carelessly dropping the iPhone on a hard surface. Therefore, if such is the case, we recommend our users try visiting the nearest Apple Store and let the repair team check their iPhones and get them repaired.
Battery Level matters a lot in such kind of problems raised with the iPhones. When the battery is almost dead, it gets stuck on a black screen with a spinning wheel and you can fix this easily by connecting your iPhone with the charging cable and adapter and placing it for charging.