In Windows 11, there are many changes that are made to the taskbar and by default, the language switcher option is available on the taskbar. The language switcher allows the users to change the default language on the system and quickly change to another language the user selects. Some users find this language switcher option unnecessary on the taskbar, which can be occupied by some other useful icons. They want to remove it and are not sure how to do it.
If you are also one of them, then this article will guide you on how to remove the language switcher from Windows 11 taskbar with quite easy steps.
How to Remove Language Switcher from Windows 11 Taskbar
Usually, the Language switcher is only displayed if there are more than two languages installed on the system. If you want to retain all the languages installed and only remove the language switcher from the taskbar then continue reading.
Follow the steps given below on how to do it.
Step 1: Press the Windows key on your keyboard and type Advanced keyboard settings and press Enter key.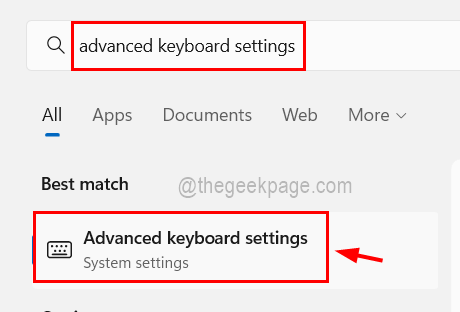 Step 2: This will open the Advanced keyboard settings page on the system.
Step 3: Now select the Let me use a different input method for each app window checkbox by clicking on it.
Step 4: Also, check the Use the desktop language bar when it's available checkbox and then, click the Language bar options as shown in the below image.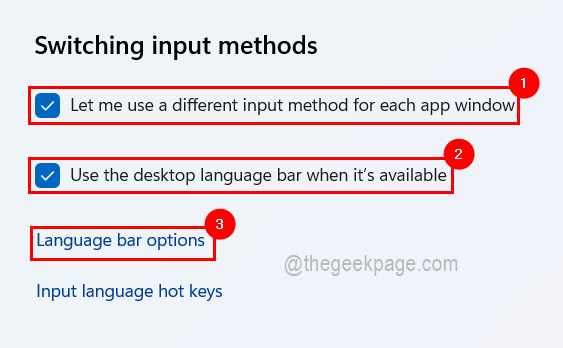 Step 5: In the newly opened window, click on the Language bar tab and select the Hidden radio button under the Language bar section.
Step 6: Then, you need to click Apply and OK to take effect and close the window.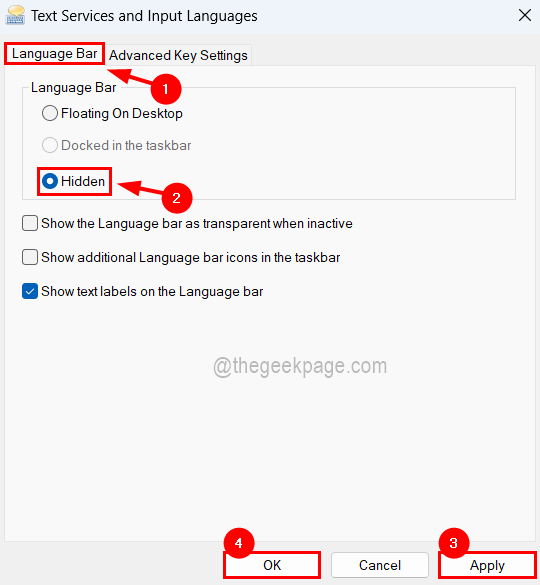 After these changes are done, you can observe in the taskbar that the language switcher has been removed and is no longer available on the taskbar as expected.