Though Headphone Jacks have become a rarity in new phones, you cannot ignore the novelty of having one on the phone. But, the headphone jack can give your quite a headache if it stops working. The jack problem is not that common among Android devices and even if there is any issue with the Headphone Jack, you can take care of it by following these easy advice.
Fix 1 – Check and clean the headphone jack
Follow these steps to perform a check on the headphone jack on your phone.
Step 1 – Unplug the headphone jack from your phone.
Step 2 – Then, take a look at the headphone jack hole. Dust and other small stuff can get into the headphone jack. So, blow the hole with your breath to clean all the dirt on the go.

Step 3 – Additionally, you can use a cotton swab and some rubbing alcohol to clean the headphone jack more efficiently.
Make sure the wired headphone you are using doesn't have a tear in them and plug in the headphone jack correctly.
Fix 2 – Use the wired headphone
There is a chance that the wired headphones you are using can be the one which is faulty. To check this possibility, you need a device with a headphone jack. Just plug in the wired headphone to the second device and check whether this works.
If the wired headphones work perfectly while plugged into the headphone jack of the second device, the headphone jack on your phone is the real culprit.
Fix 3 – Make sure you are not using Bluetooth
Using a Bluetooth connection while plugging into the headphone jack won't work. If you have paired with an external Bluetooth speaker or headphones, you can't use the wired headphones.
Step 1 – Follow these steps to unpair the Bluetooth headphone from your phone. Just drag it down to access the Notification Center.
Step 2 – Just tap&hold the "Bluetoothᛒ" to see the full list of Bluetooth items.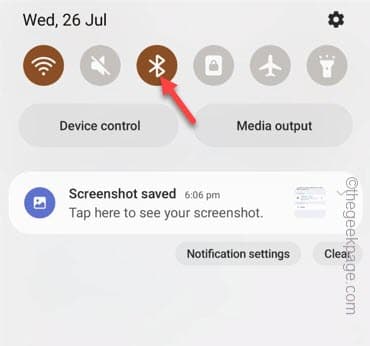 Step 3 – You will find the connected Bluetooth device at the top of the chart of the devices.
Step 4 – Just tap that device to unpair the Bluetooth device (speaker or headphone) from your phone.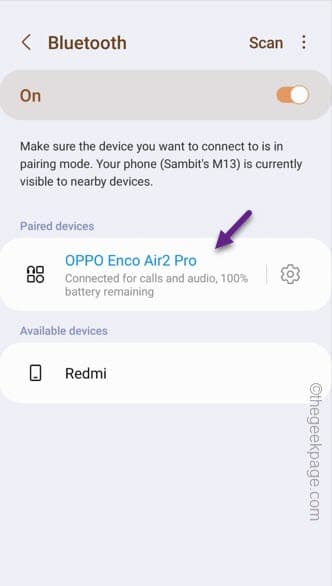 After disconnecting the Bluetooth device, you won't face any trouble connecting the wired headphone using the headphone jack.