When you know how much time you take for certain work, that's when you learn how to manage time. Whether you are working on personal tasks or business-related tasks or projects, keeping a track of your time is extremely crucial. Proper time management helps you to complete more work in less time, thereby, increasing your overall productivity.
So, how do you accomplish that? Manually tracking time can be pretty inaccurate and so, a Time Tracking Software is what you need to record the time spent on specific tasks or projects. With a wide range of such tools and apps available online, keeping a track of your work time has become much easier. Moreover, these tools also provide complete reports, automated invoices, and more.
Whether you are looking for software in a low budget for a small team, or something with advanced features, we have a comprehensive list for you to choose from.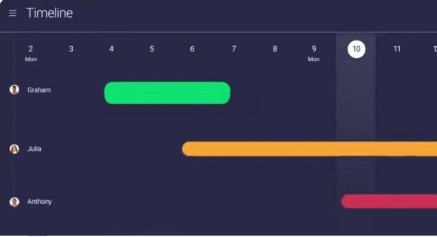 Monday.com provides an innovative way to work by offering solutions for time tracking, planning, and organizing, all in one viewable, team space. It offers accurate time spans allowing you to track time in any location, on any given time.
Features:
Sports a simple and responsive interface.
It offers a wide range of templates designed for every use.
Customize freely using columns, track time and tasks, view who's in command, insert texts, links, numbers, and so on.
Invite your team, or assign projects, easily.
Manage your files, briefs, sheets, checklists, and conversations by stacking them all in a single location.
Create an overview of your requirements like files, calendars, timelines, etc., and boost productivity.
Best of all, it allows you to switch between your PC and mobile phone, seamlessly using its app. This helps you keep a track of your tie, even on the go.
Price: Free trial available; upgrade starts from $17/month.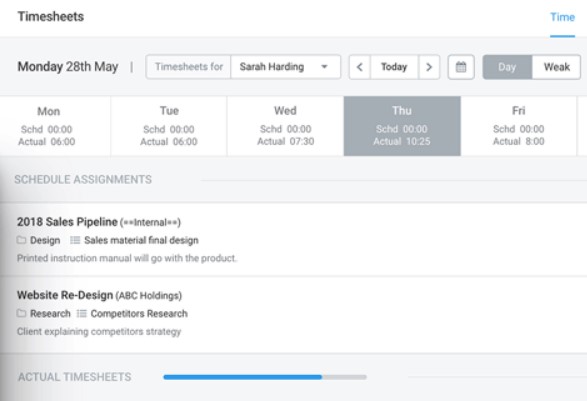 An attractive and all-inclusive app, Avaza is specifically designed for your business. It's a flawless and efficient platform that is perfect for teams as it helps them team up on projects, allows them to track time, control expenses, time the resources, and helps create invoices for customers.
Features:
Helps you with strong collaboration using email-based discussions, alerts, activity entries.
It allows you to get an aerial view of who's in charge of the project, and when.
Simply invite anyone to add time, rates per user, and flexibility per project for smooth billing and reporting.
It helps you to manage your expenses by clicking pictures of receipts on them and share with Avaza, or insert them using browser or apps.
Enables you to quickly create professional invoices with assistance for any free-form line items, along with flawless on-billing of timesheets and expenditures.
It offers an incomparable look into your business using its competitive reporting.
Runs over 50 live customizable reports that can also be saved, and also timed to deliver automatically.
It's an all-inclusive software that allows you to unify with 500+ popular apps for an improved experience.
Price: Free version available; upgrade starts from $9.95/month.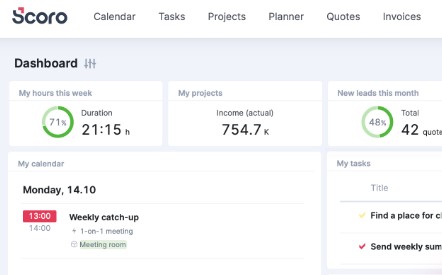 If you are using multiple apps to accomplish your task, and want to get rid of shuffling and fragmentation, Scoro helps you boost your team's productivity by allowing you to manage all of that and more on a single platform.
Features:
It helps you and your team to seamlessly collaborate and make the right decisions, with a focus on high-impact tasks and without the status update meetings.
Allows you to group reports on your revenues, team deployment, etc. with the support of real-time information in just a click.
Enables you to carefully plan your team's time and resources and increase the profits and optimize the projected revenue.
Easy and responsive scheduling and tracking facility.
Syncs smoothly with the most-popular concepts like accounting software, cloud storage, and many other tools.
From using the integrated time management tools to take advantage of the teams' time, delivering high-quality work on time to tracking purchase and costs, or keeping an eye on the deals, possibilities, sales goals, and team performance live, Scoro is complete time management solution for businesses.
Price: Free trial available; plans start from $26/user.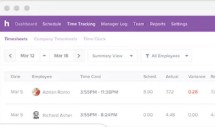 Homebase is a free time tracking app that's perfect for those looking for a time tracking software in a budget. It helps you to stay connected to your team by scheduling your employees, maintaining a timesheet, and hiring tools, all under one roof.
Features:
It helps you to create your employee schedules quickly using the drag & drop team scheduling, allowing you to schedule your team from all browsers or mobile phones, and by using the automatic scheduling option.
You are also allowed to track the time of your employees from any device using the time clock.
It allows you to track breaks (paid/unpaid) for compliance.
Lets you view your labor expenses and the percentage in real-time from all devices.
GPS-based clock in feature for logging in employees their arrival time on works-site.
PIN-based entry facility.
Rules and real-time alerts to lower compliance-related risks, thus, saving time.
Online time clock app for logging in and out of shifts from desktops or laptops.
Mobile time clock app for clocking in and out from mobile phone devices.
Tablet time clock app for clocking in and out from tablets.
Option to use time clock in offline mode and the option for managers to edit directly from the employee time clock are among its other significant features.
Price: Free online app for one location; plans start from $16/month.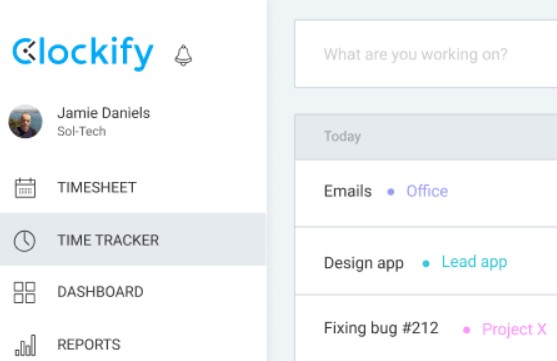 Clockify is a completely free and simple time tracking program and a timesheet app that allows you and your team to keep a watch on the employee working hours across projects.
Features:
The time tracker allows you to start and stop time as you continue to work using a stopwatch or add working hours manually.
It allows you to track time on projects and even mark time as billable hours.
Enables you to create a week's report quickly.
Lets you keep a watch on your team's progress and where you spend most time through the stats display on the dashboard.
Generates reports on who worked on what projects, amount of money earned, and review of the team's time consumed, along with the option to export data.
It helps you to keep a track of time on projects, progress, and budget.
It allows you to invite your team to record their attendance and track time spent on activities.
Best of all, it works on all devices, therefore, it helps you to stay on track, all-time, online.
Price: Free.


Beebole is another great time tracking software in the list that not just helps you track time easily, anywhere, but also offers complete control on your business with automated reminders, approval process, and access to managers. Moreover, it also offers secure timesheet technology with 256 bit encryption, daily backups, audit trails, and more.
Features:
Offers timesheet that allows you to select how individual users should clock in with daily, weekly, and monthly keeping.
Equipped with a neat one-click timer to record time live, pause, and stop.
Integration of timesheet with Google Suite.
It allows you to track employee attendance and absence.
Approval flows enable project managers and administrators to review reports in bulk and approve timesheets.
The facility of sending automated messages as reminders to your team.
Check project status and team performance using a team time tracking overview.
Easily configurable timesheet reports.
Timesheet is payroll ready that can be accessed by managers and can be exported in different formats.
Beebole time-tracking software does not need to be installed, with no requirement of spreadsheets, and no internal expensive financing. Best of all, timesheets can be accessed in multiple international languages.
Price: Free trial available; plan priced at 5 .99€.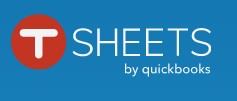 Time trackers are ample, but easy time tracking across all devices to streamline payroll is not so common. TSheets is one such software that not just does all of that, but also helps you to accurate invoices and save on a lot of money each year.
Features:
Allows your employees to clock in and out in just one click.
Lets you take breaks, modify job codes, or insert timesheet info quickly.
Available as a mobile phone app for both iOS and Android to keep track of the move.
It helps you to create employee schedules by jobs or shifts, and then swiftly edit, publish, and share the schedule with them.
Seamlessly integrates with your preferred accounting or payroll software.
Automatically sets overtime rules, configure pay rates, and set complicated overtime calculations in advance, for effortless, and correct payroll.
Offers useful business insights using live, interactive reports.
Apart from being available as a mobile app, it's also available online. It also offers a Time Clock Kiosk to help employees clock in from a single device.
Price: Free trial available; plans start from $8/user/month.


Freedcamp is the perfect way to stay organized. This online project management and collaboration solution are designed for both single and multiple users helping them organize and communicate effectively through the cloud. It comes with a wide range of tools and features and is perfect for those who want to manage their projects, resources, budget, and time under one platform.
Features:
It helps to stay on top of your task lists and with what's going on.
Offers Kanban board to help you manage tasks effectively, and the Gantt chart offering a clear view of your tasks with the option to tweak them when needed.
It allows you to divide large tasks into smaller subtasks.
Keeps your personal tasks private.
Offers different tools successfully complete projects like a calendar that shows your due tasks, option to discuss ideas, facility to group lists of tasks and fix a goal by a date, Wiki to save documents, social communication walls, issue tracker to track issues, time tracking, and more.
Freedcamp is full of other features like easy sharing of different accounts, billing clients with time tracking entries, numerous project templates, backup facility, task board, widget board, and so much more.
Price: Free version available; plans start from $5.99/month.


If you are looking for easy and responsive timers for seamless time tracking, then Harvest can be a great choice. It helps you track where your time is spent, the cost of your project, and the revenue earned from these projects.
Features:
A time tracker allows you to uncover key details about your business and easily track time and expenses.
It offers a lot of information through timesheets that help you control your team more efficiently.
Generates responsive visual reports to keep your projects on track.
It allows you to transform your billable time and expenses into professional invoices.
It's equipped with a sister app forecast that allows you to time your team's time into the future.
Price: Free version available; Pro version available at $12/person/month.


Reducing costs and staying on budget is what every business requires. ClickTime is one such time tracking software that helps you with cost reduction while increasing your project visibility.
Features:
It makes timesheets easy to use and allows you to track time on the phone or laptop on the go.
Approves employee hours fast, and enables you to get an insight into the dashboards and reports. This makes it easier for you to manage budgets and plans time for employees.
It comes in the form of a mobile app that allows the employee to easily edit, add, copy hours, and even include goals or custom fields.
It makes it easy to record your team hours despite wherever they are and whatever they are doing.
Allows you to estimate project expenses, review previous performances, check who completed the timesheets.
Moreover, it helps you understand trends, patterns, and aberrations, and also evaluate the performance of teams, projects, and employees.
Price: Free trial available; plans start from $9/month.
Conclusion
The above list is a mix of free and paid time tracking software meeting your different needs. While some of them are equipped with advanced features like GPS tracking or nudging, the free ones come with basic and intermediate features like Chats & Email support, Team Messaging, and more. What you choose, completely depends on your requirements, team size, and budget. So, pick one of your choices and never again lose track of your time.