With the launch of Windows 10, people have started exploring its great features and refreshing look compared to the earlier version. There are many great features and some keyboard shortcuts that Microsoft has added with this version of Windows.
There is one particular feature called Virtual Desktop feature that is here to make your life easy and clutter free. Now you can create separate desktops for your different interests and jobs, giving you more control over how you browse and use your system.
Want to separate your University dissertation job from the music surfing session then, Virtual desktop is the answer to that.
How to create Virtual Desktop in Windows 10
Click on the 'Task View' icon located in your taskbar besides the search box in windows 10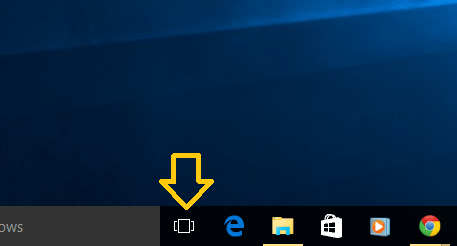 2. If you have not created any virtual desktop till now then you will see all the program windows that are opened in your default Desktop, neatly arrange in tile format. To create a virtual desktop click on the 'New Desktop' button located on the bottom right corner.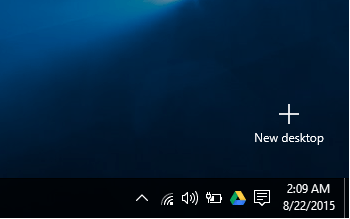 3. As soon as you click on the button, a new desktop will be created.

Now you will be able to see all the desktops that you have created along with the default desktop.
The operating system has defined a nomenclature procedure for virtual desktops. The first desktop that is the default desktop is named 'Desktop 1'. Subsequently the other created desktops are named 'Desktop 2', 'Desktop 3' and so on.
There is no limit to how many Desktop you can create. The maximum I went to was 103. But you are welcome to try further. Let me just warn you that it is hell of a job to close these desktops. This brings me to the topic on how to close these desktops.
How to delete Virtual Desktop in Windows 10
Once you create the desktops you will see all the desktops are displayed once you click the 'Task View' icon. Simply bring your mouse to the cross sign located on the top right corner of the desktop icon that you wish to close. Click that close sign and your desktop will be closed.


Some Additional Useful Tips
1. What happens when you are editing any document in one those virtual desktops and you accidentally close that desktop – Don't worry, the document will be transferred to the default desktop and your work is not lost. So in a way, the virtual desktop feature is just here to segregate the various program windows based on their categories.
2. All the programs that are opened in a particular desktop can be viewed by hovering your mouse over that particular Desktop tile in 'Task View' mode.
3. If you wish to transfer a program window from one desktop to other, simply drag and drop that program window from the source Desktop to the desired Desktop icon.
This brings us to the end of this blog. But before signing off, let us share with you, some of the keyboard shortcuts related to Virtual Desktop.
WIN + CTRL + LEFT/RIGHT: Switch to previous or next desktop
WIN + CTRL + D: Create a new desktop
WIN + CTRL + F4: Close the current desktop
WIN + TAB: Launch task view.