18 Free Alternatives to Connectify : – There is no introduction required to the most popular virtual internet sharing software, Connectify for the Windows PC. It not just allows you to share your internet connection effortlessly across several devices (smartphones, tablets etc.) by turning your computer to a WiFi router, but also offers many advanced features like, File Sharing, Dispatch and more.
While Connectify is almost a household name in the category of wireless hotspot, new concepts like "Virtual WiFi Technology" by Windows 7 is already making their way through. This technology allows you to convert your Windows 7 or 8 /10 computer into a portable hotspot without the need of a third party hotspot application. It may not be an entirely smooth process to use this embedded WiFi, but has surely triggered a competition that compels other hotspot makers to come up with enhanced features.
However, despite the fact that Connectify is the best WiFi hotspot software out there with some unparalleled features, it's free "lite" version offering limited features and the steep pricing of the PRO and the MAX versions (starting at $35 and $50 respectively) compels many to look for alternatives.
Moreover, the fact that Connectify is feature rich also makes the entire process a bit perplexing. So while, there is hardly any competition to it in terms of its features, there are many free alternatives to Connectify that are not only comparatively easier to use, but also works as an excellent option as a WiFi hotspot station.
18 Best Free Alternatives to Connectify
OSToto Hotspot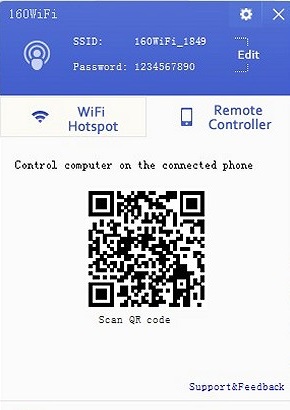 Earlier a paid software, 160 WiFi is now available to download completely free of cost with the new name OSToto Hotspot. It offers a secure platform to create a virtual WiFI hotspot out of your computer in a matter of seconds. You can then share the internet with the connected portable devices, iOS or Android that also has the management features. Moreover, the software is ad-free which makes it a befitting alternative to Connectify.
Download: http://www.ostoto.com/products/wifi-hotspot.html
Price: Free
Compatibility: Windows XP, Windows Vista, Windows 7, Windows 8, Windows 8.1 and Windows 10; both 32 bit and 64 bit versions.
Maryfi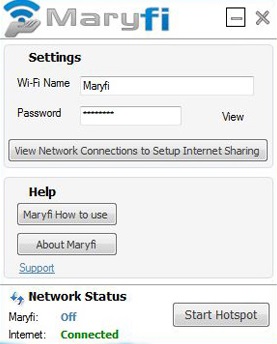 If your computer runs on Windows 7 then Maryfi can be the best free option for you, however, it all runs on other versions. It is an extremely easy to use and simple virtual router software that allows you to share any internet connection or even a WiFi network to PCS, tablets or even smartphones. The best part is that it helps share the WiFi connection that your computer is linked to, while the access point is secured with a password that has WPA2 encryption for enhanced safety.
Download: http://www.maryfi.com/download.php
Price: Free
Compatibility: Windows XP, Windows Vista, Windows 7, Windows 8, Windows 8.1
MyPublicWiFi
Turn your Laptop/Computer into a WiFi wireless access point instantly with MyPublicWiFi and share internet with your nearest devices conveniently. Not just for personal use, this software is also useful for creating temporary wireless network setup that's separate from local area network and is used by conference rooms, hotel rooms and more. That's not all as you can also keep a track of and keep a record of all URL pages that have been visited using MyPublicWiFi.
Download: http://www.mypublicwifi.com/publicwifi/en/index.html
Price: Free
Compatibility: Windows 7, Windows 8; both 32bit and 64 bit architecture
Winhotspot
Got a Windows PC and an internet connection? Winhotspot or WindowsHotspot can turn your PC into a WIFi hotspot in no time at any given place and at any given point of time. It comes with a built-in bandwidth meter that keeps a track on the internet usage. You can also see the client P and the MAC addresses of the connected devices under separate tabs displayed under the hotspot platform.
Download: http://www.winhotspot.com/
Price: Free
Compatibility: Windows 7, Windows 8 and Windows 8.1
mHotspot
If you are looking for a freeware then one of the names that cross one's mind instantly is mHotspot. It can turn your computer into a wireless hotspot software within minutes which you can use to share your computer's internet with other devices. One of the unique features of mHotspot is that enables your laptop to work as a repeater which means that the laptop can extend the WiFi network range by creating an additional WiFi network.
The bonus is that it allows you to connect up to 10 gadgets and gives you access to in-app internet option. Additionally, you can also view the connected device details such as IP address, Mac address, Name and also allows you to keep a tab on the network usage and more.
Download: http://www.mhotspot.com/
Price: Free