When we have to connect two laptops for a short duration of time to transfer files, we can do that using Bluetooth. It requires both the laptops to be present nearby so that they are within the range of coverage. This comes in handy while travelling as we do not need to have cables to connect the systems. In this article let us discuss how t connect two Windows 10 PCs with bluetooth.
Steps to be followed to Connect two systems with Bluetooth :
Step 1: Open the Run window pressing Windows+r simulatneously.
Step 2: Type ms-settings:bluetooth and hit Enter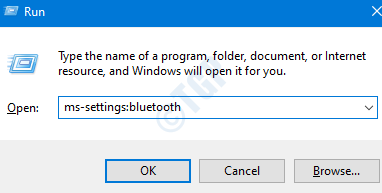 Step 3: In the Settings –> Bluetooth & other devices window that opens,
Check if the Bluetooth is ON under Bluetooth section.
If not, toggle the button to turn ON Bluetooth(the color will change to blue)
NOTE: Make sure the Bluetooth is turned ON in both computers.

Step 4: Click on the "+" symbol next to Add Bluetooth or other device on your device.

Step 5: In the Add a device window , Choose Bluetooth


Step 6: Now , the system searches and detects the devices within it's range. From the list of devices , choose the one you want to connect to and click on it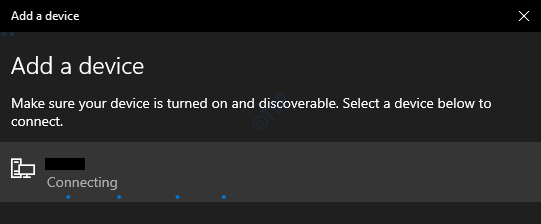 Step 7: In the window, A PIN number will be shown and you will be asked to Click On Connect if the PIN on the other system matches this one.


Step 8: On the same time, you see a notification on the other PC to Add a device as shown below. Click on it


Step 9: Once, you click on  Add a device, Pair Device window pops up. Verify if the PIN number is the same


Step 10: First Click on Connect(Refer Step 7)on your PC and then Press Yes(Refer Step 9) on the other PC.
Step 11: If the devices have connected successfully, you see Connection succeeded message


It is this simple and two computers are connected. Now you can transfer the files between the systems.
That's All. Thank you for reading.