Removing a single program from windows is no rocket science, but what if you want to remove many apps silently or you want to control the programs like a pro? Well, fear no more, for Bulk Crap Uninstaller is here!
WARNING: Bulk Crap Uninstaller is meant for pro users. Normal users who do not know much about system components and OS programs should stay away from it.
Main Features
 Able to remove orphaned applications, protected items, Windows Store apps, published by microsoft.
Can Highlight missing uninstallers, verified and unverified certified uninstallers,
Can remove 'N' number of apps at a single instant
The Software can be used as portable app i.e You can just take the installed directory in pen drive to anywhere.
Provides a neat and easy to use interface
Download Link: klocmansoftware
The installation can be performed either as a standard one or can be made portable.
Upon initial start, you will be asked for various configurations like toggle to highlight missing uninstallers, verified and unverified uninstallers, protected items, orphaned apps etc.,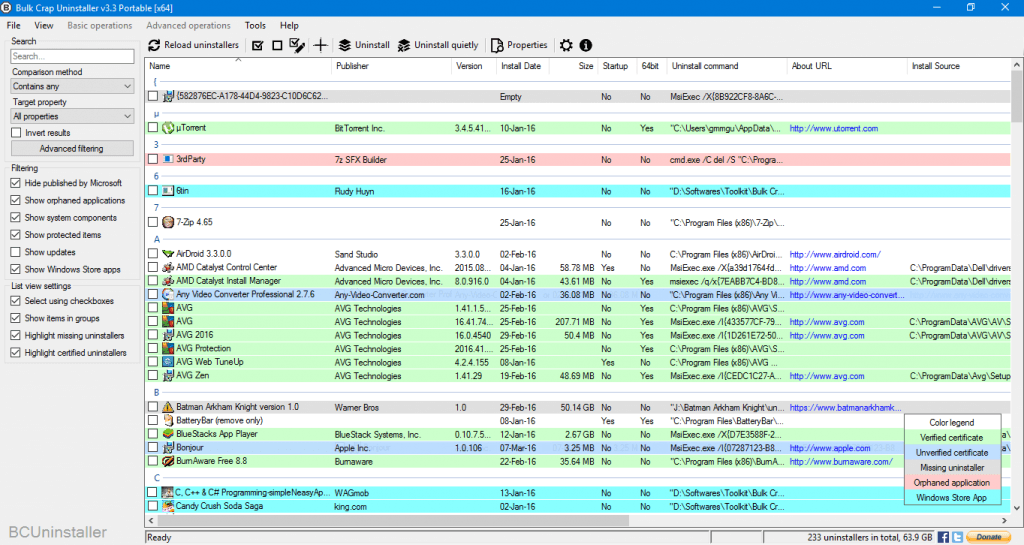 The UI is very simple to use. One might get quite comfortable to use. On the left pane, you have various filtering options to show apps published by Microsoft, Orphaned Applications, System Components, Protected items, Updates, Windows Store apps. And below that, you have option to customize the list view. And on the right side the programs are displayed based on the selection. On right clicking anywhere on the bar above program list, you can customize the layout as your needs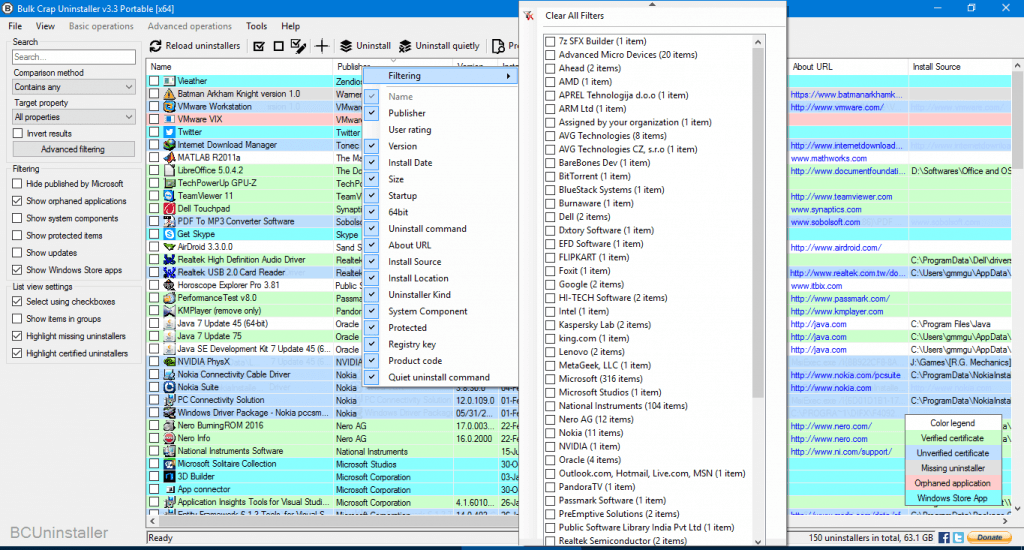 Uninstalling the programs is quiet easy, just tick the checkboxes(if you have enabled checkboxes in initial setup) then click Uninstall / Uninstall quietly, depending on your needs. The completion takes some minutes, depending on your selected applications. After the uninstallation it will ask to look for leftovers from previous installations, my recommendation is to click yes as there will always some leftovers from the uninstallations which may take up your space.
In addition to uninstalling, the software also provides Startup Manager, it shows programs generally not shown in the task manager. To open Startup Manager, go to tools > Open Startup Manager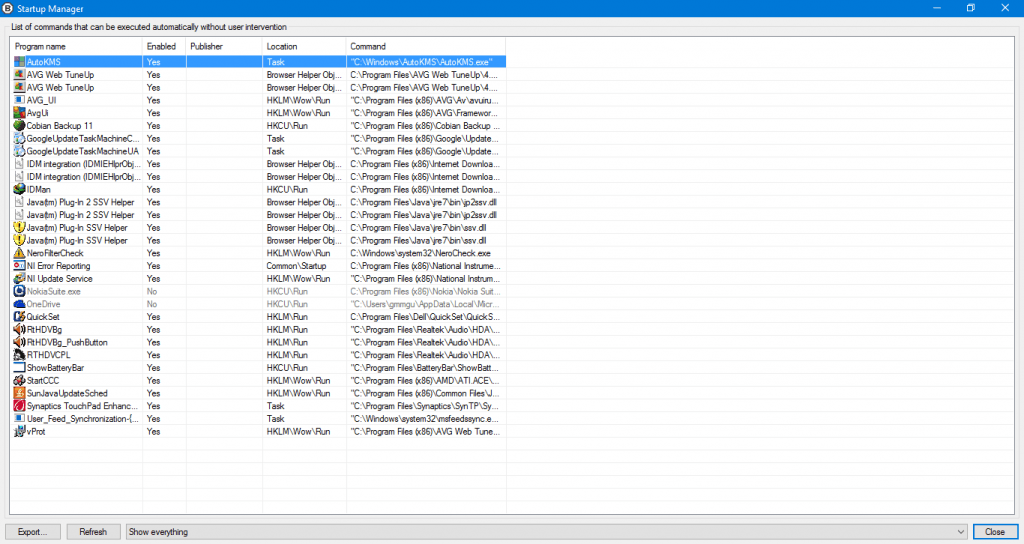 The startup manager is advanced, and one should be careful while removing apps. You might end up remove system apps, and the system may become unstable, so use it with caution.
Overall the bulk crap uninstaller is a very good program to maintain the programs and features in the system. By making right use of the uninstaller with startup manager, one can significantly boost the performance of the system. The UI is simple and intuitive but I found it little buggy. I will give it a thumbs up and recommend to power users.