Many users have reported seeing a blue screen error on their Windows PC with the code WHEA_UNCORRECTABLE_ERROR (Windows Hardware Error Architecture). This error indicates that is an issue with the system's hardware like hard drives, RAM, processor, power supply, and so on. Also, outdated or corrupted device drives may be the cause of this issue.
In this article, we have listed some troubleshooting strategies that will help you resolve this blue screen error on your Windows PC. In case your PC just doesn't start up and you are always seeing the blue screen, then it is recommended that you boot your system in Safe mode and perform the fixes below.
Fix 1 – Perform Disk Checkup Using chkdsk
1. Just hold the Windows and R key combination to open the Run dialog.
2. Type cmd and press Ctrl + Shift + Enter to open Command Prompt as administrator.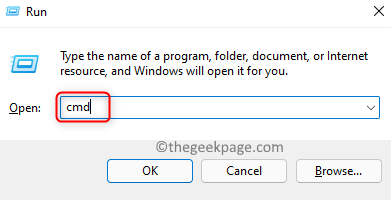 3. Type the command below and hit Enter to execute it.
chkdsk /f /r C:
4. Press the key Y on the keyboard to schedule the check at the next system restart.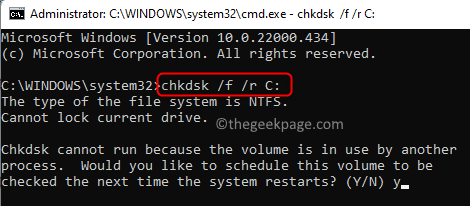 5. Restart your PC. At startup, the disk checking process starts.
6. Wait till this check is complete. Your system will boot up after the check completes successfully.
Fix 2 – Update the Display Adapter
1. Press Windows + R to open Run.
2. Type devmgmt.msc and hit Enter to open the Device Manager.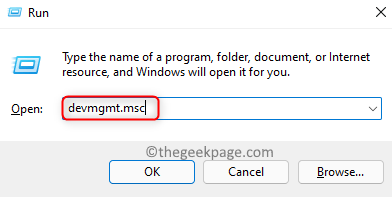 3. Click on the downward arrow next to Display adapters to expand.
4. Right-click on your display adapter and choose Update driver.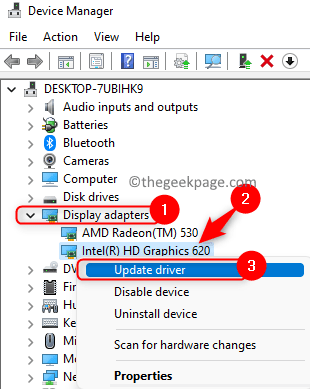 5. Select the option Browse my computer for drivers software.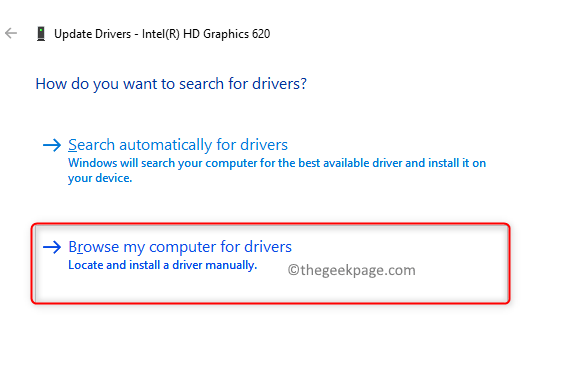 6. In the next window, click on Let me pick from a list of available drivers on my computer.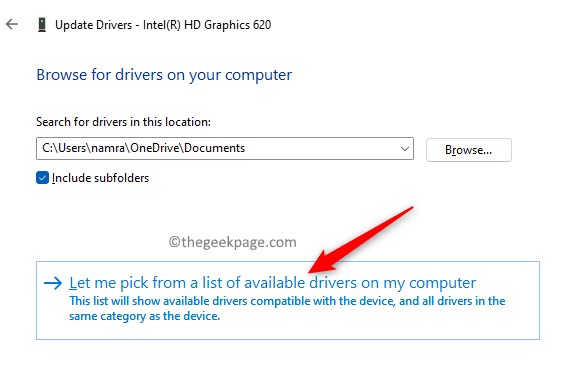 7. You will be shown a list of compatible drivers. Select it and click on Next.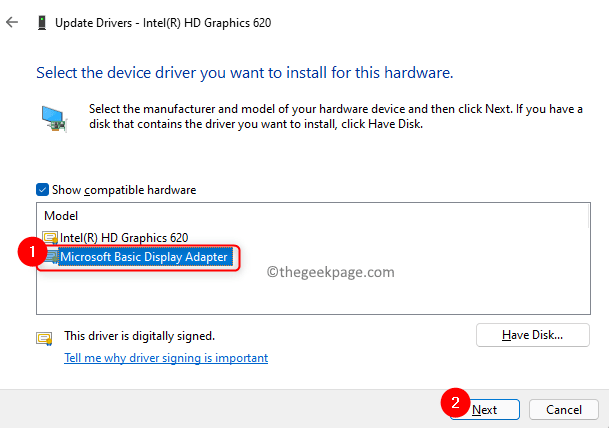 8. Now your driver software will be updated to the latest version.
9. Restart your PC and check if the error is fixed.
Fix 3 – Uninstall Problematic Drivers
1. Follow Steps 1 and 2 in Fix 2 above to open the Device Manager.
2. Check if there are any yellow exclamation marked drivers in the Device Manager.
3. Right-click on any such driver and choose Uninstall device.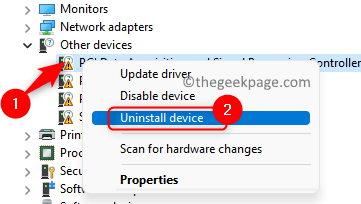 4. Confirm the uninstallation in the window that appears.
5. Device Manager refreshes after the uninstallation process. At times such types of drivers can be the reason for errors.
6. Restart your PC and check if the problem is solved
Fix 4 – Run Windows Memory Diagnostic
1. Open Run (Windows + R).
2. Type mdsched and click on OK to open Windows Memory Diagnostic.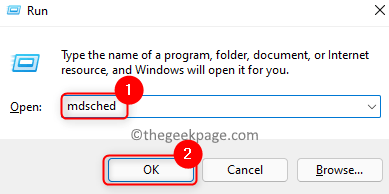 3. In the Windows Memory Diagnostic window, click on Restart now and check for problems (recommended) option.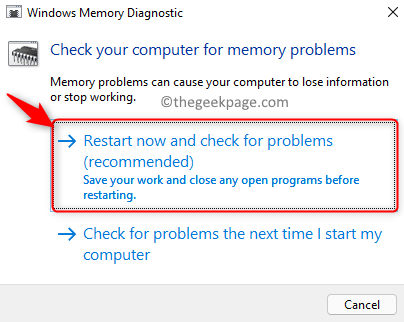 4. Your computer restarts and starts the diagnostic process.
5. Once the process completes, Windows will restart automatically and show the test results.
Fix 5 – Uninstall Latest Windows Updates
If you are facing this issue after performing a Windows update, try uninstalling the latest update to check if it helps overcome the blue screen error.
1. Open Run using the Windows and R keys.
2. Type ms-settings:windowsupdate and hit Enter to open the Windows Update page.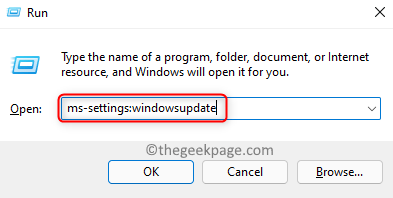 3. Click on Update history in the More Options section.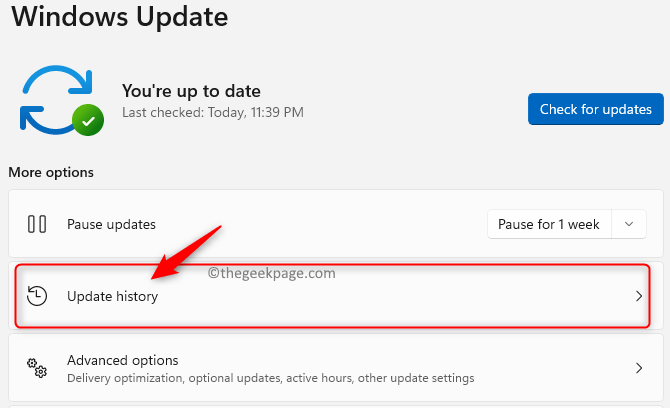 4. Select the option Uninstall updates to view and uninstall the latest updates.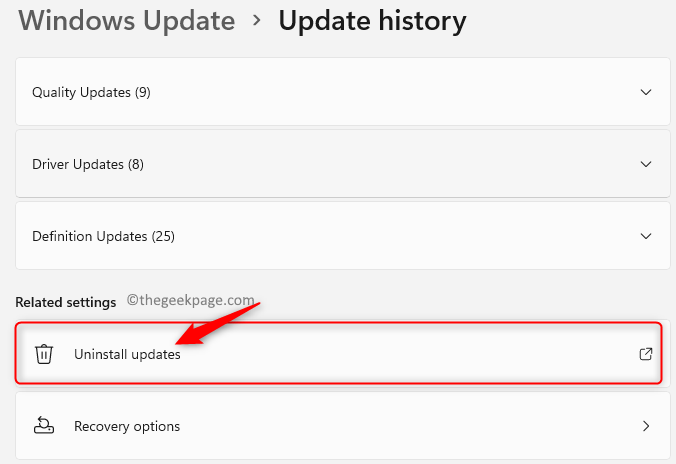 5. Here, right-click the latest Windows update in the list and click on Uninstall to remove it.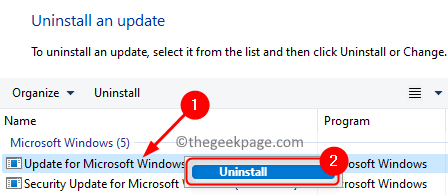 6. Restart your PC and check if the problem is resolved after removing the latest Windows updates.
Thanks for reading.
The blue screen error code WHEA_UNCORRECTABLE_ERROR will not be seen on your computer after trying the fixes in this article. Comment and let us know the solution that helped you overcome this error.