Whether you are building a website or want to transfer files within computers or to mobile devices, it won't be easy unless you have an FTP Client software for assistance. Because, especially with website development, you would need a large number of files and folders to be transferred to the web host. This can be challenging unless, you have help at hand.
The job of an FTP client is to move the files between the host computer and the online server. It's the best way to keep your files and folders organized making it easier to find and transfer, edit when required, and also keep a watch for any anomalies. These clients either come with a GUI or are text-based.
Before you choose the right FTP client software, make sure that it's compatible with your operating system and it offers a user-friendly interface.
Here's a master list of some of the best FTP client software for secure file transfer.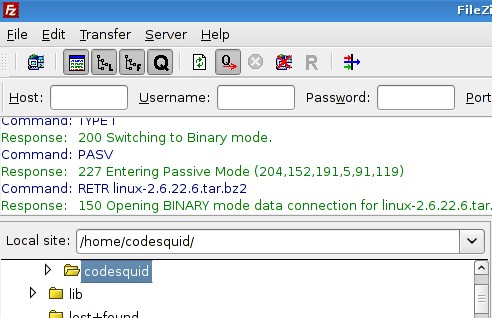 This free and open-source FTP software facilitates FTP transfers, SFTP transfers, using SSH/TLS, and more. Best of all, it's user-friendly and compatible with multiple platforms.
Features:
Sports a tabbed console with options for the bookmark, drag-and-drop function, editing of remote files, searching remote files, and more.
It allows you to resume and transfer big sized files.
It offers the option to customize the speed limits of the transfer.
Equipped with a robust site manager and transfer series.
Moreover, it also comes with a network alignment setup, offers integrated directory scanning, the option to stay-alive, compares directories, and more.
Price: Free and open source.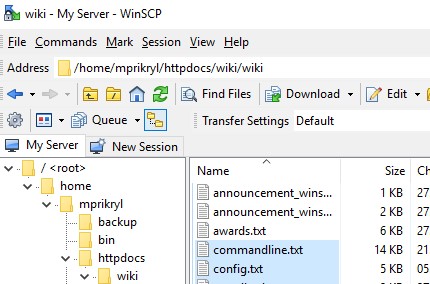 One of the leading FTP and SFTP client   in the list, this software is especially for Windows. It allows you to move files between the local host computer and the online servers using different file transfer protocols such as SFTP, FTP, FTPS and more.
Features:
Offers a graphical user interface and also a command-line interface.
Helps you with scripting and automates tasks.
Facilitates switching between user interfaces and is portable.
Provides the option for port forwarding, creates master password, and offers workspaces.
Moreover, it syncs seamlessly with PuTTY, MS Windows, etc., supports transfer queues, offers the option to resume file transfer, encrypts files, provides file masks and operating masks, allows access to advanced settings for transfer, and much more.
Price: Free
This is yet another reliable FTP client that transfers files and contents from a local computer to a remote server and back using FTP, HTTPS, SFTP, FILE, and more such protocols.
Features:
Deployed in command lines or scripts that help transfer files and content.
Are used in media players, mobile phones, cars, TV, routers, etc.
Works as a support system for internet transfer of several software applications used daily.
Moreover, it allows you to restrict the bandwidth, verify users, resume transfers, provides support for proxy servers, and so on.
Price: Free and open source.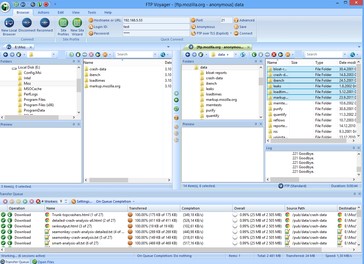 One of the most dynamic FTP clients for Windows, this software transfers files using SFTP, FTP, and FTPS protocols. It ensures secure and automated file transfers and offers a scheduler complete with features.
Features:
It allows you to transfer and download files with the help of SFTP, FTP, and FTPS protocols.
Option to link to several servers concurrently.
Performs various file transfers at the same time.
Facilitates file transfers using drag-and-drop method on the interface of your Windows desktop.
Auto syncs folders and sets time for the transfers to occur at a specific time.
Moreover, it's a cost-effective and user-friendly software that allows you to transfer data despite the time or place offers enhanced security, allows control over the transfer process and the option to transfer files of all sizes.
Price: Free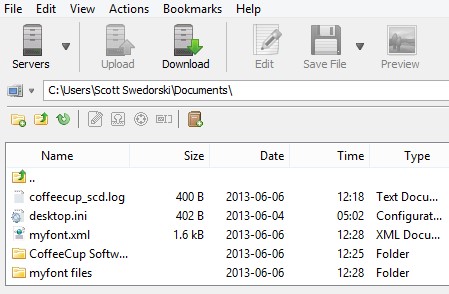 A powerful and easy to use FTP client, this software links you to a server in just one click. You are then allowed to transfer files and folders using the drag-and-drop feature to your remote server or the host computer.
Features:
It offers the option to monitor the status of file uploads and downloads through the FTP activity window.
It provides a strong and sophisticated bookmark function that helps you save your location in a folder on your server/computer.
Can manage all different types of protocols including FTPS, HTTP, FTP, and SFTP.
Stores the history of your activities and neatly hides them in a drop-down menu.
Offers code completion function that helps finish the codes automatically.
Saving handy details in the status bar at the bottom of the interface, complete management of local and remote servers to help you include, shift, and start files from within the software, or auto-creation of a ZIP folder to backup your website, are among its other major features.
Price: Free
Based on the libre server project, this is a free and open-source FTP client that features cloud service for both Windows and Mac platforms. It provides support for all major file transfer formats and cloud services including, FTP, SFTP, Dropbox, Microsoft OneDrive, Google Drive, and more.
Features:
Offers Cryptometer based vaults that allow the client to encrypt their data for enhanced security on any cloud storage service or server.
It allows you to edit any file using any of your favorite external editors.
Facilitates file sharing through web URLs.
Option to share your data in the cloud using Akamai and Amazon CloudFront. These data supply networks can be easily customized to share your file globally from prime locations.
Helps you to arrange your bookmarks using the drag-and-drop facility and run a quick search through the filter option.
Easily browsing your file, moving files faster in the browser with cache activated, option to restrict the number of simultaneous transfers and filter files, or the ability to sync with system technologies, are some of its other major features.
Price: Free and open source.
It offers one of the most secure and convenient ways to transfer files between the system and the remote servers. It also offers highly encrypted SFTP transfers that are user-friendly, easy to configure, and lowers the stress of management.
Features:
Straightforward and easy to use, it can be installed quickly and conveniently.
Offers flexibility with file transfer using different formats that include, FTP, SFTP, etc.
Provides high level of security with AES password protection, and more, and while the transfer is on and once the transfer is over.
Complies with corporate governance requirements and regulations.
Automates the tasks to streamline the file transfer process and boost productivity with integrated efficiency such as, file compression, sending email alerts, performing backups, scheduling transfers, and more.
Price: Free trial available; Upgrade starts from $49.95/license.
If you want an FTP client that helps you transfer files safely and in a dependable manner, this software is just the right choice for you. It transfers files using industry-accepted protocols, for example, FTP, SSH, HTTP, and more.
Features:
Offers user-friendly yet robust set of tools for managing the intricate issues related to data management and helps meet compliance standards like GLBA, HIPAA, etc.
Provides enhanced security with HTTP/S, SSH, FTP/S, and encryption with OpenPGP.
Equips you with a password manager and facilitates one-time verification procedure.
Allows you to pre-set fast and automated transfers.
Among its other major benefits are, securely backing up or integrating the websites, easy tracking of local folders for any modifications, creating scripts and macros for workforce and saving time, and creating RSS feeds for podcasts or control sound files.
Price: 30-Days free trial available; Pricing starts from $59.99
This is yet another FTP client that is completely free for Windows. It helps you transfer files among the host computer and the servers using protocols like FTP, SSH, etc.
Features:
It facilitates synchronization of browsers, file transfers from one site to another, supports drag-and-drop function on the interface, and allows you to view and edit files.
Supports resuming file transfers, firewall security, FTP URL analysis, command line uploads, and downloads, lets you add your own commands, and offers filters.
Allows you to encrypt and decrypt data to servers with the help of advanced encryption technique.
Moreover, it also provides the option to schedule FTP transfers with no added services, sends email alerts, runs external applications, allows you to search for a file on the remote server, and more.
Price: Free.
net2ftp
Those looking for a trusted FTP application, this software is a good option. This web-based client either allows you to use it through the web console (runs on a web server/through a browser) or download the program on the system.
Features:
It allows you to navigate through the FTP server.
It can be installed as software.
Manages the scripting process, and allows you to edit and control using the available editor.
Ability to sync with other available programs.
You can install it on your own webserver running on PHP or MySQL and allows you to upload, download, browse, copy, sift, remove, zip and save, upload and unzip, and more.
Price: Free
Moving files between computer and remote systems can also turn into regular cleaning of your system. Wondering how? Yes, this FAT client software takes care of system cleaning also. It comes equipped with all the necessary tools required to search for files or manage them. It also supports different plugins for including new features.
Features:
It comes with a straightforward and user-friendly interface.
It offers a completely customizable interface where you can also configure the shortcuts for almost every action via simple and responsive communication.
Supports mouse actions, offers integrated file viewers, text editors, and facilitates opening certain formats.
It offers a wide range of plugins and provides the option to download and sync new ones.
Apart from a powerful FTP client, this software also offers a network portal, a process catalog, and a temporary window. Besides, specific tools for extreme comparison and case transformation are also included.
Price: Free version available; Contact vendor for license quote.
This is a text-based FTP client that helps you manage files and folders and integrate or transfer on all major platforms, including, Windows, Mac, Linux, and Solaris. Additionally, it also schedules backup of files and databases, effortlessly.
Features:
Loaded with tabs that connect you to many websites within a single pane.
It allows you to protect your website password using encryption.
Facilitates file compressing, extracting, and lookup for archives.
Supports international coding, Unicode, and CJK.
Sends audio alerts or executes commands on events.
Offers easy information on preferred and past activities.
Option to reduce the lengthy file lists in a jiffy, browse web contents in a single click, run batch transfers by simply dragging the files, or to easily preview with zoom, are among its other major features.
Price: Free version available; Pro version starts from $24.99.
Those looking for a completely free FTP Client can definitely give this a try. This software offers maximum security while the file transfer and works across major operating systems. Mozilla Firefox supported, this application allows access to simple and responsive FTP/SFTP servers.
Features:
Facilitates smooth file transfers and offers state-of-the-art features like integration of directories, checking ethics, comparing directories, and more.
It also offers SFTP, file hashing, encrypts using SSL, and the option to edit remotely.
Keeps you informed with a status bar where you can check the time taken for transfer.
Moreover, you can also save profiles to help you link to unlimited servers, thus, saving a lot of your time on the daily connections.
Price: Free
This is another great FTP client software that works across major platforms and is a perfect replacement for the built-in command-line interface for an operating system. This is a text-based application that allows you to share the integrated FTP program.
Features:
Option to choose between Ascii or Binary variants of file transfers.
It allows you to login anonymously.
It offers the option to change between active and passive transfers.
Lets you change file permissions.
Among its other major features are, flexible reconnection holdback when delinked, option to resume automatically when downloads are interrupted, display of the file transfer progress, and more.
Price: Free and open source.
Conclusion
While all FTP clients are more or less the same, you may find different feature/s in some of them which make that client special. With plenty of FTP clients around, it can be baffling to make the right choice. Therefore, you must check what OS versions it supports, if it offers any search tools for finding a file, which clients work with specific servers, speed of the transfer, or if it transfers large files adeptly. Once you have all that in place, you know you have the right software. Simply go with it and transfer files securely.