Good employee management leads to increased productivity, but how? The first thing to check while managing employees is their attendance. The regular they are, the better for your business. But, gone are the days of manual register entries or even Excel sheet tracking. Tis the time of Biometrics and employee attendance systems.
However, electronic solutions may not always fit your requirements. They may either not sync well with the mobile phones, or IT systems, and may even not be easy enough to use. This can lead to utter chaos causing errors in leaves, vacation, or sick leave entries. That's when a reliable Attendance Management Software comes to your rescue.
We have handpicked some of the best attendance management software programs for you to keep accurate logs of your employee's hours of work.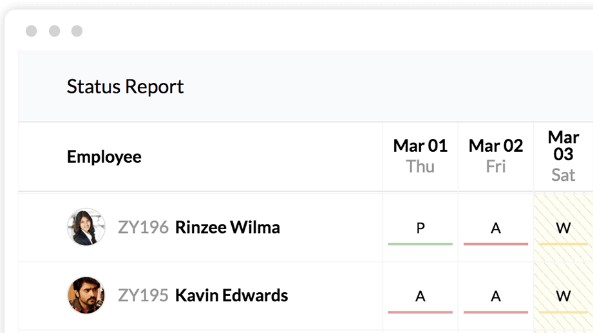 Zoho People is a complete HR solution that also features an attendance tracking function. It offers detailed insight of your employee's working hours and absence time, helping you plan the day ahead accordingly.
Features:
Allows your employees to mark attendance from anywhere using a built-in Geo tracking feature.
Lets you allow access to employees to log in and out from both web and mobile devices.
It allows you to set break times based on shifts, categorize as payable/non-payable, or customize as manual/automatic.
Enables you to set shifts for each employee, and view the attendance data for each employee.
Lets you manage absence using the absence scheduler.
Generates graphical reports with detailed attendance summaries.
Best of all, it easily integrates with biometric devices and other APIs to help you record employee check-in and check-out.
Price: 15-day free trial available; Upgrade starts from $0.59.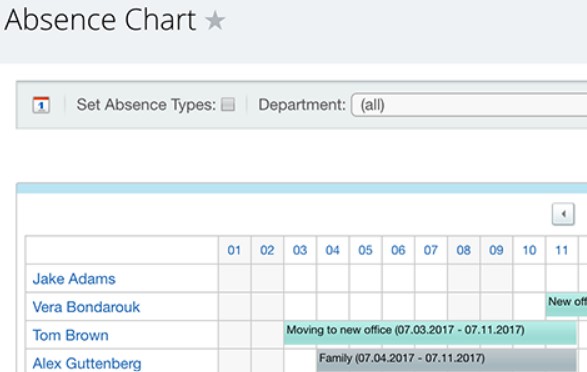 Bitrix24 is one of the leading free and open-source cloud HR systems that offer solutions for employee self-service, time management, Intranet, etc.
Features:
Offers the option to clock in/out, generates workday reports, absence charts, and allows you to request for time-offs.
Provides adaptable workday settings, displays minimum workday period, tracks late arrival/early departures, productivity reports, and more.
Equips the HR department with absence chart & types, requests for business trips, custom approvals process, etc.
Offers employee engagement tools like the self-service portal, intranet, shared calendars, company news, and more.
This flexible software perfect for small to mid-size organizations and also works with Android and iOS.
Price: Free version available; Plans start from $19/month.

When I work is another great attendance management software that allows you to schedule quickly, share with your team, unify the schedule with the time clock, cut down labor costs, post jobs, track applicants, and more.
Features:
It allows you to schedule and track time for the workforce.
Offers access through mobile and desktop apps.
Apart from managing attendance and scheduling, it also enhances your communication, improves responsible nature, cuts down on excuses, etc.
With mobile scheduling and clock apps, it allows you to manage teams, instill team accountability, keeps your team notified, and allow teams to manage their attendance.
Available as a responsive mobile app that's easy to use and fast to set up.
One-click scheduling, immediate notifications of Swaps and Drops, user-friendly labor tools, overtime alerts, or option to import timesheets for quick processing of payroll, are some of its other major features.
Price: Free version available; plans start from $1.50/user/month.


The Time and Attendance solution by Replicon helps your employee log accurate time & labor, streamline gross pay adherence, and complete inside view of the Employee metrics.
Features:
Simplifies and updates the time and labor workflows using flexible timesheets.
Offers responsive time capture facility to record the total hours worked, option to get timesheets in different formats, manages different types of employees, and track regular/overtime hours.
Mobile tracking facilitates employee self-service, offers AI-based chat boat, Face ID, live updates, and more.
GPS timesheets help track location details, offers a real-time view of employee location, and geofencing.
Advanced timeclock transforms any tablet to a clock for time capture, records breaks, and logins eliminate the possibility of time theft and monitors round the clock. theft, and monitors round the clock.
Automatic verification of time entries, allows you to create your own rules, and minimizing errors.
Option to choose from predefined approvals library, create custom approvals, managing employee leaves, and absences, automating pay calculations, or easy to control pay data validations are among its other major features.
Price: Free trial available; Plans start from $6/user/month.


Deputy makes scheduling employees fast and easy, streamlines timesheets, and connects your teams from any device. This employee management software is known for saving a lot of your time.
Features:
Allows creating employee schedules.
Enables you to capture accurate employee hours, ensure tracking of correct breaks, and option to export timesheets to payroll.
Option to share key details and files on the News Feed.
Shift swapping function to look up for employees to cover shifts, AI-based auto-scheduling, managing leave balances, and allocating tasks to an employee/s.
Best of all, it's available in the form of a mobile app that allows you to manage staff schedules, tasks, and timesheets across devices.
Price: Free trial available; Plans start from $2.50.


From freelancers to software engineers, it helps you with employee monitoring and more features across project management. It also streamlines payroll processing within the console.
Features:
It helps you to track attendance, track breaks, and stay alert for late entries.
Lets you monitor chats.
It allows you to track activities with automated screenshots.
Option to track time to clients and projects.
It offers comprehensive reports, timesheets, and more.
It allows you to view which apps and websites are in use.
Syncs seamlessly with all project management tools.
Tracks employee locations using GPS tracking through the mobile apps.
Automatically processes payroll and billing.
Additionally, offers the option to sign into a white label portal, view standard camera shots of employees when working, compatibility with all devices across all platforms, and more.
Price: 14 Days free trial available; Plans start from $10/month.


This Time Tracking software is known for its contribution towards improving your business revenue. It allows you to measure and generate some positive data on your project performance.
Features:
Easily tracks project price by billable hours or fixed rates.
It allows you to implement timesheets successfully using one-click visual time tracking.
Generates quick online invoices to track different clients.
Self-monitoring facility for employees helping with time management.
Gives a quick view of total work hours with time offs.
The software is perfect for any professional, services companies, consultants, agencies, and all types of employees.
Price: Free version available; plans start from $7.50.


If you are looking for an automatic time tracker, then DeskTime can be a great choice for you. It offers real-time view of your team's activities and keeps your projects on schedule, thus boosting team productivity.
Features:
Starts tracking your time automatically as you start working and stops when you do.
It allows you to view employee activities and patterns using URL and app tracking.
Keeps you informed on the tasks being currently handled by your team, while records files and documents titles.
Auto screenshots function offers more insights into the team's productivity
Tracks time spent when away from the workstation.
Time tracking facility for separate tasks and projects.
Calculates project costs, allows employees to take breaks using Pomodoro timer, offers Private time function to access websites, Employee absence calendar to manage time-off, and more.
Price: Free version available; Upgrade priced at $95/month.


Jibble implements cloud-based tracking in all your apps that include mobile devices and even Slack. From tracking time and attendance for payroll to boosting your work productivity, the software creates a positive environment in any organization.
Features:
Allows employees to easily check in to work, check out when done, and verify presence with selfies on mobile apps.
Option to view daily, weekly, or monthly timesheets using the web app.
Offers custom reports, view employee data, set up notifications, check biometric statistics, and manually enter staff times. https://calamari.io/
Enhances productivity with direct access to staff data for performance reviews.
Option to check-in/out from iPad Kiosk.
Offers Power-Ups facility to upgrade the software to make it fit your business requirements. Best of all, it's compatible with all major platforms.
Price: Plans start from $1.50/user/month.


Calamari is another efficient employee management software that helps track time off and manage attendance.
Features:
Option to clock in/out marking the time and attendance.
iBeacons allow employees to auto-clock without any action.
Manages timesheets, payroll processing, reporting and more.
Enables you to manage workforce leaves by planning leaves, working remotely, automatic calculation of entitlements, and so on.
Moreover, it's available in multiple languages including English, German, and French among others. Handles employees from multiple countries via one account complies to labor legislation of 70+ countries and is cloud-based which makes it infrastructure-free.
Price: Free trial available; plans start from $40/month.


iClassPro, the cloud-based class management software, helps you to run your business like a professional. If you are into a class-based business, it helps you to manage all your students, classes, mentors, and payments, efficiently. It also offers an advanced customer support facility.
Features:
It provides you with a branded mobile app that encourages interaction.
Offers its own dedicated mobile app listing on iOS and Android.
It allows you to send push notifications, offers an option to design your own app, schedule marketing announcements, and more.
Offers a selling platform for student related things.
Simple and responsive point of sale interface where you can manage all your products in one place.
It allows you to classify products, add variations, and more.
Option to register for classes on the go, send push notifications to customers, view student attendance, offers a view of student attendance, etc.
It allows you to customize the calendar, view important details using ProCal, easy stacked view, view class schedules, and so on.
Option to view evaluation in the Skill Activity list, records and manages employee time using Time Clock, track student attendance, revolutionizing dashboard to monitor important business metrics or automated makeups, are some of its other significant features.
Price: Free trial available; plan priced at $129/month/location.


Growing your business and your HR-related tasks got easier with Cake HR. This complete HR solution helps you get productive immediately in just a few steps.
Features:
Enables you to onboard staff to the new online directory in just a couple of clicks.
Automates tracking of random leaves, breaks, or shift change requests.
Option to use filters to create your own reports and graphs full of data.
From shift scheduling, self-service, leave management, or onboarding to reporting and managing expenses, it covers all.
Price: Pricing based on the number of employees.


Quinyx claims to be the future of employee management by helping you with saving time and cutting costs, while you enjoy work. This cloud-based solution is also mobile-friendly making it easier for employees across the organization.
Features:
Keep track of your business performance by accessing the important KPIs.
It offers an ROI calculator to check how much you can potentially save.
It allows you to easily plan everyday employee tasks.
It helps you to balance your planned costs versus outcomes to create a profitable resource plan.
Lets you communicate quickly and easily with staff.
Completely unified time reporting offering a quick overview of total hours worked, and option to create dependable and intelligent staff management systems, are among its other major features.
Price: Free demo available; contact vendor for upgrade price.
Conclusion
A good attendance management software not just saves your time and money, but also prevents your business from time loss, and reduced productivity. Moreover, it gives the managers a clear view of what their employees are up to and if the tasks are being finished on time. So, make your choice from the above comprehensive list of the best attendance management software to boost company productivity.