You think of it and there's a software for each purpose these days. Yes, there's a software for T-shirt designing as well. Whether you want to gift someone a personalized T-shirt or expand your wardrobe, a T-shirt designing software can help you bring your ideas into reality.
There are in fact, abundant such software available these days, Hence, it can get overwhelming to choose the right software offering great results. From focusing on different designing aspects to offering printing options, these programs offer varying features.
To help you finalize the right tools suited to your needs, we have shortlisted some of the best T-shirt design software of 2019.

Although Adobe Illustrator is an out and out vector graphics editing software, it can also be used to design t-shirts. To design a t-shirt, you would need to download the Adobe Creative Cloud mobile app.
Offers practice files to starts designing with the new Illustrator CC version.
Helps you to draw basic shapes using the built-in tools.
Option to create new shapes by joining the paths.
Allows you to resize shapes, create duplicates, and even position them.
You can finish the design using by adding bold headlines, adjusting colors, and by customizing the shapes.
Price: Free trial available; upgrade priced at $20.10.

Photoshop is the preferred choice for any creative project that includes, photo editing, animation, digital painting, and more.
Features:
Offers a range of professional photography tools for regular edits or complete image conversion on all desktops and iPads.
Equips you with endless masks and layers, paintbrushes, and more.
Work gets automatically saved in cloud irrespective of your location.
Empowers you to work conveniently on your iPad.
Option to design with object selection tool and rest is completed by Adobe Sensei.
Ability to add control points at any position or split image using customizable grid.
Easy document settings change, access to all varieties of layer settings, easy presets, improved arrangement, or higher responsiveness are among its other major features.
Price: Free trial available; upgrade available at $20.10.

Placeit makes it super-smooth for you to design your custom T-shirts using its large database of smart templates. It allows you to create logos, videos, designs, and mock-ups in matter of seconds.
Features:
Equipped with top-class branding and marketing tools that allows all individuals and companies to develop splendid visual effects for their brands.
Allows you to easily create intricate designs.
Offers a wide collection of assets meeting all your requirements.
Facility to edit logos, videos, design templates, and mockups in a couple of clicks.
Moreover, to use this software, you do not to be skilled in designing. Offers a wide range of logos, specially designed templates, and the option to create and edit interesting videos straight from the browser.
Price: Pricing starts from $14.95/month.


Creating and selling your own designed products online becomes a piece of cake with Printful. This print-on-demand drop and order fulfillment services helps your designs get printed and shipped as per your demand, and under your brand name.
Features:
It allows you to design, print, ship and sell in easy steps.
Lets you store your stocks in their warehouse, and the orders are fulfilled by Printful.
From Shopify or Wix.com to Squarespace and more, it integrates with a wide range of e-commerce platforms.
It ships from five fulfillment centers.
Allows you to place unlimited orders and are automatically imported in the software for shipment.
The software prints and ships all orders from your brand featuring your own labels, pack-ins, and other branding choices.
Price: Pricing starts from $7/product based on customization and specifications.


Those looking for a free and open-source graphics editor, can find help with GIMP. This cross-platform image editor is perfect for graphic designers, scientists, illustrators, and even photographers.
Features:
Provides all the essential tools for high-quality image manipulation.
It offers the ability to create icons, graphical designs, and art.
Offers a high-quality structure for scripted graphics with multi-language support like Python, C, C++, etc.
Ensures high-fidelity color creation on all digital and printed media with high-quality color management features.
Best of all, GIMP integrates with a wide range of programming languages that include Python, Perl, Scheme, and so on.
Price: Free and open source.


This graphic design software offers all the professional vectors graphics, layouts, and tools for photo editing and design to help you work faster and intelligently.
Features:
Allows direct control over the document structure with Object Docker.
Makes all the images pixel perfect with improved pixel workflow.
Lets you apply, modify, and experiment with bitmap effects with destroying the source object/image.
Offers a wide range of refreshed templates.
Allows you to create designs on the go, store in the cloud, and import &export easily in all major formats.
Among its other important features are, illustration tools, tools to create brochure layouts, option to enhance and retouch photos with Photo-Paint, complete set of Typography tools, web graphics tools, and more.
Price: Free trial available; Contact vendor for quote.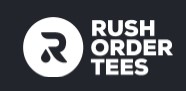 RushOrderTees is another great online T-shirt designing software that allows you to design your custom T-shirts, effortlessly and in no time. You can bedeck hundreds of t-shirts with your own logo.
Features:
Specializes in rush deliveries and offers 100% assurance on deadline.
Offers free shipping, competitive rates, and high-quality products.
Wide range of high-quality designs at reasonable rates and fast turnaround times.
Reviews and repairs for every order performed by in-house professionals.
Best of all, the software covers you for any number of orders and any deadline.
Price: Pricing starts from $19.86 for five pieces.


InkXE is a specialized online tool for designing t-shirts, apparels, signboards, flyers, business cards, and more. It comes equipped with an elegant designer app interface with strong admin support.
Features:
Provides support for all types of print industries.
Offers a range of tools to customize products online like shape, size, color, or sides.
Option to select different product features like size, color, materials, etc., edit images, upload graphics in any format and in variable data prints.
It allows you to order products in custom size, import images from social media, remove white color from background, and more.
From auto-warning for low-resolution image uploaded, or auto-conversion of uploaded image to text edit options or artwork templates, the software has a lot to offer.
Price: Plans start from $2499.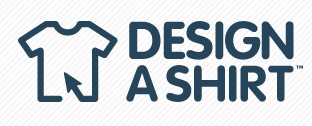 DesignAShirt is an online solution for T-shirt designing from where you can print your custom t-shirts and get it shipped to you. Simply access the idea gallery, design a custom t-shirt, and leave the rest on the program.
Features:
Offers faster and easier method to design T-Shirts.
It allows you to design T-Shirts in three quick steps and a couple of clicks.
Offers access to clip-art inserts to all who wish to design a custom shirt.
Provides vibrant colors (for both images and texts) to choose from and affix them on any t-shirt.
It's a convenient way to design t-shirts from the comfort of your home and easy to be used by anyone.
Price: Get quote from a vendor based on design.
FatPaint.com
One of the most advanced online graphic editing software in the world, FatPaint offers assistance with page layouts, and designing 3D texts and logos. It's lightweight and comes loaded with an extended range of tools and resources.
Features:
Equipped with a vector image editor, a photo editor, and advanced page layout function.
Loaded with thousands of integrated fonts, vector clip-arts, images, and brushes.
It offers plenty of settings like different light options, camera positions, etc.
Moreover, you can also create attractive looking 3D text graphics by simply choosing a 3D template.
Price: Free


Snaptee is another T-shirt designing brand that empowers you to create your T-shirts, easily. What's more? You can now design T-shirts even on your mobile phone.
Features:
It comes loaded with tools that helps you design, order, and sell T-shirts that are professional looking and are of exclusive designs.
Option to select from smart design templates or create your own designs.
The Remix feature helps you to redefine the designs you like.
Option to share your designs on social media.
Moreover, it allows you to connect photo albums or Instagram for image inspiration, add a custom filter, select preferred font, or change the color.
Price: Pricing starts from $19.99 for your own designs.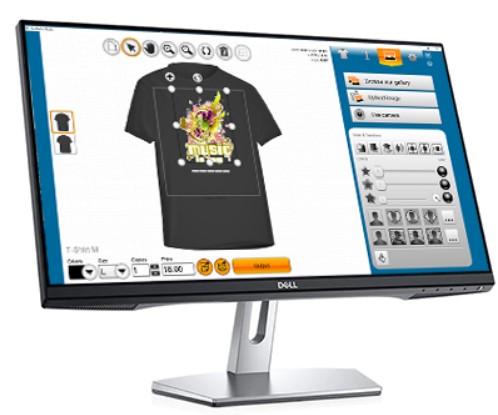 GraffixPro Studio is built to simplify the personalization system that helps you to deliver as per customer requirements, while optimizing your profits at the same time. Moreover, there's no learning curve and so, even a beginner can use it effortlessly.
Features:
It allows you to import names and numbers to generate professionally personalized apparel.
It features a straightforward interface that offers an exact color match.
It offers more than 40 popular fonts.
Option to create template files of artwork to be easily edited later.
The Quote Generator helps create quotes with purchasing cost, customized artwork, and more.
Manage submitted orders from orders page.
Moreover, it allows you to scan and send designs to your machine, keep track of inventory by style, color, and size or doing away with extended setup times, are some of its other significant features.
Price: Free version available; contact vendor for quote.
If you are looking for an efficient and reliable online custom T-shirt design printing software, then Flash T-Shirt can be a great find. It offers an assured easy approach to design custom T-Shirts.
Features:
Option to manage any language from store admin.
Offers content management system and free training to offer assistance with your online designs.
It allows you to look up for products or design templates and configure them in the software.
Option to change style & products, select product color, view product details with sizes, add clipart, and more edits.
Changing layers, adding text to product design, uploading your own Artwork, option to drag and resize images to adjust your design, or the option to save designs to be edited later are some of its other major features.
Price: Free trial available; License priced at $2500.
SonicShack Design Studio is a web app or rather a plug-in that allows you to design and sell custom t-shirts on your website.
Features:
Easily and quickly embeds on your website.
It can be easily set up and ends up with affiliate program registration.
It allows you to earn profits by selling through the affiliate program.
Best of all, even the visitors on your website get the freedom to design custom t-shirts and other items.
Price: Free
Printing your T-shirt with your favorite texts or images gets easy with the T-Shirt Factory Deluxe version. Perfect for home, business, and school purposes, it lets you create pictures on T-shirts, visors, tote bags, and much more.
Features:
Easy to install and easy to use with no prior experience in photo editing required.
It allows you to simply draw or import a design into the software and get a print.
Syncs well with MS Word and its clip art function.
It allows you to print a mirror image of the design onto the transfer paper using an inkjet printer.
Loaded with around 6300 pre-made designs or offers the option to choose from over 20,000 high-quality, color clip art images (royalty-free).
Option to scan your family pictures or instant personalized T-shirts is some of the additional features it boasts.
Price: Free
Conclusion
Although professional designing has its own charm, there's no better satisfaction than designing your custom T-shirts. All the more because of the rise of T-shirt designing tools is making it super easy these days. You can simply select from the above list and get going with your designing ideas.