We all been in situations where we are stuck with our personal computer so much that we often miss important messages. Or in situations where we may have missed our android smartphone in home, and want to retrieve messages in office. This is where MightyText comes to rescue. This app is made by ex-google employees Maneesh Arora and Amit Sangani who were also responsible for products like AdSense, AdWords, and the now-defunct Google Health.
The app is having both free and paid subscription. The latter providing some more additional advanced features for pro users. So without wasting time, lets see how to set up the notification syncing. Follow these steps
Step 1: Download and install the app "MightyText" from the Google play store. The app is nearly 3 -4 MB in size.
Step 2: Now open the app, Marshmallow users will be asked for the permissions for SMS, Contacts, Phone. Allow them all. Once you open the app,it shows the Google account signed with your device. Now click on "Complete Setup >>". You will get the Final Setup Screen.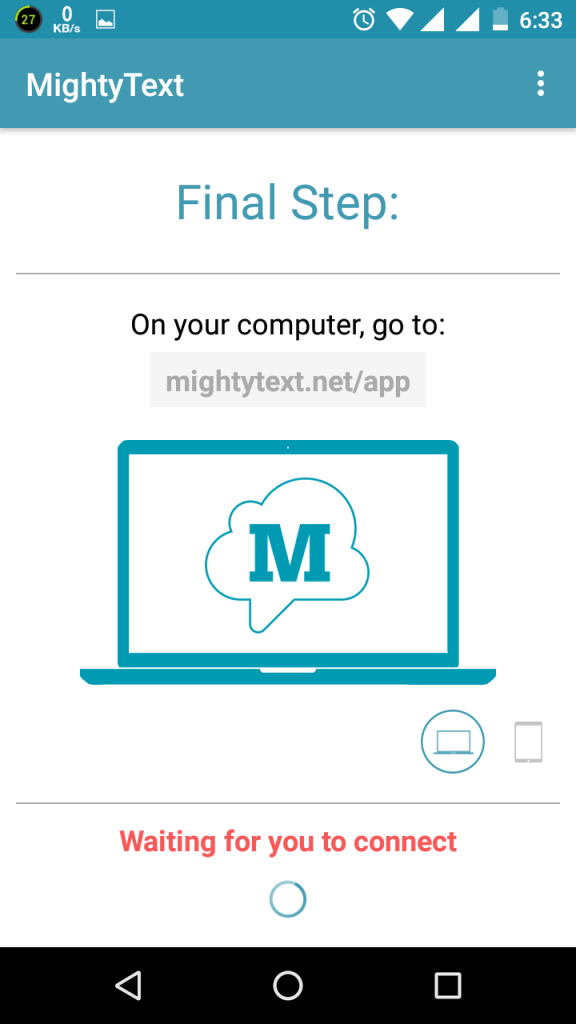 Step 3: Now go to your chrome browser on your computer and go to mightytext.net/app.
It will ask to login with the Google ID same as that of your phone. If your already logged in to Google chrome with the same Google ID, then it will just ask for the permission else, you need to specify your Google ID and password.
Now it will give a brief tour of the site (or service).
Step 4: Once you are done with the brief tour, lets get started. The User Interface is quite simple to use. On the left side you have various features like New Message, Messages, Photos/Videos, Scheduler, Phone, Contacts, Settings (We will get back to these later) and you will also be getting the battery status of your phone. Clicking on a specific feature in the left hand side, shows the detailed usage of it on the right hand side. Note that certain features like scheduler are locked for pro users only.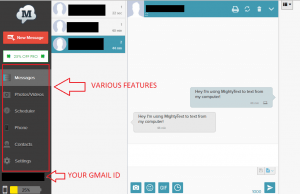 Step 5: Now we have to install the extension of the chrome, so that we can get instant notifications from our phone to the chrome. To do so click on the gmail id shown in the above step fig > Click on MightyText Chrome Extension and click on Add Extension. Whenever you want to open the app and get the messages, go to Chrome (in pc,) click on the small mightytext icon shown on the top right corner just beside the address bar.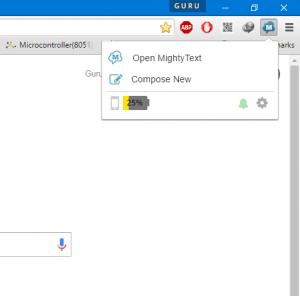 1) Photos/Videos: We can see photos & videos from the phone on your computer. It is Synced instantly depending on the speed of your internet connection.
2) Scheduler: Its a paid feature, where we can schedule the messages to be sent
3) Phone: Calls can be initiated just from the chrome itself, however once call begin, it has to be continued from your phone.
4) Contacts: Contacts can be viewed directly from your phone to the computer
Other paid features include Signature and templates, Blocking the numbers. These can be accessed from settings
5) App Notifications: Apps can be set to sync notifications. This can be done by: Go to Android MightyText App > Settings >App Notification sync and turn on Mighty Notification sync. By turning on this feature all of the notifications that are shown on your phone will reflected to your PC.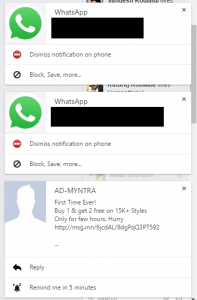 You can even turn individual app notification off, to do so go to Chrome(PC) > MightText App > Phone > Choose App tab and search for the app and click on the middle stop button of the app I.e stop syncing notifications and you are done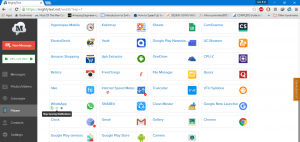 Overall, MightyText App from the ex-googlers seems to be one of the best tool for android users. Apart from getting just SMS notifications, it has got some other cool features too. But it needs a good reliable internet connection connected to both your PC and your Phone and it only works while you are using Chrome Browser. Thank you guys for reading, stay tuned for more!