Microsoft first released Windows 8 with the hopes of making Windows a more mobile, versatile and portable operating system.It seems Microsoft has not given up hopes on that with the new Windows 10. Tablets and other notebooks that support Windows 10 can easily access cellular networks given they have all the needed hardware requirements.
Many manufacturers introduced sim card slots in Windows 10 tablets and Notebooks a while back after and with the launch of Windows 8. Since then people have come to use and love this new feature in their beloved workstation.Microsoft has simply improved this user experience via under the hood improvements with the operating system and a more streamlined and User Friendly experience connecting to a cellular network.
The ability to connect to a cellular Network gives you, the limitless possibilities of having data access on your machine. You can watch movies, videos, images, surf, check mail, download programs, listen to Music and access all other possibilities online.
Tip: Even if your notebook or Tablet does not have a sim card slot, you can get your hands on a broadband modem and use it to connect to cellular networks on Windows 10.
Note: You should also have a valid and working sim card inserted in your tablet or Notebook before you follow this procedure or have your broadband portable modem plugged in and recognized by your PC, whichever be the case.
Note: You will definitely need a Data plan from your operator in order to gain data access via cellular network.
How do you connect your Windows 10 Pc to a cellular network for the first time?
There are two ways to do this.
Method 1
1- Click on the Start Button and open the Start menu.
2- Select settings.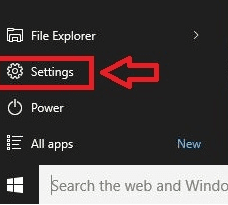 3- Click on Network and Internet in the middle of the window.

4- On the left pane ,you will see various connection options, choose Cellular.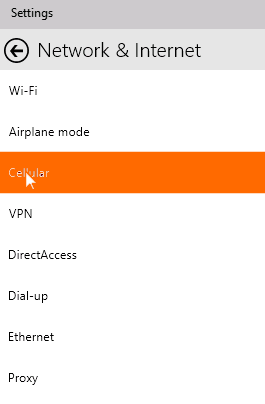 5- Once you click on Cellular, the right pane will show its options.
6- Among the options find and click on -Show available Connections.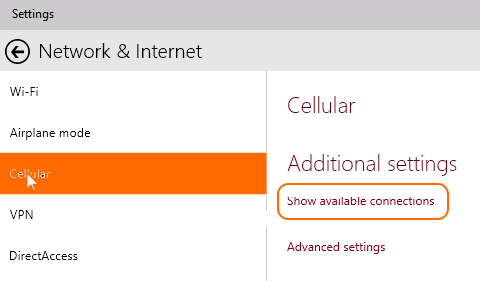 7- This will take you to the networks charm, with the available list of networks.
8- Select the one you prefer and click on Connect.
You have now connected your machine to a cellular network 🙂
Method 2
1- Click on the network icon in the task bar below, in the lower right corner.
2- On the now open right pane, select cellular networks.
3- This will now open Settings.
4- Select Network and Internet and then click on Cellular.
5- You can now choose your preferred cellular network and click on Connect.
6- If the network is protected by your user name and password, or APN , you will be prompted for your details, enter them when this happens.
You will have now connected to your cellular network.