When Apple introduces many features and add-ons on their iPhone devices, they work a build and release an updated version of iOS for users. Most users look up to such updates eagerly and try updating their iOS to make use of such improvements.
Whenever iPhone users couldn't update their iPhones properly, they tried doing it using iTunes on a PC/Mac. While doing it, many complained that they received an error 1110 and couldn't update their iPhones successfully. Usually, this error 1110 is received by users who do not have enough space left on their iPhones and the update in general needs a good amount of space. But the outdated iTunes app also can contribute in occurring this error.
Anyway, you do not have to worry anything about it if you are also getting this error while updating. Let us see some of the best solutions listed in the article below that have the potential to easily fix this error.
Workaround
Force Restart your iPhone device – Some iPhone users found that technical glitches in iPhones caused the issue and they were able to rectify it by force restarting their iPhones.
Fix 1 – Clear space on your iPhone
This issue is majorly caused because of lack of internal memory space on any iPhone. So try making some space by checking the details on the iPhone Storage page as shown in the below steps.
Step 1: Launch the Settings page first by clicking on the settings icon.
Step 2: After launching the settings page, select the General option.

Step 3: Scroll down and click on the iPhone Storage option.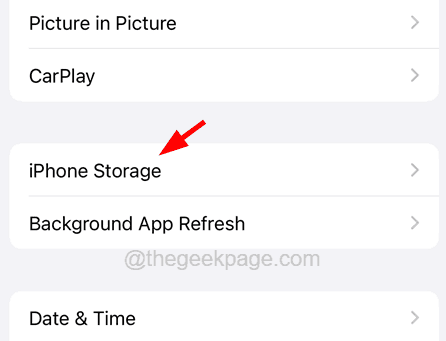 Step 4: It might take some time to load all the details of the iPhone storage data.
Step 5: Check all the data and delete the files which are unnecessary to make some space.
Fix 2 – Update the iTunes app on your PC
We have found that to successfully update or restore any iPhone or iPad device, you need to have the iTunes app which is updated to its latest version.
Step 1: To update iTunes, first launch the iTunes app on your Mac device.
Step 2: Once it is launched, go to the Help option from the main menu bar.
Step 3: Then choose the Check for updates option from the dropdown menu list.
Step 4: Do the needful onscreen instructions to complete the update process.
Step 5: Whereas, to update iTunes on any Windows PC, you need to use the Microsoft Store.
Step 6: To do so, first launch the Microsoft Store.
Step 7: Search for the iTunes app page by typing iTunes in the search bar and selecting the iTunes app from the search results.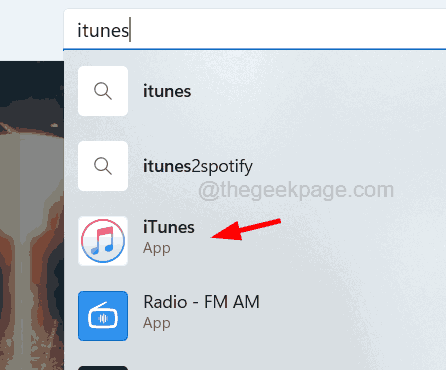 Step 8: Next, click Update on the iTunes page if there is any update available.
NOTE -If it is already updated, it will show only Open.

Fix 3 – Delete the unwanted Apps
Even though deleting some files like images, videos, documents, etc. will not be able to make so much internal space on your iPhone to successfully update your iPhone. So try deleting some apps which take up huge space on your iPhone to store its data.
Step 1: To delete any app that is unwanted, first go to the home screen.
Step 2: Long tap on the app icon.
NOTE – We have used Instagram just as an example. You have to do the same steps for deleting all unwanted apps.
Step 3: This pops up a context menu on the home screen.
Step 4: Select the Remove app option by clicking on it from the menu list as shown.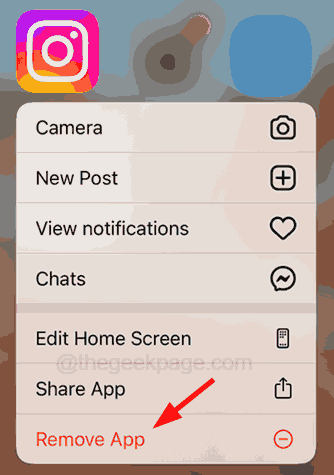 Step 5: Then click on Delete App.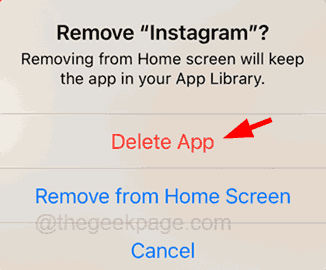 Step 6: Finally, select the Delete option on the pop-up window on the screen.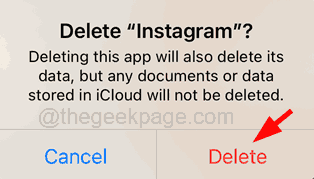 Fix 4 – Factory Reset your iPhone
Even after deleting unwanted files and apps, it still shows the memory space issue, then there could be some hidden files which is taking up huge space. The best we can do is to factory reset the iPhone.
NOTE – Transfer all your data to a PC or Mac to access them later since a factory reset will erase all the data.
Step 1: You have to tap on the settings icon to open the settings app.
Step 2: Then you need to scroll down a little and select the General option.

Step 3: At the bottom of the general page, click on Transfer or Reset iPhone.

Step 4: After that, click on the Erase All Content and Settings option at the bottom.

Step 5: It will pop up a full-screen window.
Step 6: Click Continue and follow the onscreen instructions hereafter to complete the process of factory reset.