As Windows continue with their innovation to come up with their latest version, Windows 10, the updated OS also brings some changes and fine-tunes some of its features to enhance user experience. One of such fresh change in settings is the addition of Wi-Fi Sense in Windows 10.
Introduction to Wi-Fi Sense
Wi-Fi Sense is a built-in feature of Windows 10 that can automatically connect you to suggested Wi-Fi hotspots and to Wi-Fi networks that your contacts shared with you. On connecting, you may notice a Wi-Fi Sense message box asking for access to your Facebook account. In the meantime, it also works with Skype Contacts and Outlook.com.
Wi-Fi Sense was primitively a Windows 8.1 functionality that took a leap as Windows 10 for desktops, laptops and tablets. It runs in the background of the OS which automatically shares your selected Wi-Fi networks and downloads the Wi-Fi network information shared by your contacts. The idea is to get signed in automatically via Windows 10 to your contacts Wi-Fi (that they have shared with you) when you are present at their location.
Sharing saved Wi-Fi settings with friends and family may be an exciting thought since it's much easier to connect to everyone at the same time, but even this convenience comes at a cost such as, security risks. In order to avoid risking your privacy make sure that you DO NOT share your login information manually and rather share it through W-Fi sense.
However, according to Microsoft there are a few things to keep in mind before you proceed;
(i) Windows 10 is the only OS that supports Wi-Fi Sense and no other Windows versions supports it,
(ii) Availability of Wi-Fi Sense is restricted to a few countries and regions and not all,
(iii) Wi-Fi Sense needs you to be signed in to your Microsoft account.
Today in this article, we will show you the way Wi-Fi Sense works and you can set it up on Windows 10. So let's get going.
Using Wi-Fi Sense in Windows 10
When it's about alerting users, there is a lot that Microsoft seems to have compromised with many of their important functionalities in Windows 10 which includes sharing the downloading file or its keylogger. However, they have acknowledged this loophole and rather provided a few actions for the security of the Wi-Fi Sense concept.
We have listed a few of the security actions as stated below:
The Shared network credentials only operate on Wi-Fi enabled Windows 10 for anyone who wants to make use of it;
It also operates via Skype, Outlook, Hotmail, Facebook and Outlook.com;
Does not reveal the Wi-Fi password to any user ever;
Grants access to the administrators of Windows 10 to deactivate the functionality.
Learn how to use Wi-Fi Sense
In order to activate the Wi-Fi Sense on your Windows 10 device click open the "Settings" tab or type in Wi-Fi settings in the search box to look for it.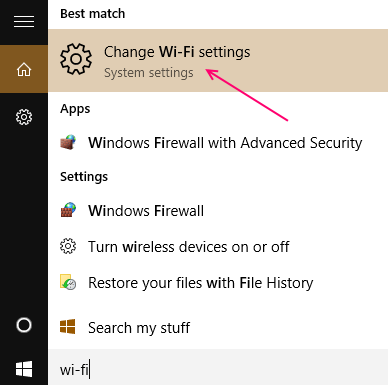 Alternatively you can also press windows key + i to open settings. Click on Network & Internet and then click on wi-fi in sidebar.
Now straight away go to the end of the Wi-Fi settings box and click open the option named "Manage Wi-Fi settings".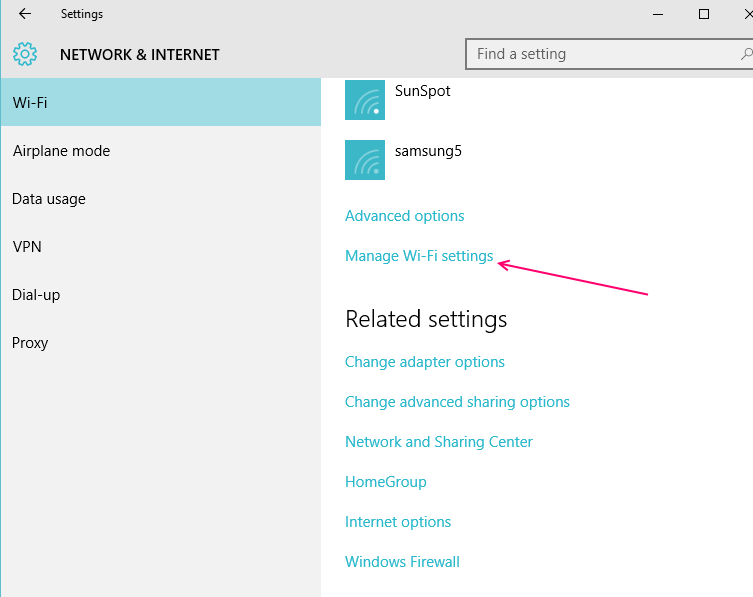 You will now see two options:
1. -Connect to suggested open hotspots and
2. – Connect to network shared by my contacts.
These options will further give you a choice to either put  "ON" Connect to suggested open hotspots. To use wi-fi sense turn it on.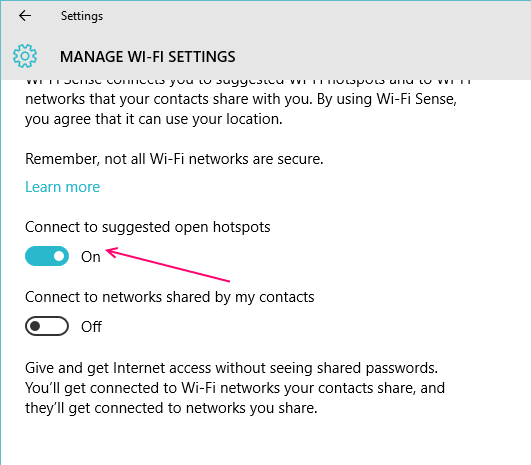 The second settings option specifically mentions below that you can allow others to use your network connection with your Wi-Fi settings without letting them view or share your password. You can simply connect to Wi-Fi networks shared by your contacts and they can connect to your network which you share.
With this, you have finally activated Wi-Fi Sense on your Personal Computer which allows you to instantly connect to Wi-Fi networks shared by other Wi-Fi Sense enabled Windows 10 computers.
Once activated, you can now manage networks shared by your contacts under the "Manage Known Network" option.
In case you do not want to share any known network with Windows 10 users you select the network and click on it to forget it.
If required you can also disable Wi-Fi Sense completely from here, or select if you want your Wi-Fi Sense to connect to networks shared by your contacts automatically.
You also have the option to choose the type of contacts whom you want to share the connection details with, with the help of Wi-Fi Sense that is, with Skype, Outlook.com or Facebook.
How do you share Wi-Fi Networks with your contacts?
Windows 10 allows you to control the sharing of Wi-Fi network connection of your choice. To be able to do this, you need to connect to a Wi-Fi network on Windows 10 where you will notice a checkbox titled "Share network with my contacts".On clicking on the check box it will automatically share your connection credentials with your known contacts through any device that supports Windows 10. So whenever you are close to shared network, the Wi-Fi Sense functionality will automatically pick it up and connect to it. It will also allow you to share your home Wi-Fi network with your friends, provided they are use a device with Windows 10.
Microsoft's Facebook connection
Just like any other Microsoft apps, Wi-Fi Sense can pick up your Facebook contacts. If you allow Wi-Fi Sense access to your Facebook, your Facebook friends will then be able to view all your shared networks. In addition, any shared networks of your Facebook contacts which they share with you will also be automatically downloaded and stored.
How Microsoft gets access to your Skype and Outlook.com is a no brainer as they do not need a separate permission to get access to these since both these apps are Microsoft owned and hence connected to your Microsoft account.
How to opt out from sharing your Wi-Fi network passphrase?
If you are using the Wi-Fi Sense feature, your Facebook friends will automatically have access to your Wi-Fi network details, and you will also not have the option to choose who you share it with! Also, anyone who uses a Windows 10 device connects to your shared network; they can also go ahead and share your Wi-Fi network credentials with their contacts using Windows 10.
So, in all these cases while using the Wi-Fi sense functionality you do not have the option to block your passphrase, unless you choose not to use it. It means that you cannot leave it idle, but opt out from Wi-F Sense sharing by either changing the SSID to end with _optout, that is, for example if your network name is "XYZ", you must change the SSID to "XYZ_optout" to opt out, OR you can change the name of your wireless network name.
Is Wifi sense really safe to use?
With Microsoft taking precautionary measures like, not allowing the Wi-Fi network credentials to be shared by creating built-in safety features and allowing users to turn off the feature completely if needed, for now it indeed looks safe to be used with people you know and is dynamic way for a group to be connected on a one single platform provided they are using Windows 10.