Context menus or Right Click Menus are a helpful function on Windows for quick and easy access to an application. For instance, you want to delete an application, simply right click on the app, find the "Delete" option, click on it, and it's done. It's as easy as that. You can also find other shortcut functions like "Open", "Cut", "Copy" "Rename", "Properties", and more. However, there are many applications that may have access to this menu and that can lead to filling it up with multiple unwanted options.
While your antivirus software may use it for running virus scans (which is useful), it may soon become a hub for unwanted programs. Some programs tend to forcibly install themselves in this menu and create clutter. You may also be surprised to find certain programs on the menu, even after they have been uninstalled. If you do not want a cluttered context menu with unwanted options, here are a few third-party context menu editors that you can use to remove or disable them temporarily.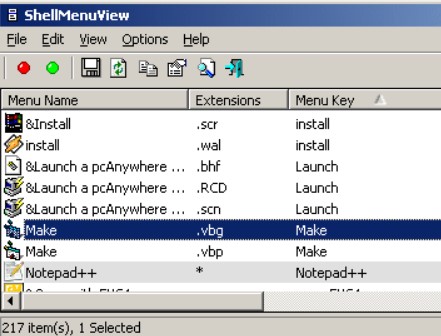 It's a compact tool where you can find the list of static menu items that show up on your right-click menu as you right-click on any of your Windows applications. ShellMenuView enables us to disable/enable any of the context menu items. This is especially useful for those who want to disable any unwanted menu entry.
Features:
It does not need to be installed or no added DLLs required.
To start it, simply copy the executable file to any desired folder, and launch.
Add the "LegacyDisable" key to the preferred menu option in the Registry to active the "Disable" feature.
Option to view the list of menu items on the main window of the software from where you can select one or more items to disable/enable.
It allows you to set or delete the extended function of the menu option.
The program is compatible with all major versions of Windows (XP, 2000, UtilityServer 2003/2008, and Windows 7 and above).
Price: Freeware.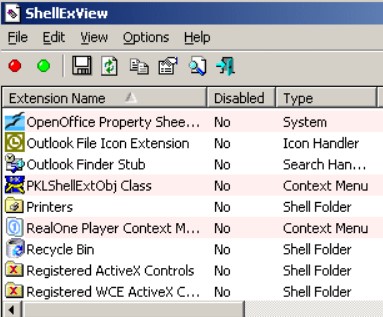 Shell Extensions are something that is already installed on your system and you can access the details of these extensions using the ShellExView application. Basically, the extensions are known to broaden the capabilities of your Windows OS.
Features:
It features a simple and clean interface.
It allows you to disable specific Right-Click menu entries, thus, protecting your PC from crashes.
Automatically runs a scan on the system on launch and generates a view of all the shell extensions, along with other important details like the product name, company, file extensions, file name, version, type, description, and more.
Get access to more control options, for instance, right-click on any menu item, select any available tools including enable/disable chosen entries, run a Google search, save/copy selected entries, and more.
Shows the exact details on the main window and the "Property" window, in an all improved screen.
It does not need to be installed.
Works with minimum computer resources and works perfectly with all the Windows versions.
Price: Free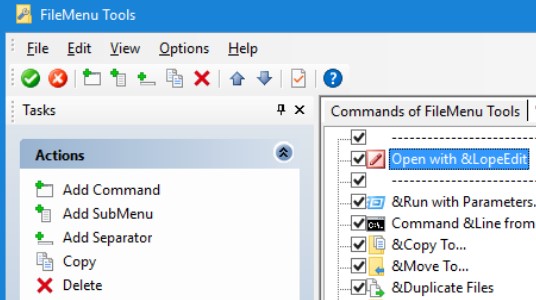 Customizing your context menu gets easier with FileMenu Tools. This easy to use program can be used even by users without any prior experience.
Features:
Easy to install and configure, this application comes with a simple interface.
The interface is based on a regular window with a responsive layout.
It allows you to organize items in the right-click menu commands, "Send To" menu, and commands of other applications.
You are also allowed to insert commands, submenus, separators, and also delete items from the list.
Option to reset general properties like icons, menu text, arguments, drives, folders, file extensions, and more.
Facility to export settings to INI or REG files.
Moreover, it makes use of minimal CPU space and system memory, runs with good response time and supports two languages for the interface.
Price: Free demo available; pro version starts from $11.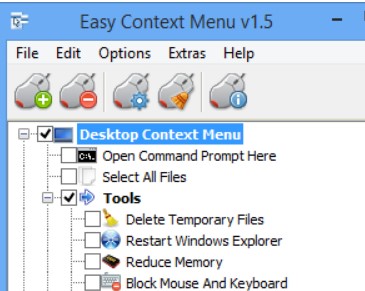 If you are looking for a context menu editor that's light for your system, yet efficient, Easy Context Menu can be the answer. This lightweight program is specifically designed to add entries to your system's context menu, and also to your files and folders.
Features:
Easy to use program that completes certain tasks without using the keyboard shortcuts.
It allows you to easily access the frequently used Windows applications.
Option to save the program on USB flash drives and on any other portable devices.
It offers the freedom to quickly select the items that you want to add or delete in the right-click menu.
You are also allowed to enable all the entries in the context menu for a complete category.
Supports a wide range of shortcuts for the context menu, such as, 'Select All Files,' 'Delete Temporary Files,' 'Block Mouse and Keyboard,' 'Registry Editor,' 'Device Manager,' 'Lock User, 'Reduce Memory,' My Computer, and so on.
Allows advanced users to modify various aspects of the right-click menu options like icon, title, parameter, etc.
The context meu cleaner helps you to clean unwanted old entries.
Easy Context Menu is known for its fast performance in adjusting the context menu entries rapidly and minus any errors.
Price:  Freeware.
MenuMaid makes life simpler by offering you assistance in cleaning up unwanted entries from the context menu of the Windows Explorer and the Internet Explorer. It's an easy to use and responsive tool, that automatically generates a view of all the entries found in the Windows and Internet Explorer on the system.
Features:
Features a simple and clean interface from where you can add/delete menu entries in just a couple of clicks.
Internet Explorer sports a single right-click context menu, while the Windows explorer items are organized in a group and divided into different categories to help you find them easily, such as drives, directories, menu items, and folders.
Option to select the items to be removed, look for all the files from the list, or manually remove the selected entries.
Easier to be used even by amateur users.
Overall, the program performs a task quickly and minus any errors. As a bonus, it utilizes minimal system resources, thereby, improving the performance.
Price: Freeware.
Save your system's context menu from choking with useless entries using ContextEdit. This simple and useful application helps you with adding context menu entries for every extension, effortlessly.
Features:
Sports a straightforward and uncluttered interface.
It allows you to add/ remove new items in just a couple of clicks.
Enables you to view the existing file associations and check the shell commands along with the handlers in the same window.
Easy to adjust commands.
It allows you to work with both file types and extensions.
It's one of the most advanced context menu editors in the category that offers the chances to modify even the most sensitive sections.
Price: Freeware.
Context Menu Tuner is another great tool for the right-click menu, that allows you to edit the menu, easily. Unlike many other similar programs in the category, the free program enables you to add even more items to the context menu.
Features:
It's a portable application and does not need to be installed.
You get the option to insert ANY Ribbon command to the right-click menu of any file, folder, desktop, or to a certain file type. These commands can also be the ones that are not added to the ribbon automatically.
Option to add any custom command to the right-click menu of any file, folder, desktop, or to a certain file type.
It also allows you to add additional specifications to the menu item such as, position, separator, block the context menu item from being the default, and the option to adjust the context menu item to be visible only when the SHIFT key is pressed.
Context Menu Tuner is compatible with all versions of Windows such as Windows 7, 8, 8.1, and 10.
Context Menu Editor is another freeware by The Windows Club that's designed only Windows 7 and Vista for the moment. This free software enables you to adjust it in a way to add or remove files, application shortcuts, website URLs to the context menu on your folder or desktop, and for Win32 commands.
Features:
You can view the menu item only when you press and hold the SHIFT key as you right-click using the "Extended" feature.
It allows you to delete any menu items without visiting the registry. All you need to do is to navigate to the Remove Tab, right-click on the desired entry, and click Delete.
It lists the itinerary of all the menu items that have been added that displays the command along with the Extended property.
It offers a view of all the system details and also the WinSAT score under the information tab.
It's compatible with Windows 7 and Windows Vista version x86 and x64. Moreover, in order to remove the program, you need to delete the executable. You would also need to create a backup or system restore point for your registry settings before customizing it.
Price: Freeware.
Another great context menu editor by The Windows Club, the Right-Click Extender is a free tool that enables you to include some crucial entries to the right-click menu of your system.
Features:
Allows you to add/delete various additional entries to the context menu of a drive, computer, file, folder, or desktop.
You can add multiple entries to the context menu, for example, control panel, defrag the drive, command prompt, and more.
It also backs up the registry HKEY_CLASSES_ROOT and HKEY_CURRENT_USER when you run it for the first time, with the option to restore it.
It comes with a simple and clean interface to work on the four main categories: file/folder, desktop, drives, and my computer.
Offers the option to include icons next to the available Menu Options.
You are also allowed to include entries to the hidden menu (view this by clicking "Shift+Click"), and also creates a back up of the registry creation (user-defined).
It also creates a system restore point before any modifications have been made.
Freedom to optionally restore the backup, and rollback the changes using a system restore point.
It works with Windows 7, and also with Windows 8 and Windows 10.
Price: Freeware.
While CCleaner is best known for removing junk files, speeding up the start process, repair registry, or for browser security, it can also remove shortcuts for unwanted programs from the context menu. This is especially good for those programs that either offer you no choice of removing them or simply invade secretly.
Features:
The Context Menu option is located under the Tools section of the program. Click "Startup" to view the programs that are set up to run as soon as the browser is launched.
You can then choose the entry/entries under the Context Menu tab to Disable/Delete them. On disabling, the option will still be available for later use if you change your mind.
It basically offers a safer way to remove the entries than messing up with the registry.
Price: Free download available; Upgrade available at $12.49
This 10MB download by The Windows Club allows you to adjust different settings in Windows 7 and Windows Vista, and even customize and modify your Windows 7, easily.
Features:
It allows you to tailor nearly everything related to Windows, such as Context Menu, Start Button, Windows Explorer, Taskbar, etc.
Simple and user-friendly with no manual hacks or the need to manually edit the Windows Registry and the Windows System Files.
Loaded with more than 70 features with hundreds of sub-features.
Keeps you informed of any new updates using the integrated Update Feature.
Creates a back up for all the System Files and Registry Settings that are managed by the program itself and makes no changes to them.
It can be easily uninstalled from the Control Panel.
Displays error log for easy view.
It generates a system restore point before you can customize anything.
The program is tested repeatedly to ensure that it works seamlessly between different customizations. The minimum space requirement for this program is 28MB and is compatible with Windows 7, 32-bit and 64-bit.
Price: Freeware.
Conclusion
If your aim is to clear the clutter, make it look clean, and increase the overall productivity, these context menu editors can be of great help. So, get rid of unwanted functions on your context menu, using the above tools and stay organized.