Add A New Word To Android Auto-correct Dictionary:- Whenever we type something on our phone, and if the Auto correct settings is on,then there are chances that you get annoyed by the changing words. The word which you had actually intended might not have been added to the phone's dictionary. Considering it to be wrong,the android device replaces the word ,which we might not want them to.So let us go through the steps on how to add a new word into the phones dictionary, so that it doesn't commit the same mistake again.
This can actually be done in two ways.
Right clicking on the word that gets changed and clicking on the Add to dictionary button that appears to the bottom.But then,this works only for certain apps like Gmail and all.
Changing the settings in the phone manually.
We will discuss in detail the second option.
Add a new word to Android Dictionary
Step 1:
Click on the Settings icon that appear to the top on your android device.
Step 2:
You will have variable options inside it.Go the General option and switch to the Personal icon over there.Below that you will find an option called Language and input which describes the language of text used in your phone and the various input methods.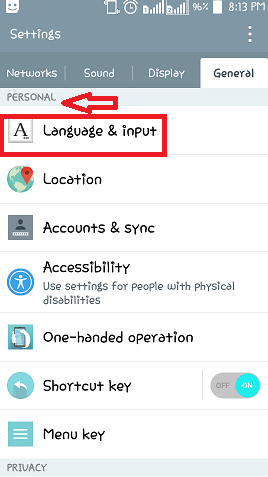 Step 3:
When you scroll down to it,depending on the model you use,you will have the option to change the settings for the keyboard you have opted in your phone.Tap on to the settings icon present right next to it.
Step 4:
You will find an option called Additional Settings in it.Click on to it.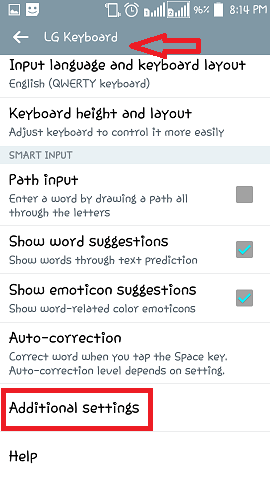 Step 5:
On the bottom of the page that pops up on clicking the Additional Settings icon,you will see an option named Personal Dictionary.Tap on it.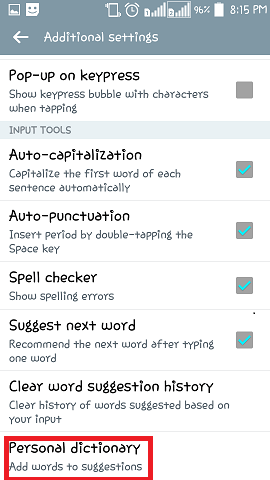 Step 6:
A new page pops up with a space to type the text below. You will see a + icon to the right that denotes adding the corresponding word. Type the word and tap on the Save button. The new word gets added and from now on,no other recommendations and replacements will occur for it.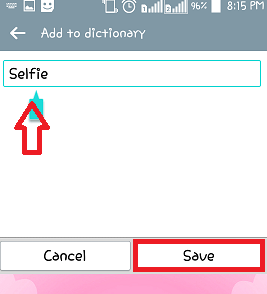 Hope you had fun reading this. Do try it out.