14 Free Toolbar Remover Software: – Have you recently installed a software and now you see a toolbar on your browser out of nowhere? Well, that's very common with the software downloads nowadays that are accompanied with some or other additional installations jamming up your PC. Toolbars are accompanied with different types of malware that affect the performance your PC.
While you are successful in removing some of them using the Control Panel or via the Add-ons Manager of the relevant browsers, most of them are stubborn and does not get uninstalled easily. Some of such toolbars are Ask toolbar, GameNext toolbar, People Search toolbar, Babylon toolbar, ZXY toolbar, MyWebSearch toolbar, Elite toolbar, AVG Secure Search, MyFree toolbar and many more.
See also: 4 Free adware removal tools for windows PC
These toolbars either force pop-ups so that you click on them, record your computer usage or to make some money with each installation. If you have the genuine toolbars like Yahoo, Google, Bing, etc. these can be uninstalled easily, however, the ones mentioned above do not additional effort.
Even though it may be difficult to remove these malicious toolbars using only the Control Panel or the Add-ons Manager, we do have other alternatives to take care of them. Today in this post, we have listed some of the best free toolbars remover software that can help you get rid of the stubborn toolbars without much effort. So let's get going.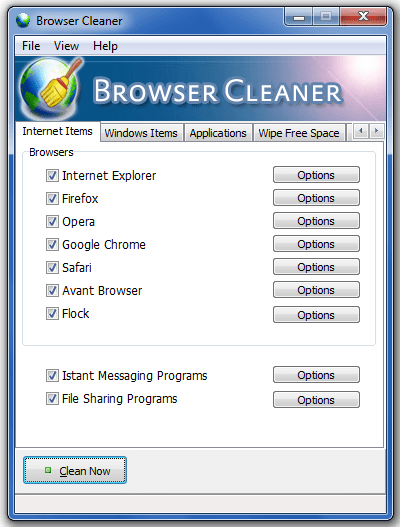 If you are using the Internet Explorer, Google Chrome or the Mozilla Firefox and you find your browser invaded with the unwanted toolbars, Toolbar Cleaner can be your right bet this point. This well-known toolbar remover which is also otherwise known as Browser CleanerThe cleaner first scans the browser of any installed toolbar, plugins or extensions and lists them all in its dashboard.
You are prompted to install Anti-phishing Domain Advisor during the Toolbar Cleaner installation. It also asks you to set your homepage as MyStart. However, fret not as you can simply uncheck the boxes to opt out of these options. The best part about this software is that it is fast, extremely simple to use and helps clean almost any toolbar like, the AOL toolbar and over 1,000,000 undesirable toolbars, plugins, add-ons, apps and even BHO that can infect your browser or the PC with harmful spyware or adware.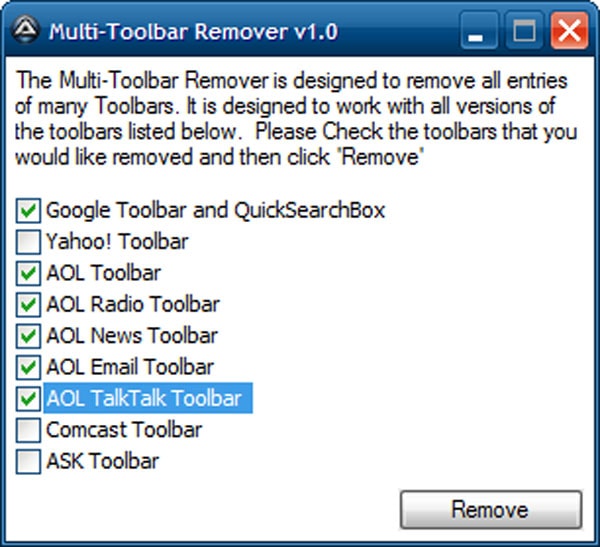 As the name suggests, Multi-Toolbar Remover is a software that helps remove not one but multiple toolbars that are blocking your web browser. It is an extremely simple tool that is easy to understand and can be used by even the novice. You can easily remove any unwanted third-party components that might have got installed unintentionally during any other application installation using this lightweight weight tool which is also portable.
What we like about this tool is that it can be run instantly by simply dropping the executable file anywhere on the hard drive. Additionally, if you want to clean the toolbars from your workstations or even notebooks you can simply save the Multi-Toolbar Remover to any portable storage device like a USB flash drive.
It comes with a straightforward user interface that displays all the supported toolbars on startup. You can select all that you want to remove from the list and clean the unwanted toolbars in just one simple click. You can see the changes taking place immediately. Using this utility you can even remove toolbars like, ASK toolbar, Yahoo! Toolbar, Comcast Toolbar and also AOL Toolbar.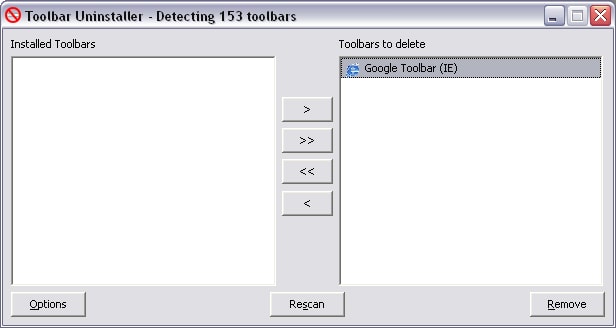 If the "Add/Remove Programs" option in your Windows menu has failed to remove the nasty toolbar that clings on to your web browser and you intend not to use it anytime in future again, you can certainly seek assistance from the Toolbar Uninstaller. Toolbar Uninstaller comes with an elemental interface that runs a thorough scan and then lists the installed toolbars.
You can select the ones from the list that you want to remove, put them in the list that says "Toolbars to delete" and then click on the "Remove" button. That's not all, as the main panel also comes with an additional utility that helps rescan your PC of any other toolbars that might be jamming up your PC.
Improve the efficiency of the app by whitelisting or blacklisting some of the entries on the toolbar database. You can also create a log file if you want, but at the same time, you can also choose to see a warning before the tool uninstalls or closes a toolbar. What's good about this Toolbar Uninstaller is that it works even with low PC performance without slowing down the system.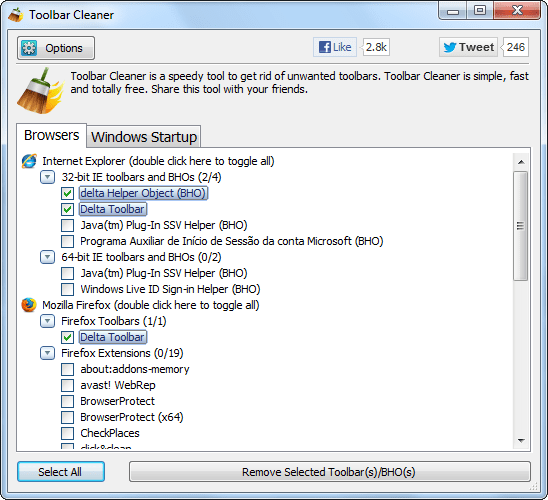 A very basic utility that helps track any existing unwanted toolbars on your computer effortlessly, is Toolbar Cleaner. This tool can help remove these unprecedented toolbars easily, in just one click. Uninstalling the Toolbars that jam up your web browser and the computer will ensure that your PC performance is enhanced and it's much faster.
It displays all the detected toolbars in a list from where you can select the toolbars you want to uninstall and the ones that you want to keep. Even though basic, Toolbar Remover follows the easiest process to have any unwanted toolbars removed in no time hence, doing exactly what you want.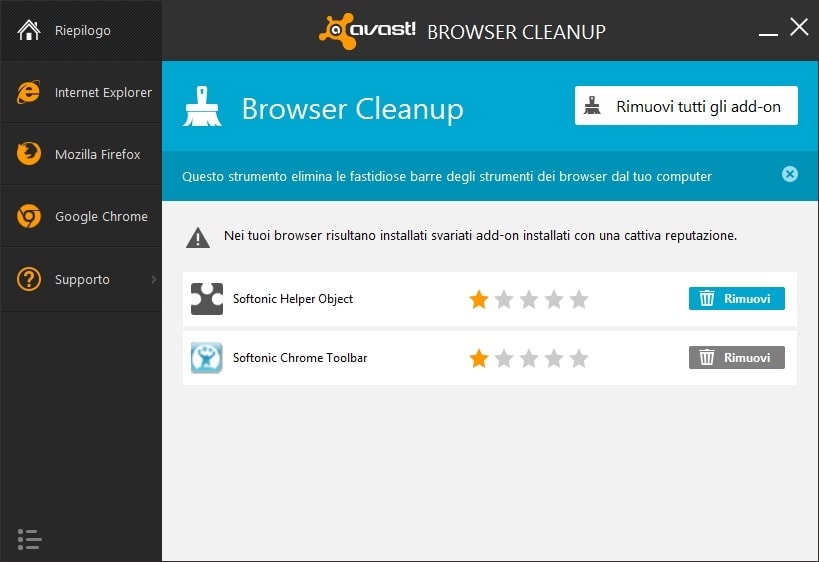 Avast Browser Cleanup Tool is a handy tool that is designed to detect and uninstall any undesirable toolbars that contain malware affecting your web browser. It works with Firefox, Chrome and Internet Explorer, and by removing the alarming add-ons, plugins and toolbars help the browsers to function smoothly.
It offers a clean and straightforward interface that's easy to use. The search results are arranged based on the browser type and are graded based on quality. On top of that if you are an expert or if you want to troubleshoot for some reason, you will find the technical log of everything that is found connected to your browsers created by Avast Browser Cleanup.
Moreover, the utility is fast compared to a virus scan and presents you with the results in flat 30 seconds.