14 Free Toolbar Remover Software: – Have you recently installed a software and now you see a toolbar on your browser out of nowhere? Well, that's very common with the software downloads nowadays that are accompanied with some or other additional installations jamming up your PC. Toolbars are accompanied with different types of malware that affect the performance your PC.
While you are successful in removing some of them using the Control Panel or via the Add-ons Manager of the relevant browsers, most of them are stubborn and does not get uninstalled easily. Some of such toolbars are Ask toolbar, GameNext toolbar, People Search toolbar, Babylon toolbar, ZXY toolbar, MyWebSearch toolbar, Elite toolbar, AVG Secure Search, MyFree toolbar and many more.
See also: 4 Free adware removal tools for windows PC
These toolbars either force pop-ups so that you click on them, record your computer usage or to make some money with each installation. If you have the genuine toolbars like Yahoo, Google, Bing, etc. these can be uninstalled easily, however, the ones mentioned above do not additional effort.
Even though it may be difficult to remove these malicious toolbars using only the Control Panel or the Add-ons Manager, we do have other alternatives to take care of them. Today in this post, we have listed some of the best free toolbars remover software that can help you get rid of the stubborn toolbars without much effort. So let's get going.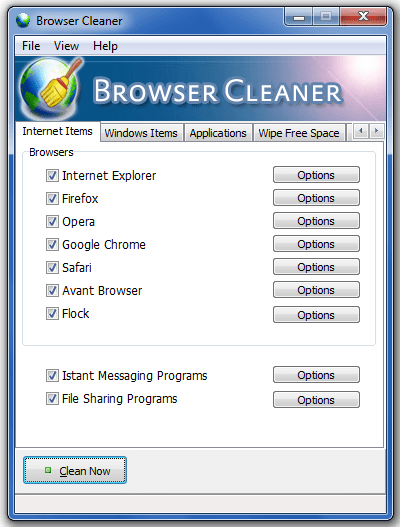 If you are using the Internet Explorer, Google Chrome or the Mozilla Firefox and you find your browser invaded with the unwanted toolbars, Toolbar Cleaner can be your right bet this point. This well-known toolbar remover which is also otherwise known as Browser CleanerThe cleaner first scans the browser of any installed toolbar, plugins or extensions and lists them all in its dashboard.
You are prompted to install Anti-phishing Domain Advisor during the Toolbar Cleaner installation. It also asks you to set your homepage as MyStart. However, fret not as you can simply uncheck the boxes to opt out of these options. The best part about this software is that it is fast, extremely simple to use and helps clean almost any toolbar like, the AOL toolbar and over 1,000,000 undesirable toolbars, plugins, add-ons, apps and even BHO that can infect your browser or the PC with harmful spyware or adware.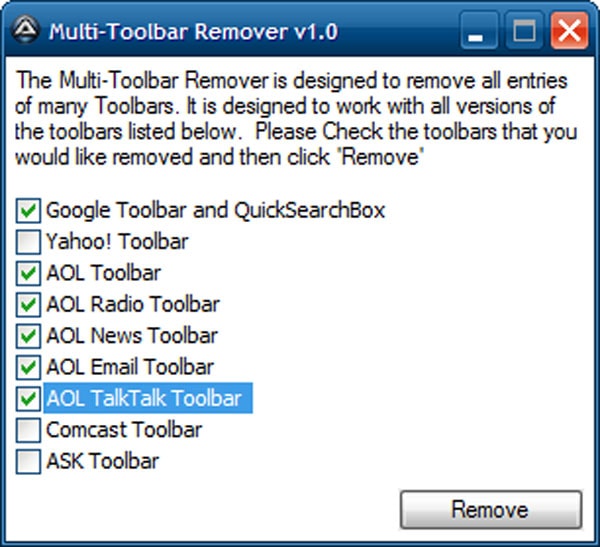 As the name suggests, Multi-Toolbar Remover is a software that helps remove not one but multiple toolbars that are blocking your web browser. It is an extremely simple tool that is easy to understand and can be used by even the novice. You can easily remove any unwanted third-party components that might have got installed unintentionally during any other application installation using this lightweight weight tool which is also portable.
What we like about this tool is that it can be run instantly by simply dropping the executable file anywhere on the hard drive. Additionally, if you want to clean the toolbars from your workstations or even notebooks you can simply save the Multi-Toolbar Remover to any portable storage device like a USB flash drive.
It comes with a straightforward user interface that displays all the supported toolbars on startup. You can select all that you want to remove from the list and clean the unwanted toolbars in just one simple click. You can see the changes taking place immediately. Using this utility you can even remove toolbars like, ASK toolbar, Yahoo! Toolbar, Comcast Toolbar and also AOL Toolbar.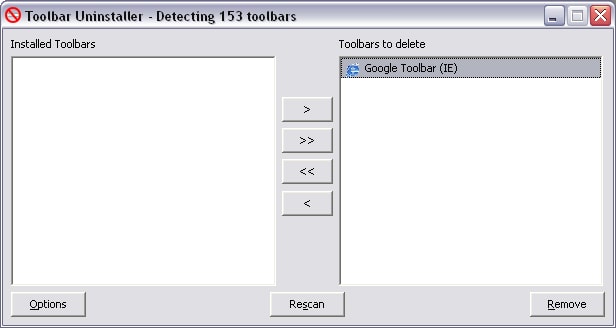 If the "Add/Remove Programs" option in your Windows menu has failed to remove the nasty toolbar that clings on to your web browser and you intend not to use it anytime in future again, you can certainly seek assistance from the Toolbar Uninstaller. Toolbar Uninstaller comes with an elemental interface that runs a thorough scan and then lists the installed toolbars.
You can select the ones from the list that you want to remove, put them in the list that says "Toolbars to delete" and then click on the "Remove" button. That's not all, as the main panel also comes with an additional utility that helps rescan your PC of any other toolbars that might be jamming up your PC.
Improve the efficiency of the app by whitelisting or blacklisting some of the entries on the toolbar database. You can also create a log file if you want, but at the same time, you can also choose to see a warning before the tool uninstalls or closes a toolbar. What's good about this Toolbar Uninstaller is that it works even with low PC performance without slowing down the system.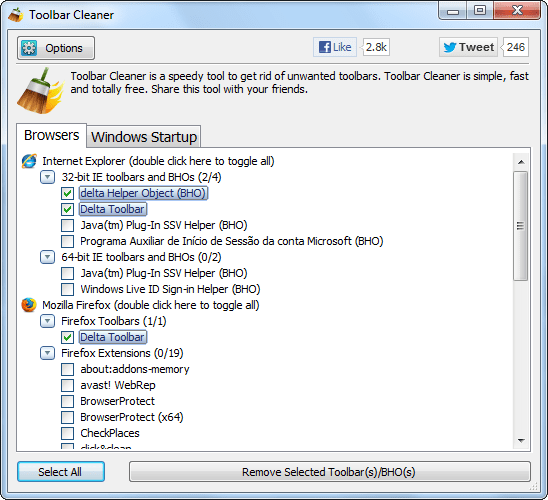 A very basic utility that helps track any existing unwanted toolbars on your computer effortlessly, is Toolbar Cleaner. This tool can help remove these unprecedented toolbars easily, in just one click. Uninstalling the Toolbars that jam up your web browser and the computer will ensure that your PC performance is enhanced and it's much faster.
It displays all the detected toolbars in a list from where you can select the toolbars you want to uninstall and the ones that you want to keep. Even though basic, Toolbar Remover follows the easiest process to have any unwanted toolbars removed in no time hence, doing exactly what you want.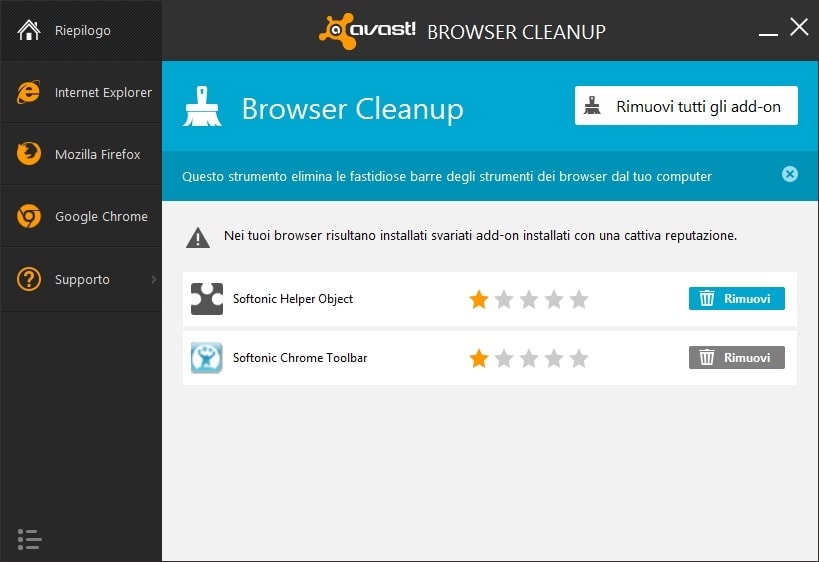 Avast Browser Cleanup Tool is a handy tool that is designed to detect and uninstall any undesirable toolbars that contain malware affecting your web browser. It works with Firefox, Chrome and Internet Explorer, and by removing the alarming add-ons, plugins and toolbars help the browsers to function smoothly.
It offers a clean and straightforward interface that's easy to use. The search results are arranged based on the browser type and are graded based on quality. On top of that if you are an expert or if you want to troubleshoot for some reason, you will find the technical log of everything that is found connected to your browsers created by Avast Browser Cleanup.
Moreover, the utility is fast compared to a virus scan and presents you with the results in flat 30 seconds.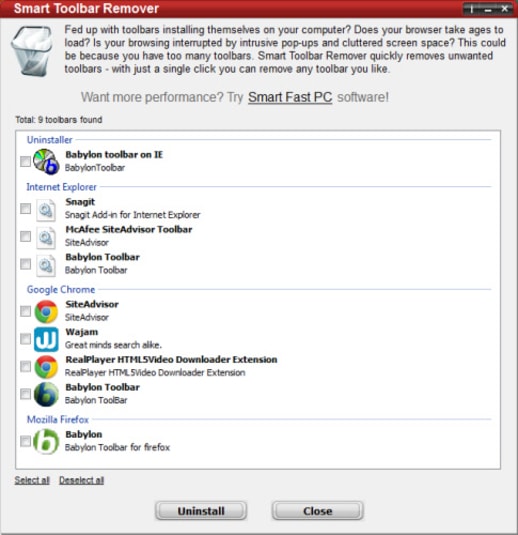 If you want to get rid of those nasty toolbars or the stubborn add-ons Smart Toolbar Remover can be handy to you. The best part about this utility is that while in the process it does not slow down its processor or adds any of its toolbars. Also, if you find your web browser or home page under siege by any add-on or plugin, this toolbar can be your best bet.
As soon as you activate the software it scans your browser of any sticky add-ons and returns the results in test scan. It tracks any toolbar that is found in your browser that you want to uninstall and those of which are not used by you very often as well. You can select the ones you want to remove from the list and the rest is taken care of by the Smart Toolbar Remover.
Whether unwanted toolbars or any junk software this tool cleans them quite efficiently and in no time.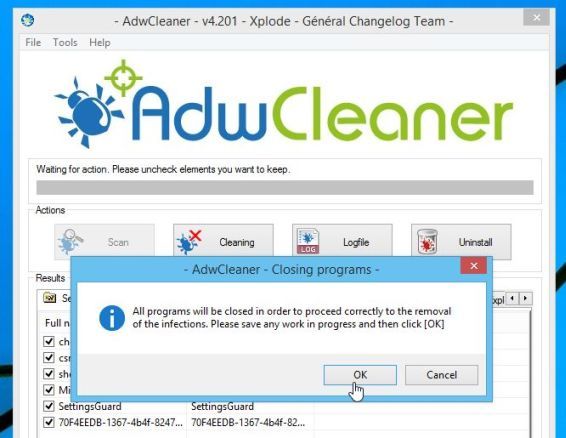 Clean your computer with all the nuisance toolbars, useless browser add-ons and get rid of any hijackers or irritating adware from your system using the AdwCleaner. It is a lightweight tool that not only eradicates any software installed on your home page or browser but is also extremely easy to navigate.
It does not need to be installed and can be stored on any portable storage device, besides the fact that it does not leave any remains in the computer registry. The best part is, that the tool diagnoses any traces of unwanted or hidden stuff resulting from previous installations, as soon it is launched. You can see the results in form of a text document with all the details like the files and the registry keys of the files and finally, you simply need to press the "Delete" button for the uninstallation process.
For the effect to take place you need to shut down all the utilities and reboot your PC. On the contrary, if and when you want to delete AdwCleaner, you can do so with just the click of a mouse. Therefore, using AdwCleaner you can not only get rid of any unwanted programs, you can also counter the effects of any hijacking malware or eradicate any advertisement on your browser.
Price: Free
Compatibility: Windows XP / XP 64 bit / Vista / Vista 64 bit / 7 / 7 64 bit / 8 / 8 64 bit / 10 / 10 64 bit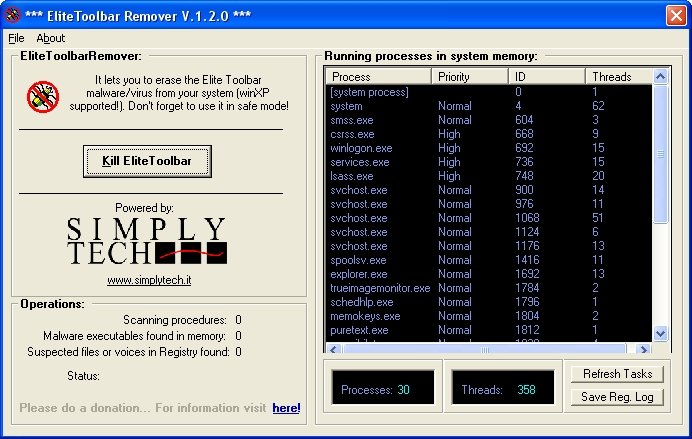 EliteToolbar Remover is a handy tool that helps remove infiltrations caused by any software download or by the Elite Toolbar itself. What's amazing is that the entire process requires minimum effort while you can view the running process. During software installation, some of the spyware may even reach the RAM which may cause severe damage to the registry, slow down your PC or hamper the overall performance. This is when the ElteToolbar Remover can come in handy.
You can run this tool directly out of the box as it does not need to be installed. Moreover, its presence does not slow down your PC. You can also store this in a removable storage device for portability and run it via the device. When running in the "Safe Mode" this tool works best and helps erase the specific malware while the files are still in use by Windows.
Remember to run it with administrative permissions and get informed of any hidden malware in the memory of the registry. The EliteToolbar Remover comes with a straightforward interface that displays all the elaborate information on the currently running processes on your PC. Now, simply press the "Scan and Kill Malwares" option and the tool takes care of everything.
Download: http://www.softpedia.com/get/Internet/Popup-Ad-Spyware-Blockers/EliteToolbar-Remover.shtml
Price: Free
Compatibility: Windows 98/2000/XP/2003
Another popular name in the category of online security is Malwarebytes that aims to protect your system from any harmful intrusion. It is a leading program that safeguards your system from several types of invading software such as, suspicious spyware, hardcore Trojans, nasty worms, annoying adware and several other threatening viruses.
It comes attached with a unique technology "zero-day threat" for a state-of-the-art work experience. Malwarebytes is available in different varieties such as, (i) Anti-Malware: this is an exceptional corrective tool that destroys zero-day malware using the dissolvable agent; (ii) Anti-Malware for Business: this helps defend the required endpoint malware for the companies, scans and removes the zero-day malware automatically; (ii) Anti-Exploit for Business: targeted for the corporates it block the malicious components automatically before they can harm a program and modify the endpoint.
Overall, Malwarebytes is a highly useful application that defends your system and boosts its ability to fight with the strong mechanism.
Download: http://download.cnet.com/Malwarebytes-Anti-Malware-Free/3000-8022_4-10804572.html
Price: Free
Compatibility: Windows XP/2003/Vista/Server 2008/7/8/10
Junkware Removal Tool
As the website claims, scrub out any junkware, potentially unwanted programs or adware that might be potentially harmful to your PC using Junkware Removal Tool with ease. It helps remove every trace of hijackers or spyware jamming up your system and making it run slow.
You might be used to finding toolbars or add-ons on your web browser each time you download a software, however, it is equally easy for this utility to remove the PUPs. What we like about the Junkware Removal Tool is that it is custom-designed to track and delete more than 250 types of junkware that includes adware and toolbars.
You do not even need to install the utility since it is portable. Just store it in your USB device, plug it on your PC and begin the cleaning process. Not just that, the tool is remarkably fast and cleanses your system within five minutes. Junkware Removal Tool comes with a highly simple user interface that helps simplify operation.
The tool extracts itself on its own and gets installed in the Temp Folder. It maintains a low-key profile and is also easy to delete when your work is completed.
Download: http://download.cnet.com/Junkware-Removal-Tool/3000-8022_4-75910255.html
Price: Free
Compatibility: Windows XP/Vista/7
Ask Toolbar Remover
If you are experiencing a sluggish PC speed, it can be due to the malware that comes along with the software you often download. The ad-supported software are accompanied with different types of malicious toolbars that even change the browser homepage. And, one of such toolbars that affect the speed and performance of your PC is the ASK toolbar powered by Ask.com.
Ask Toolbar Remover is specifically designed to remove the ASK toolbar which is otherwise extremely difficult to remove through a normal process. It is a lightweight and easy to use program that can be used even by the amateurs effortlessly. Using this tool you can easily reset the web browser's homepage in minutes.
That's not all, as the application is portable and hence does not need to be installed. Therefore, you can conveniently store ASK Toolbar Remover in a removable storage device and start it from there. What's to be noted here that it's presence does not modify the Windows registry.
However, if you want to remove the application you can do that as well with equal comfort, with just a single click of the mouse. Moreover, the program s compact and hence, does not occupy much CPU space.
Download: http://www.softpedia.com/get/Security/Secure-cleaning/ASK-Toolbar-Remover.shtml
Price: Free
Compatibility: All Windows platform
Soft4Boost Toolbar Cleaner
One of the free toolbar remover software that is as efficient as it says is the Soft4boost Toolbar Cleaner. Many times we don't even realize when we invite the unwanted components like toolbars, add-ons or plugins along with a new software installation and then later it's become almost impossible to delete them manually. That is when we need this tool to clean our Windows PC.
This application allows you to choose your preferred language from the options that include English, Spanish, French, Dutch, Italian, Danish, etc. Once the program is successfully installed you will find the interface extremely straightforward that offers various options to customize and lets you use the key features.
You can also change the theme from the View menu by choosing the options that say Android, iPhone, Bionix and more for the kind of look you want. Once you are done selecting, simply refresh the options to update the current toolbars list that are currently installed on your system. Now select the checkboxes that you want to delete and then select the option that says "Remove". Add the toolbar to the ignore list by just right-clicking on them to remove them permanently.
Extremely easy to navigate, this app also offers a Help feature that guides you through the entire program.
Download: http://download.cnet.com/Soft4Boost-Toolbar-Cleaner/3000-2096_4-76018516.html
Price: Free
Compatibility: Windows XP/Vista/7/8/10
Hitman Pro
If you are looking for a portable and state-of-the-art anti-malware application that can help remove any undesirable and malicious components like, suspicious malware, dangerous viruses, spyware, Trojans and much more. There are different versions of Hitman Pro available that are free to download.
According to the website claims, HitmanPro. Alert 3.1 is the world's most extensive real-time security program that does not require any signature. It renders protection against ransomware, current banking malware, software susceptibilities, crypto locker, and hijacking or hacking by cyber-criminals.
HitmanPro.Kickstart 2.3 prevents your computer performance being hampered by police ransomware that takes your system hostage. HitmanPro 3.7, on the other hand, ensures that your system is protected against malware by your current security tool.
These applications offer three different types of scan viz. quick scan, default scan, and the early warnings.
Download: http://download.cnet.com/HitmanPro-3-32-bit/3000-2239_4-10895604.html
Price: Free to Try
Compatibility: Windows XP/2003/Vista/Server 2008/7/8
Remove Toolbar Buddy
Targeted for the Internet Explorer, Remove Toolbar Buddy restores the browser by eliminating any malicious and unwanted toolbars that might be slowing down your PC. Not just that, it also helps delete toolbar menus, browser help options, and buttons. The best part is that the application helps eliminate all types of plug-ins and add-ons as well, along with restoration and backing up the configuration of the Internet Explorer.
So, if you are unable to uninstall a toolbar manually, Remove Toolbar Buddy comes to your rescue. Toolbars from Bing, Ask, Google, MSN, Babylon, crawler and toggle are some of them that the program helps remove from the web browser.
Download: http://download.cnet.com/Remove-Toolbar-Buddy/3000-12512_4-52541.html
Price: Free
Compatibility: Windows NT/2000/XP/2003/Vista/Server 2008/7