While Windows is already equipped with a default volume mixer, there are times when you need advanced effects for an enhanced experience. An audio equalizer is what you need to change the balance of the bands (the set frequencies) to get the desired sound effect.
So, whether you want to enhance the bass of the dance music, or boost the treble, an audio equalizer for Windows enhances the sound quality drastically. To meet your sound needs, there are plenty of audio equalizer apps available online that can help you to balance the frequencies in a jiffy.
To make your job easier, we have handpicked some of the best Windows Equalizer apps.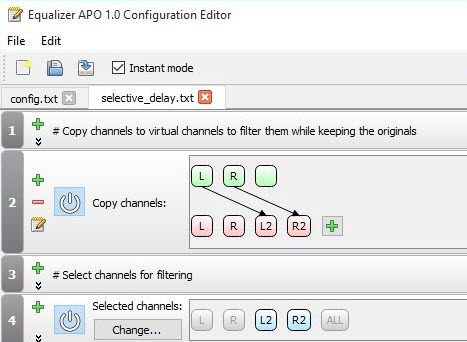 An open-source graphic equalizer, Equalizer APO is specially designed for Windows platform. It's an extremely easy to use program that comes loaded with some fantastic features and is available to download for free. It's lightweight and consumes minimum system resources, therefore, ending your worries related to CPU space.
Features:
It offers endless filters for an enhanced effect.
Works with a long list off channels.
Reduced latency, and hence, quicker response time allowing it to work seamlessly with interactive applications.
Minimum CPU consumption.
Customizable user interface.
Supports the VST plugin and works with Voicemeeter.
Price: free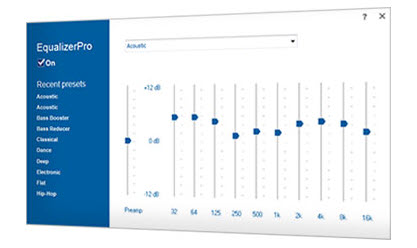 Boosted sound quality is what we all desire, but finding the right equalizer app may be tough. But, with Equalizer Pro, you can get the desired sound quality for your favorite applications.
Features:
Equipped with 10 band equalizer that offers more power to you over tone and pitch.
It allows you to toggle the bands, move them up and down, and explore the effect it makes on the sound.
The bass boost effect intensifies the low sound frequencies without covering it and offering an even clean boost.
Comes loaded with more than 20 presets especially suited for the widespread listening modes.
It allows you to create your own presets that can be used with different programs.
Offers preamp volume control that can amplify the low tones and improves the overall audio output without adjusting each band separately.
Features user-friendly design that's easy to use, allowing you to switch the program on and off, effortlessly.
Price: 7-day trial period available; upgrade starts from $29.95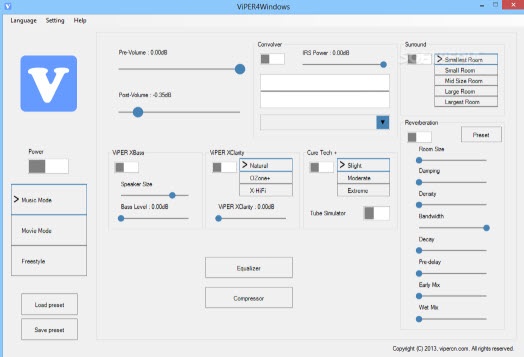 If you are looking for an equalizer that's totally free of cost and yet impressive, it has to be Viper4Windows. This open-source Windows audio equalizer comes with a whopping 18 bands. The range of the band extends from 120dB to 13dB. Yes, it's that splendid and all for free.
Features:
It allows you to create customized profiles or make use of the presets available from plenty of options.
Option to get the room size you are listening in, and the program tweaks the surround sound effect based on that.
Offers added boost effect to the low tone sounds and that's also customizable.
The distortion control feature lets you select from three presets or make use of the slider that helps adjust the control in decibels.
Using the reverberation settings, you have control over the bandwidth, audio damping, decay, density, and so on.
Price: free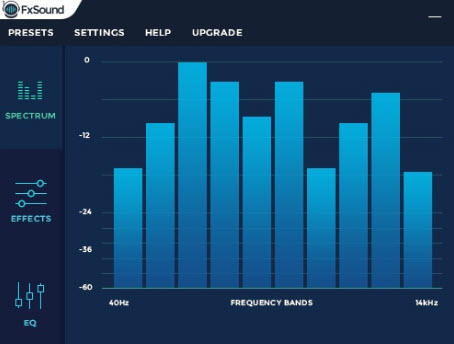 If you are looking for studio-quality sound for your headphones or speakers, FXSound is surely a good choice. It's known to automatically correct the limitations of the sound outputs at a much reasonable price and minus the trouble of using a studio-quality gear.
Features:
Offers Hi-Resolution sound output for any hardware on your computer.
It provides customized sound with different effects and equalizer.
It helps boost the volume to a great extent offering louder audio without distortion.
It comes loaded with integrated presets for many music genres.
It offers visualized listening experience with the Spectrum feature.
Price: priced at $39.99 for unlimited lifetime access.
Boon3D, as it's called, offers a top-quality 3D surround sound experience across your system. This well-known software helps boost your content's audio with astonishing 3D effects. It can enhance the audio effects of any media, headphones, streaming services, or players.
Features:
It offers a magical experience with the 3D surround sound technology.
The 3D sound provides an option to analyze the audio from individual speakers of the surround sound system.
It also allows you to tweak the LFE gain and the strength of the audio.
Comes equipped with 31 band equalizer preset that helps you to calibrate the audio in just a single touch of the finger.
Features a powerful volume booster that boosts the volume more than its usual limits, offering a fierce and strong audio experience.
From earphones or earphones to speakers and laptops it enhances audio across many devices.
Features an advanced audio player that allows you to play the saved music on your system with extraordinary Boom effects.
It allows you to arrange your songs by creating playlists the same as you would do on a smartphone or iPod.
Facility to control the volume of different applications using the Application Volume Controller feature.
Price: 30 days free trial available; pro version priced at $15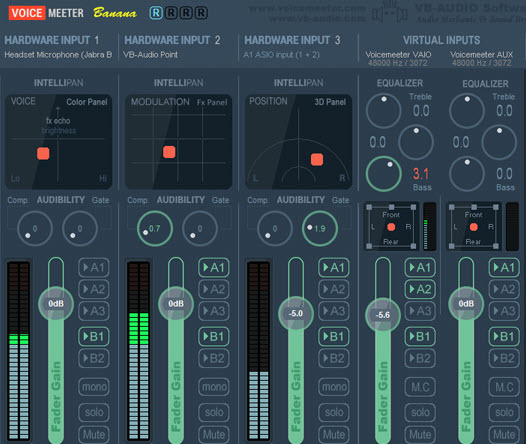 If you are looking to give that advanced boost to the audio of your Windows system, Voicemeeter Banana can be a safe choice. This states-of-the-art volume mixer application works as a Virtual Audio Device that helps mix and control any audio sources using Virtual I/O from or to any audio devices or applications. Best of all, it gives you the freedom to edit your voice and include special effects to make it ready for streaming.
Features:
It offers a voice editing feature that helps you to remove any vocal distortions like stutters to make the audio crisp and clear.
It allows you to adjust the sound of your voice to higher or lower.
Option to slow down the speed of your rate of speech or increase the speed to enhance the sounds.
It allows you to connect with any audio sources and even mixes them with any audio applications, effortlessly.
It comes with 8 channels, 6 cells, and fully parametric EQ on all the busses.
Lets you access the multi-channel EQ as a crossover to drive Stereo P.A. systems.
Equipped with a built-in Tape Deck that Records or Plays any audio files in WAV, AIFF, BWF, MP3 + MP4, M4A, MOV, etc. formats with just once click.
Price: Free
Graphic Equalizer Studio allows you to run virtually any Windows audio application or DVD player software. It, basically, operates WAV files in real-time. However, you would need some basic knowledge in audio processing as adjusting the frequencies and their aspects without knowledge may cause distorted sounds. An Internet Radio Station is something that benefits from this program a lot by balancing the bass and treble response and eliminating the inconsistency.
Features:
Automatically corrects the audio stream, and adds the Limiter and the compressor to ensure the audio frequency is balanced.
It offers extreme control and processing power over the WAV files making them crisp and clear.
Equipped with an MP3 player that allows you to keep a check on the WAV files to be modified. It lets you play back all the settings you want to adjust.
Loaded with a useful compressor and a limiter, along with an enhancer that helps improve the audio quality.
Price: free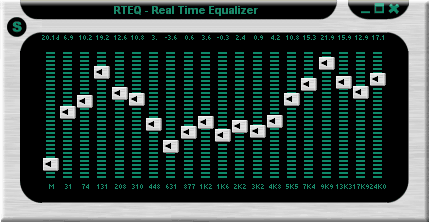 Adjusting the sound is a breeze with RealTime Equalizer that allows you to use up to 300 channels and change almost any aspect of the audio. It, in fact, performs the changes in audio signals in real-time by tweaking the frequency spectrum generated during playback. It's available in two versions: independent installations and as a Winamp plugin.
Features:
It has the ability to equalize many different audio formats which include MP3, WAV, and more.
It features an attractive look making it highly and easily accessible.
User-friendly interface with the option of up to 300 channels.
Supports both powerful and fine amplification.
Provides support for Spacial Resurrection that easily boosts stereo music.
It allows you to create presets with specific equalizer settings to ensure that channel changes and adjustments can be used repeatedly.
Offers amplification levels from -INF to +90 dB (split into two intervals), and also from –INF to +20 dB for fine amplification.
With the presets, you can create and save different audio scenarios, effortlessly.
Price: freeware
This is a simple program that helps you understand what's flawless sound. bass Treble Booster is a tool you need to modify the audio quality of any song on your system till you reach the correct adjustment. Equipped with a user-friendly and attractive interface, this tool is perfect for even those with no previous experience in sound engineering.
Features:
Easily converts music from various other audio sources to MP3 and other lossless formats.
It comes with a set of equalizer bands that are flexible enough to be set to any frequency.
It allows you to lossless boost the volume or simply increases the bass or the treble.
Features custom presets that allow you to change the settings and tests in just a couple of clicks.
It helps you to leave all the equalizer courses of action in the form of presets which can be later applied when required.
Option to revert any changes back to the original settings.
Price: free trial version available
Breakaway Audio Enhancer is another great Windows equalizer in the list that does the job of making your system audio better. At the same time, it also provides professional experience giving the feel of a professional studio. It can enhance the sound of almost all aspects that include the click of a mouse, media content, or the browser audio. For the music lovers, this is a boon as it works best for music content on your system.
Features:
Easy to use and provides all the steps in details on the Setup Wizard that guides you through the setup of the program and how to use it for different settings.
Offers help with volume control and boosting the audio quality.
It allows you to adjust the tone of your music.
Option to adjust different configurations allowing you to set your music in a specific sound. Among the many configuration options are, Reference Classical and Easy Listening.
Features a preset called Reference Movie that helps you modify the dialogues of a movie in the manner that special effects don't interfere with the quality.
Price: 30-days free trial available; pro version priced at $29.95
This open-source audio equalizer is an out-and-out, high-quality range of drivers that allow you to adjust the frequencies for almost any audio files on nearly any operating system. It's basically a sound card that adds sound to your system with the help of the driver. However, it also comes with a facility to manage and adjust different sound settings.
Features:
It provides support for different channels that work at the same time, offering the audio function.
Once installed, you must restart the computer and then modify the individual settings like changing the volume or switching it to mute.
It offers added features like flexible mixing, fine-grain coordination, and also a complete audio solution.
The driver package supports almost all major audio codecs suited for audio, playback multimedia, audio recording, and more.
Streamlined user interface with easy to use utility that helps manage the sound card function, easily.
Easy to manage sound outputs, option to re-deploy audio ports to any chosen inputs/outputs, setting up the sound stage, and more such functions.
Fully featured audio input options that include Acoustic Echo Cancelation, noise suppression, beam formation, and the equalizer
Offers Power Management option that allows you to deactivate many of the power-consuming audio features when the laptop is running out of battery.
Price: free
Windows 10 Sound Equalizer (Default)
This needs no introduction. For the Windows 10 users, the OS is accompanied with a built-in sound equalizer. It comes loaded with ten bands of audio equalizing function.
To access the equalizer, you must click on the speaker icon on the taskbar and select the playback device option that will open the Sound dialogue box. Choose the Playback tab, right-click on the Default Speaker option, and select Properties. This will open up the Speaker Properties from where you need to select the Enhancement tab. Go to the Equalizer option and check the box beside it. You will now see the Equalizer option where you can adjust the balance.
Features:
Multiple choices for presets such as bass, treble, pop, club, rock, and so on.
Option to customize the equalizer in manual mode.
The ten band equalizer spreads from 31dB to 16k dB.
Selected sound effects will be applicable to all system sounds.
For only limited equalizer changes, you would need to repeat the entire above-mentioned process all over again.
Price: free
Conclusion
Audio is one of the crucial aspects of any computer whether you are working on it or using it for your entertainment. Having the right Windows Equalizer implemented on your system would ensure that you experience the best sound quality and enjoy the content (movie or music) to the fullest. So, take your pick from the above list and get the best sound output from your system.