We all get super excited when we buy a new phone to explore many features of the new device. But do you know many iPhone users have experienced an issue when they inserted their SIM for the first time in their iPhones?
They received an error message that said SIM not supported on their iPhone screen. Some users also faced an error message that read SIM not provisioned, etc. The main factor/cause for this problem on any iPhone is the carrier lock on the iPhone. This usually happens when you buy an iPhone from somebody else without checking for any SIM restrictions. There could be several other factors such as internal software bugs, changes in the network settings, not inserting SIM properly, outdated iPhone software, etc.
Not to worry if you are also facing such issues with your iPhone because we are here with many different solutions that might help you in fixing this problem.
Try these workarounds first
Force Restart your iPhone – Sometimes, we ignore the fact that many problems caused by iPhones are due to internal technical bugs. So this can be rectified by force restarting the iPhone. Try doing that and see if this works for you.
Check for iOS Update – Many times the updates released by Apple are really for the enhancement of the iPhone and also resolve several software bugs in the iPhone. Therefore, you can try updating your iPhone by going to Settings > General >Software Update.
Check if SIM is inserted properly – This kind of issue arises when the SIM card itself is not placed properly in its holder in iPhone. To fix this, try ejecting the SIM card holder from the iPhone first. Then remove the SIM card and clean it with a cloth and place it back. Later, insert the holder back into the iPhone. Now you should not be getting the error message again.
Call an Emergency Number – This has worked for many iPhone users as claimed and the trick here is nothing but calling any one of the Emergency numbers from your iPhone. Try doing this and this might work for you.
Fix 1 – Enable and Disable Airplane Mode
Refreshing the iPhone's network connections can help in resolving this issue and this can be achieved by toggling the airplane mode as explained below.
Step 1: Open the Settings app first on your iPhone.
Step 2: Once it is open, tap on the Airplane Mode option's toggle button to turn it on.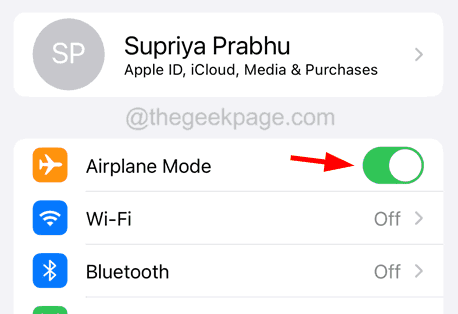 Step 3: When the airplane mode gets activated, it disconnects all types of network connections on your iPhone. Even mobile networks.
Step 4: You now have to wait for some time and then disable the Airplane Mode option by again tapping on its toggle switch to grey as shown in the below screenshot.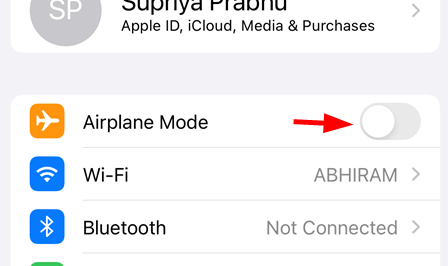 Fix 2 – Check If iPhone has any SIM Restrictions
If you are looking forward to buying an old iPhone from somebody else, you need to check one criterion that restricts using SIM cards on the iPhone called Network Provider Lock.
Step 1: Click on the Settings icon from your home screen.
Step 2: Then scroll down and click on General as shown below.

Step 3: After that, select the About option at the top of the general page.

Step 4: You should scroll down the About page a bit and check for the Network Provider Lock option.

Step 5: If it says "No SIM restrictions", then you can be sure that any SIM cards will work smoothly on your iPhone.
Fix 3 – Check for any Carrier Update Settings
Step 1: Launch the Settings page on your iPhone.
Step 2: Then go to the General option.

Step 3: Next, tap on the About option.

Step 4: Scroll down to the Physical SIM section.

Step 5: If there pops up a small context menu option on the screen, please click Update.
Step 6: This starts to update the latest carrier settings on your iPhone.
Fix 4 – Activate eSIM on your iPhone
Step 1: Go to the Settings page on your iPhone first.
Step 2: Then select the Mobile Data option by clicking on it.

Step 3: If you have not activated any eSIM on your iPhone, click Add eSIM as shown in the below screenshot.

Step 4: Follow the onscreen instructions and carry out the process of adding eSIM on your iPhone.
Fix 5 – Reset Network Settings on iPhone
Step 1: Tap on the settings icon.
Step 2: This launches the Settings page on your iPhone.
Step 3: Click on the General option from the settings list.

Step 4: Now scroll down to the bottom and you have to click on Transfer or Reset iPhone as shown in the below screenshot.

Step 5: Then tap on Reset as shown.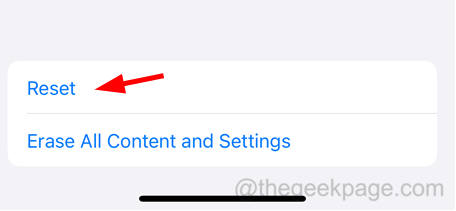 Step 6: Choose the Reset Network Settings option from the popped-up context menu list on the iPhone screen.

Step 7: It will ask you for your iPhone passcode before continuing.
Step 8: After you have successfully entered your iPhone passcode, click Reset Network Settings again to continue.

This starts the process of resetting the network settings on your iPhone.