If you have recently received any phone call which is not saved on your iPhone, you may have to revisit the phone call log to get the recently received phone number in order to save it. Right?
But there are many iPhone users who are reporting an issue where the recent and missed calls are not showing up on their iPhones. This is frustrating for several users who are now unable to get those recent call logs from their iPhones.
This issue could have happened because of internal software bugs within the iPhone, the incorrect region being set on the iPhone, or maybe simply selecting only the missed tab on the Phone app.
Anyway, there are fixes explained in simple steps in the article below that would definitely help you out in fixing this issue.
Fix 1 – Try Restarting the iPhone
Sometimes, there exists some unknown internal technical glitches due to downloads, apps, etc. which can create such problems on any iPhone device. If you do not clear these glitches from the iPhone, it will continue to bother with issues as discussed above in this article.
So it is necessary to regularly restart your iPhone device to clear all the unnecessary software glitches from the iPhone.
Fix 2 – Select the "All" tab instead of "Missed"
Step 1: Click on the Phone app icon from the home screen to open it.
Step 2: Once the Phone app is opened, tap on the Recents option from the bottom panel as shown in the below screenshot.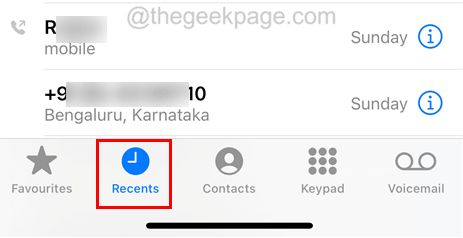 Step 3: Now you may observe that if you are able to see only the missed call logs on your Phone app, it means you may have selected the Missed tab at the top.
Step 4: To view all the call logs including missed calls and recent calls, click on the All option at the top of the Phone app as shown below.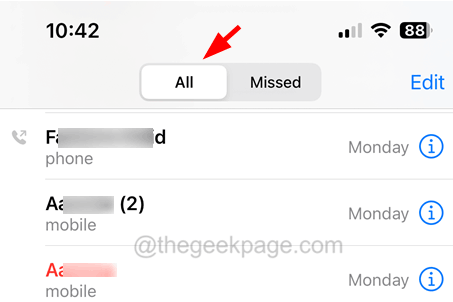 Fix 3 – Change the Region on the iPhone
Step 1: First of all, you may have to go to the Settings app on the iPhone.
Step 2: Then once the settings page appears, scroll down and you should select the General option as shown below.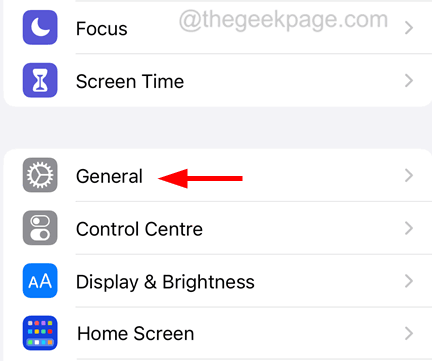 Step 3: On the General page, click on the Language & Region option.

Step 4: You have to tap on the Region option from the list as shown.

Step 5: Now it will pop up a list of regions on the screen.
Step 6: You have to select some region from the list other than the region already selected on your iPhone.
Step 7: If it asks you to confirm whether you want to change the iPhone language to proceed, please select Keep <language already set on iPhone>.

Step 8: After the region has been changed, tap on the Region option again and select the Region which was set on the iPhone earlier from the list of regions.