Youtube doesn't allow videos to play in the background for free. So, if you have left a tab in the background streaming youtube videos, after a  while, it shows up "Video paused. Continue Watching." prompt on the screen. Without any user interaction, the video won't resume further. But, there is a way you can stream YouTube videos in the background all day long without any interruption. How? Just follow the step-by-step instructions.
How to disable Video paused Continue watching prompt on PC
There is an extension called YouTube NonStop. Just install it on your browser and you won't see the prompt ever again.
It is completely safe as it just clicks on the "Yes" prompt as many times as it pops up, continuing the stream without any pause.
1. Open Google Chrome.
2. Then, open the YouTube NonStop web extension.
3. Next, just tap "Add to Chrome" to add the extension to Chrome.

4. A message will appear on the browser screen. So, tap "Add extension" to add the extension.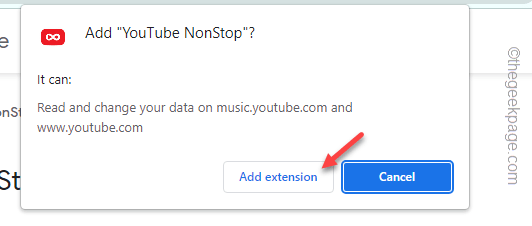 Chrome will now download and install the extension to the browser. Once it is done, will see this banner  –
YouTube NonStop has been added to Chrome.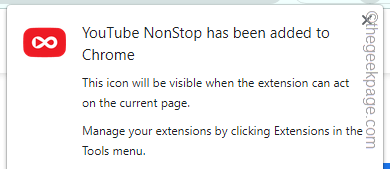 After this, just open Youtube on any tab and play something in the background.
You won't see the annoying "Video paused. Continue watching?" prompt ever again.
You can also download this PC Repair tool to Locate and Fix any PC issue:
Step 1 - Download the Restoro PC Repair Tool
Step 2
- Click on Start Scan to find and Fix any PC issue automatically.


Sambit is a Mechanical Engineer By qualification who loves to write about Windows 10 and solutions to weirdest possible problems.