WhatsApp is one of the best applications for sharing photos, documents, videos, etc. with others on Windows systems, Mac, Android devices, iPhones, etc. In order to send someone any files, the user has to save their contact on their iPhone first and then choose their contact on WhatsApp for sharing the files.
These days we have been getting reports that say many iPhone users are facing a problem where some WhatsApp contacts are not showing up on their iPhones.
This may be a problem that is impacting their work since they are not able to share any files from their iPhones. Some of the reasons are outdated WhatsApp applications, not allowing WhatsApp to access contacts, disabling show all contacts settings on your iPhone, etc.
Don't worry if you are also going through the same, in this article below we are showing many solutions that will definitely be going to resolve this issue.
Preliminary fix
Ask them to send you a WhatsApp message
Sometimes because for some unknown reason, this happens to most iPhone users. So we recommend our users ask that person to send them a message on WhatsApp.
After the user receives a WhatsApp message from them, save it to your contacts on your iPhone from within the WhatsApp app and then you can start seeing their contact on WhatsApp.
This is just a temporary solution or a quick workaround and to get a permanent solution please go through the other fixes given below.
Fix 1 – Add Contact with a number in an International Format
If any of the contacts are saved on the iPhone or any other device in a general format, this might cause an issue like not showing on the WhatsApp applications on mobile phones.
So it is suggested that the user has to look for the contact on their iPhone in the Contacts and then change the format to an International format which is nothing but prefixing the phone number with the country code. For example- +1 is the country code for US , so the user has to append +1 followed by their phone number on their iPhones.
Hope this article resolved your issue and able to see the contacts on the WhatsApp application on your iPhone. Let us know in the comments section below!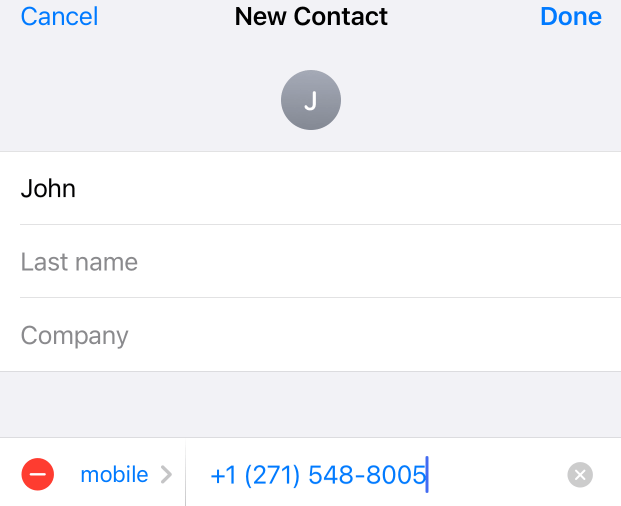 Fix 2 – Enable WhatsApp Access to Contacts
WhatsApp app needs access permission from the user in order to get the contacts from their iPhone. If the access permission is not granted by the user, this problem arises on any iPhone. There are two ways in which you can grant WhatsApp access to your iPhone contacts.
Via WhatsApp Settings
Step 1: Open the Settings page on your iPhone.
Step 2: Scroll down the Settings page and tap on the WhatsApp option once.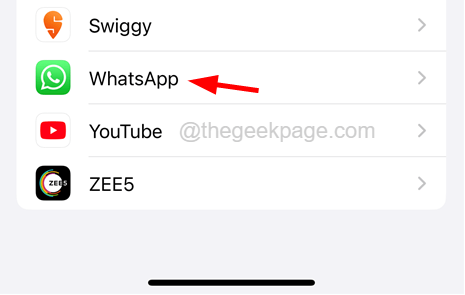 Step 3: Once the WhatsApp page appears, tap on the Contacts toggle button on top as shown in the below screenshot.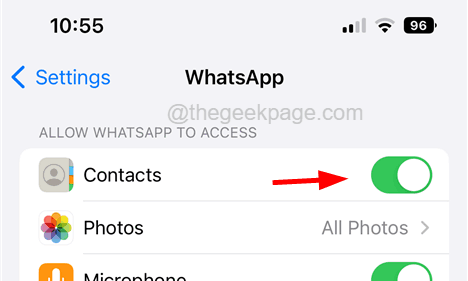 Via Privacy & Security
Step 1: Tap on the Settings icon from the home screen to open it.
Step 2: After it is open, scroll down and select the Privacy & Security option once.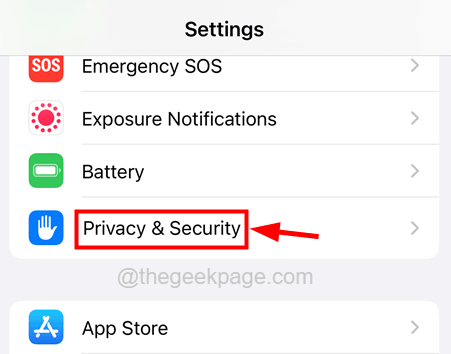 Step 3: Then tap on the Contacts option as shown in the below screenshot.

Step 4: On the Contacts page, enable the WhatsApp app by tapping on its toggle button to turn it On (Green) as shown below.

Fix 3 – Update the WhatsApp app on your iPhone
WhatsApp periodically comes up with bug fixes and enhancements on their application and releases an update every now and then. So if any user does not update WhatsApp app on their iPhone, it might throw issues like those discussed in this article above.
Step 1: Open the App Store on your iPhone.
Step 2: After it opens, tap on the Search option at the bottom panel as shown in the image below.

Step 3: Then search for the WhatsApp app by typing whatsapp in the search bar and tapping on the search button on the keyboard layout.

Step 4: After that, if there are any updates available for the WhatsApp application, it will display Update which you have to tap on it to start updating it.
Step 5: Otherwise, it will show Open as shown below.
Fix 4 – Enable Background App Refresh for WhatsApp
Background App Refresh option when enabled for WhatsApp refreshes the contacts, messages, etc. automatically when there is any changes observed. So let us try checking whether the background app refresh is enabled or not for WhatsApp.
Step 1: Open the Settings page on the iPhone first.
Step 2: Then select the General option by tapping on it.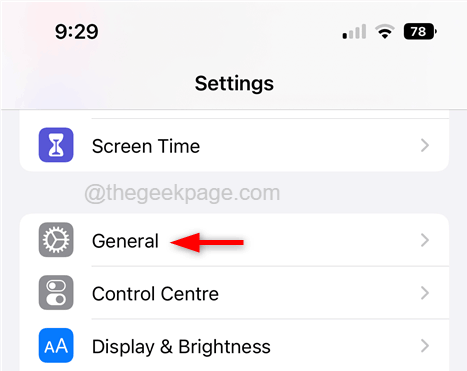 Step 3: Now choose the Background App Refresh option on the General page as shown in the below screenshot.

Step 4: Scroll down the page and look for the WhatsApp option from the list and enable it by tapping on its toggle button as shown below.

Step 5: Once done, close the Settings page and check if the WhatsApp app refreshes and show the contacts.
Hey! I am a software engineer who loves to solve technical issues and guide people in a simple and effective way as possible. Currently writing articles on tech problems is my thing!