Are you seeing an error when you try to open Microsoft Office programs like Word, Excel, or PowerPoint that stops you from using any Office applications? Many users have communicated about an error message that says "This Action is Only Valid for Products that are Currently Installed" when opening Microsoft Office. Generally, this error occurs due to bad Microsoft office installation or having more than one version of Office (trial version and retail copy) installed on the system.
If you are one such user facing this error, read this article to know the fixes that will help you overcome this error on your PC.
Fix 1 – Repair Microsoft Office
1 – Press Windows key an R key together from the keyboard to open run command box.
2 – Now, type appwiz.cpl in it and click OK.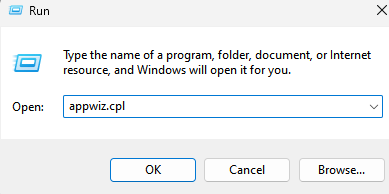 3 – Now, Locate your Microsoft office from the list. Right click and click on change.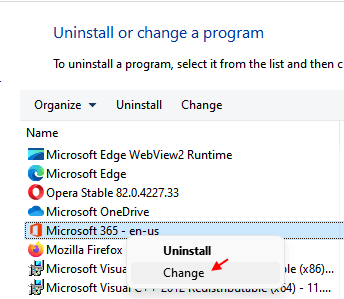 4 – Now, choose Quick Repair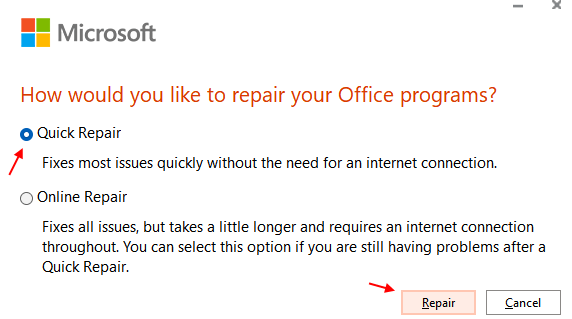 5 – Now, click on repair.
After it gets repaired, try again.
Fix 2 – Uninstall the Trial Version (if applicable)
If you are having both the retail copy and trial version installed on your system, these two conflicting instances of Office will result in this error. It is recommended that you uninstall the trial version of Office.
1. Open Run (Windows + R) dialog.
2. Type appwiz.cpl and hit Enter to open Programs & Features.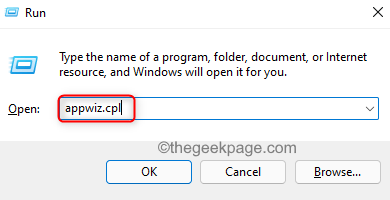 3. Locate the trial version of Microsoft Office in the list of installed apps.
4. Right-click on it and choose Uninstall.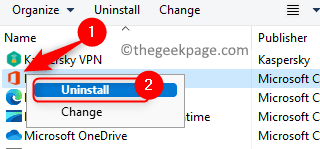 5. Follow the on-screen instructions and wait for the uninstallation to complete.
6. Once the trial version is uninstalled, restart your computer. Check if the error message still appears when you open Microsoft Office.
Fix 3 – Repair and Reset Microsoft Office
1. Use the Windows and R key combination on your keyboard to open the Run dialog.
2. Enter ms-settings:appsfeatures and click on OK to open Apps & Features.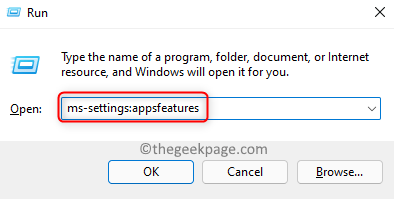 3. Type Office in the textbox below App list to find Office in the list of applications.
4. Click on the three vertical dots associated with Office and choose Advanced Options.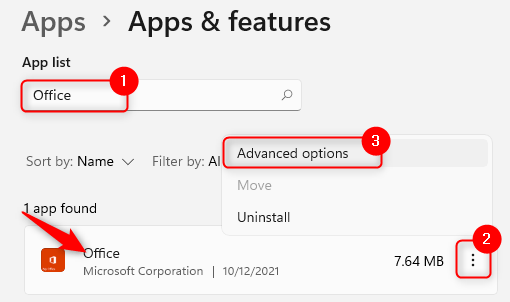 5. In the Advanced Options, scroll down to the Reset section.
6. Click on the Repair button to perform a repair of the application.
7. Wait for the repair process to complete. Check if the issue is fixed.
8. If the issue still persists, repeat Steps 1 – 5 above.
9. Click on the Reset button.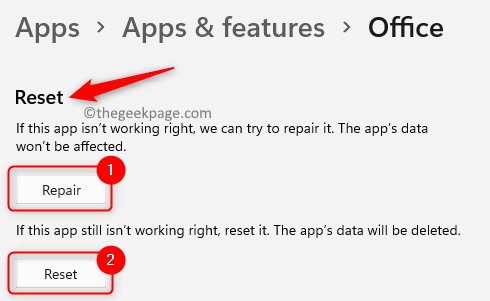 10. When the confirmation prompt appears, click on Reset again.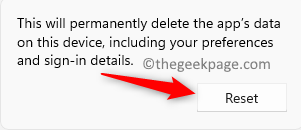 11. Once the reset completes, check if the error is resolved.
Fix 4 – Uninstall and Re-Install Microsoft Office
1. Perform the Steps 1 – 3 mentioned in Fix 1 above.
2. Click on the three vertical dots associated with Microsoft Office and select Uninstall.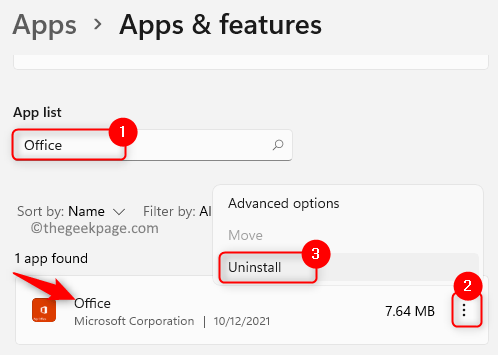 3. Click on Uninstall when asked for a confirmation. Wait for the uninstallation process to complete.


4. After uninstallation completes, hit the Windows key and type Store in the search box.
5. Click on Microsoft Store.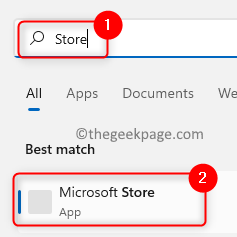 6. Type Office in the search box at the top in the Store.


7. Locate the Office app in the search result and click on it.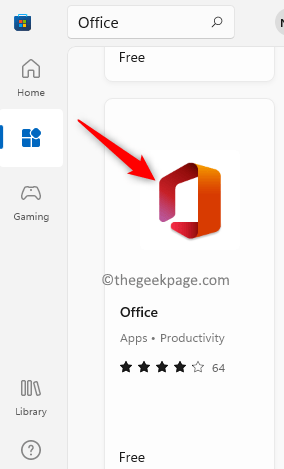 8. Click on the Get button associated with it.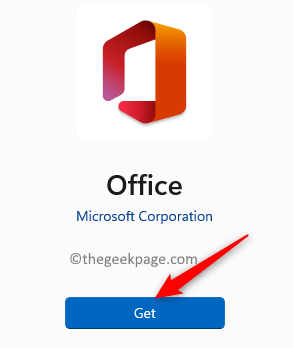 9. Wait for the download and installation to complete.
10. Launch Microsoft Office and check if the problem is solved.
Fix 5 – Run the Windows Memory Diagnostic Tool
1. Press Windows and R keys together to open Run.
2. Type mdsched and hit Enter to open the Windows Memory Diagnostic application.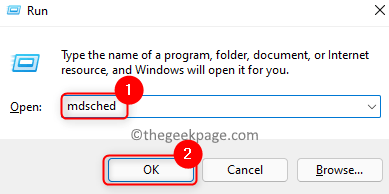 3. In the Windows Memory Diagnostic window that opens, click on Restart now and check for problems (recommended).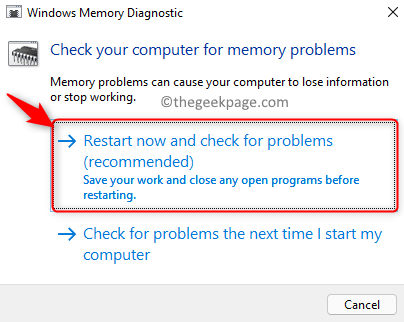 4. Your system restarts and the tool starts checking for any memory problems. It will automatically fix any issues that are found.
5. Wait for some time till this process completes. Don't interrupt this process before its completion.
6. Once the check is complete, your PC will restart automatically. Check if the issue is resolved.
That's it!
Microsoft Office must now launch without any error message after you have tried the fixes mentioned above. Comment and let us know the fix that worked for you.