As soon as we say classified sites the first few names that come across are OLX, Quikr or Craiglist. Classified Sites are a boon to especially the small business owners, or for those looking to buy or sell used stuff. The best part is that most of the classified sites offer free service and help online marketers, advertisers or freelancers to promote their work and business. That's not all, as you can also buy and sell houses, automobiles, electronics, etc. apart from promoting your products, websites, services and more.
The whole purpose of placing ads on the classified sites is to draw traffic to your business as these sites are visited by a large number of people on a daily basis. Advertising on these sites increases the visibility to your website or blogs as well, hence this method is being used by several webmasters to boost SEO (search engine optimization). You can place backlinks on high PR sites to improve your website's rank in the search engine results pages.
Overall, the fact that most of the services by these sites are free they benefit in more than one ways. Today, we have listed some of the top classified sites in the USA which are the best destinations for your ad posting requirement. They are high pr sites with high Alexa rank and used by a majority of the United States population for their business needs. So let's a take a quick look at these classified sites in USA..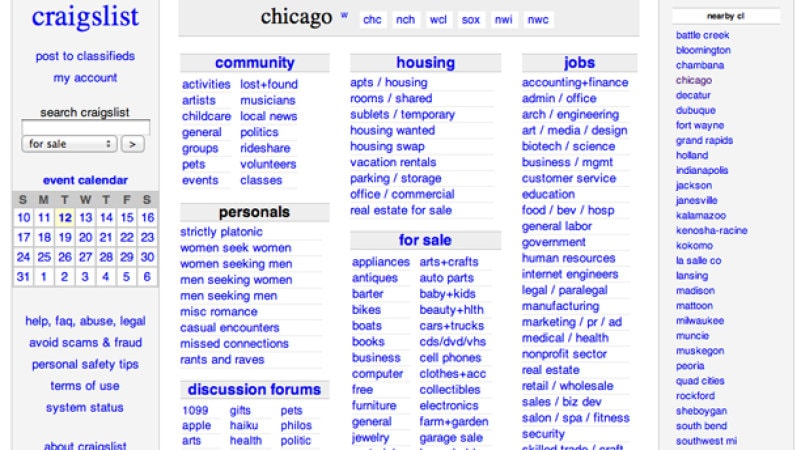 Undoubtedly one of the top classified sites in the category, Craiglist provides a local platform to advertise and promote your services, post jobs, buy and sell property, while their more sections dedicated to discussion forums, community, personal and events. Founded in 1995 it is the largest classified service in the world that gathers 30 billion page views and 60 million web traffic per month.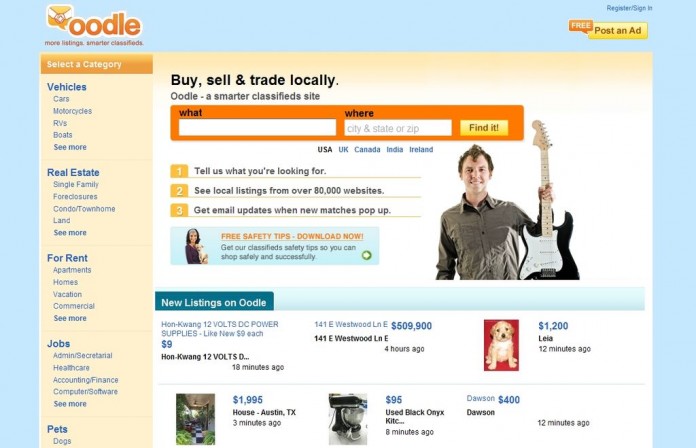 Oodle is another most popular classified ad posting services in the world that works on the unique concept of accumulating listings from other popular similar sites like, eBay, Myspace, ForRent.com in addition to the listings from different local websites and newspapers. While you can browse through the different sections like, buying or selling automobiles, renting an apartment or office space, jobs, pets, personal and more, you can also check out the recommendations from friends and acquaintances who are involved in buying or selling things under the Marketplace option.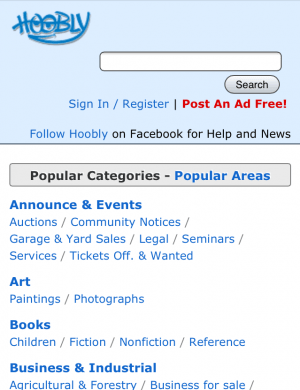 If you are looking for classified ads site that is free, targets US population and offers a host of options, Hoobly can be the right choice. From events, books, collectibles, jobs, pets or vehicles to even clothing/accessories it has a wide range of options at your service. It's up to you whether you want to sign up because you can also directly access the listings by selecting your country and state, and also make use of the categories filter.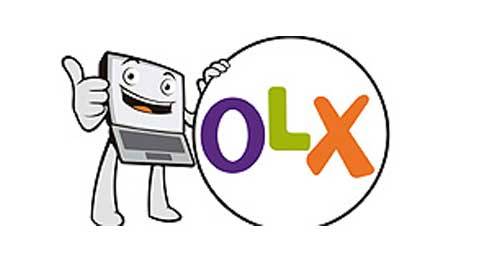 OLX is originally a New York based classified ads site that offers the option to create classified ads by users for free and also discussion forums that are segregated by different categories like, jobs, properties, personals, cars, pets and many more. what we love about OLX is that it also allows you to deck up your ads with images and videos that help attract more visitors quickly, lets you manage your ads, showcase them on your social networking accounts, etc. Found in 2006 OLX is also immensely popular in India.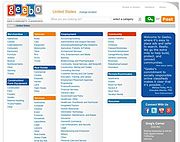 Geebo is a popular free classified ad platform in the United States for different categories like real estate, farm equipment, vehicles, rentals, services, jobs, resumes, and merchandise. These are the broader categories that cover hundreds of products and services under them. While you ca search or post ads, you can also connect to the vast Geebo community.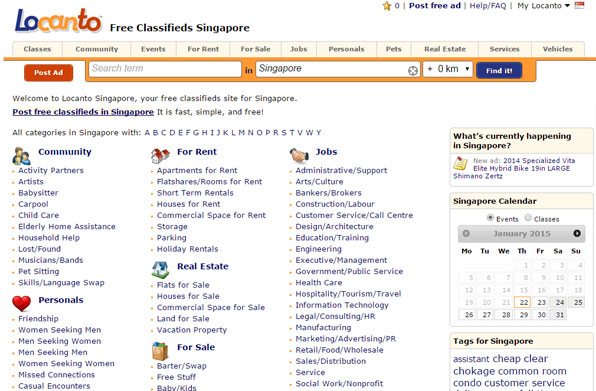 Locanto is a free classified ads destination that helps you to find employment, pets, real estate, services, classes, community, personal and events from over 2,188,000 ads. Not just that, you can also post ads in the same categories to sell something. The site also helps with dating services or baby-sitting. Posting a free ad is extremely easy with Locanto which stays active for 60 days, thereby carrying your business to a wider audience. You can enhance your ads with photos, HTML codes or even add your webste link. So, simply select your city and get going.
Kugli
Kugli.com is much more than just a classified ads site. It is also a business networking site internationally hence, it is both a Free Classified Ads & Global Classified Network. So, if you are an employer looking to hire the perfect candidate, an employee searching for the right job, a trader hunting for new buyers/suppliers, or a professional who wants to expand his network by connecting to people, Kugli.com is for all. With Kugli you can post ads for free in all categories from cars, real estates, jobs, serves, pets and more.
One of the top classified ads sites in the US, Recycler connects local buyers and sellers on the online marketplace. While you can buy and sell used items like cars, pets, electronics, furniture or even real estate, you can also deal in new properties, lands, vehicles, sports items, jobs and more. to enhance the experience and attract more visitors you can also add photos to your ads.
As the name suggests, Classified Ads is an online classified ads platform that lets you search and post ads for free in different categories. Categories range from sale items, jobs, pets, real estate, personals, services, vehicles and even for rent and communities. It offers a video tutorial in case you need any help to post ads.
USFreeads
One of the largest classified ad sites in the United States, USFreeads offers a platform to market a huge number of products and services that you can think of. Being one of the biggest online classified sites around, it pulls enormous web traffic, active buyers and a massive number of new daily visitors for your products to sell speedily. You name it and the category is already available on the site that helps you to generate free responsive ads.
Yakaz is another very popular classified ads site that lists all local businesses in the vicinity. It works like a search engine that lets you search your requirement on the web. From used cars or motorbikes, to job openings or housing it offers a good listing for these categories. The homepage displays a search box where you need to input your requirement and the site will pull up the matching classifieds from the web based on your search. With its major presence in the USA, Yakaz is also available in other foreign countries like, South Africa, France, Spain and more.
If you are looking for free classified ads platform to place ads or to look for listings free of cost, Adsglobe is the answer to your solution in the U.S. It is another advertising option for your business and helps others to find you easily using this service. It features different categories such as, Autos, Rentals, Real Estates, Pets, Travel and Merchandise. There are several different categories segregated into different headers like, Market Place, Business Center, Job Center and Community Center, so choose as per your requirement and buy or sell products at your convenience.
Freeadlist
Freeadlist is a US based classified ads site that helps you to find and list local classified ads for free. You can advertise your products, generate more traffic for your website or blog, buy or sell products or property and more with this classified platform. You can post ads under various lists such as, for sale, real estate, jobs, services, personals and Miscellaneous based on your business and your requirement. While you can search and post ads for free all across America, Freeadlist is also available worldwide.
Just like any other top classified sites that offer you free ads posting and search classifieds in your locality, Buyandsellcommunity allows you to do the same with equal efficiency. Targeted for US business and customers, you have hundreds of categories to choose from that includes real estate, computres, vehicles, arts & antiques, sports equipment and accessories, travel and events books & magazines, garage sales and many more. The home page is well arranged that gives you a view of the featured classifieds, recently added classifieds and announcements.
Penny SaverUSA
Apart from placing ads for you products and business and searching for classifieds in your locality, PennySaverUSA also provides you more option to save money with discount coupons. Pennysaver has been in the business for over 50 years mostly in print and reaches over 11.2 million Americans every week with great discounts and saving coupons. While you can earn that extra dough by selling products online or prompting your business, you can also benefit from buying new or used items, getting job options and more along with some real time saving with those discounts and coupons.
Link: http://www.pennysaverusa.com
Salespider.com
Salespider is based on the social networking concept and is the largest platform to connect business owners. It also offers free services related to sales leads, classified ads, business forums, prospect lists and business directory. The home page is pretty neat with well laid out categories. You can choose from the hundreds of categories and find the best deal, join the enormous business community or post an ad and all for free.
arizonaslist
As the name suggests, arizonaslist offers local business listing within Arizona that is accompanied with reviews and ratings. It saves a lot of your money that otherwise goes in form of commission to the home brokers, and instead lets you buy and sell homes for free. Arizonalist chiefly targets the home seekers or those who want to sell their homes, and it helps you to do at no cost.
Backpage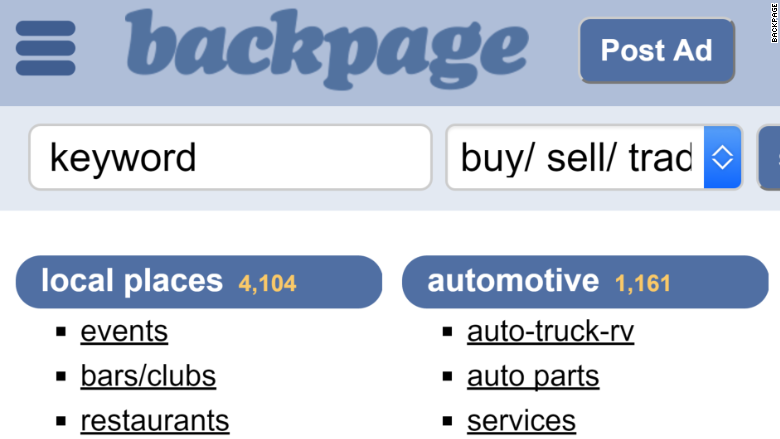 One of the other best free classified sites in USA is easily Backpage, that helps an individual to look for land, house, job, car, apartments for rent, and much more on one single platform. You can also add photos to your ads for free that increases the chances of sale and gathers more visitors. On the first page, you can see the list of all states in the U.S. from where you can select your state and city and there you go! With over 120 employees in the organization, this site gathers 3.2 million web traffic each month.