The country or region selected on your PC (usually your current location) affects a lot of system settings, for example, the Windows Store suggests apps and prices based on your location, when installing Windows 10 or while testing an Android app. If the country or region is incorrectly set, it may affect all of these settings and lead to system issues. There can be other unknown complications with the system leading to errors and thus, may end up with issues while working on your PC.
Fortunately, you can change the country or region in Windows 11. Windows supports a long list of countries and region, and also languages, currencies or date and time formats. Changing the country or region to the correct location will not just help different system settings to work correctly, but will also allow different programs, data or documents to be formatted correctly.
In this post, we will show you how to change the country or region in Windows 11.
How to Set the Country or Region to the Correct One in Windows 11
Whether you want to change the country or region for testing an Android app or you want the correct app recommendations and the prices, you must set the country or region correctly on your Windows 11 PC. Let's see how:
Step 1: Press the Win + I keys simultaneously on your PC to launch the Settings app.
Step 2: In the Settings window, go to the left side of the pane and click on the Time & language option.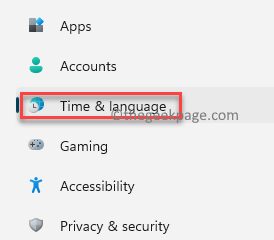 Step 3: Now, navigate to the right side of the window and click on Language & region.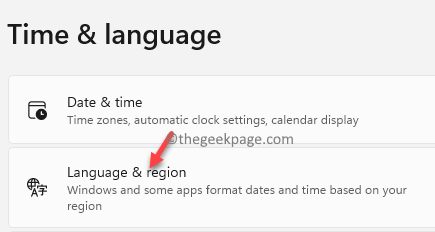 Step 4: Next, in the Language & region settings window, on the right side, scroll down and under the Region section, go to the Country or region field.
Here, select the correct country or the region from the drop-down next to it.

*Note – The Regional format field is automatically set as per the country or region selected. But, in situations where there are more than one data formats, for a specific country or region, for instance, for the US or for India, you can also select the Regional format along with the Country or region.
You can exit the Settings app and you have now successfully changed the country or region in your Windows 11 PC.