If you are someone who's still following the primitive process of file transfers or manual file backup each time, file and folder synchronization tools are just for you. Simply keep your duplicate sets of files and folders in more than two different locations or computers at the same time using these tools.
You can even choose to save the two identical files on separate disks, online storage or even on two different USB drives. For example, you can easily keep updated variants of the identical data on your home as well as an office computer. Moreover, whenever you create data files, modify them or even remove them from one location the file syncing tools help you keep track of these actions.
Not just that, these tools can also help you create the same files, modify them or even remove the files from other location at the same time. So, till you have the opportunity use your files and data directly from the loud, a compelling file and folder synchronization tool is your best option.
Must-haves for a good file and folder synchronization tool
If your main aim is to sync your data between devices in a local network, using a good file syncing tools would be a wise choice rather than a cloud syncing option. So, let's take a look at the must-haves for a good file and folder synchronization tool.
Ability to simulate any source folder even while the files engaged;
Ability to sync files both one-way and two-way;
Ability to encourage removals and identify renames with a log file of earlier actions;
Availability of dual modes of operation that is, manual and automatic;
Should be able to identify file variances in cases where the file altered in both the locations during the last sync process;
Compatibility with portable devices, hard drives (internal and external) and a whole lot of other devices;
Ability to filter files or folders by including/excluding them based on the guidelines specified by you;
No file limits or use limits specified for the syncing operation;
Ability to generate preview of the ongoing operations during the sync process;
Ability to support file synchronization for both local and network locations.
So, now that we know about the requirements for a good file syncing tool, let us find out some of the best free file and folder synchronization tools.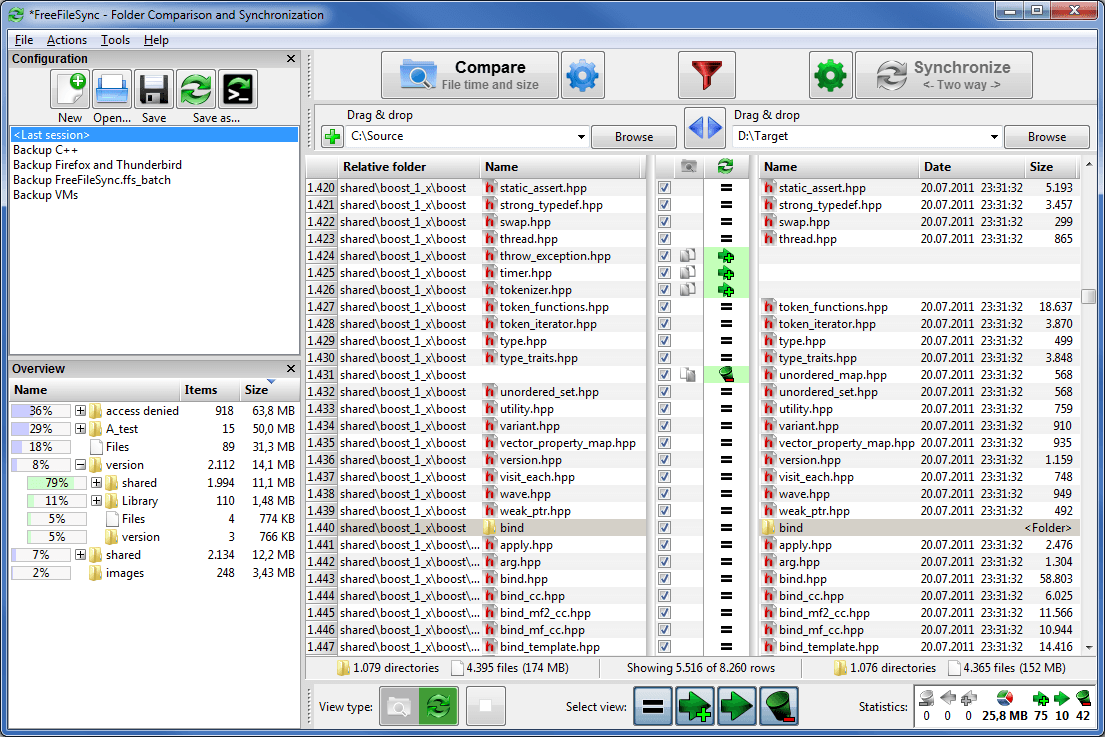 Enhanced for maximum performance, FreeFileSync is an open source tool that assists you to sync files and folders for different operating systems like, Windows, Mac OS X and Linux. It comes with a simplified interface and offers an optimized usability. Using this tool you can compare data by date, size or content. You simply need to drag and drop the folders you want to synchronize and you are done.
Shift the selected data files manually between the locations or sync them automatically, you can do a lot with FreeFileSync easily. While you can also create your own guidelines for synchronization, you can also use the various filters to manage overwritten files. It makes sure that you do not lose any critical data while syncing.
Some of its highlights are:
Comes in 32 bits and 64 bits build;
Offers support for larger files (over 4GB);
Identifies shifted and renamed data files;
Available in removable versions;
Facilitates replication of restricted files with the help of Windows Volume Shadow Copy Service;
Available in many local languages;
Helps shift files to Recycle Bin instead of overwriting or removing;
Option to choose automatic online update;
Inherent support for extended file names.
Download: http://www.freefilesync.org/download.php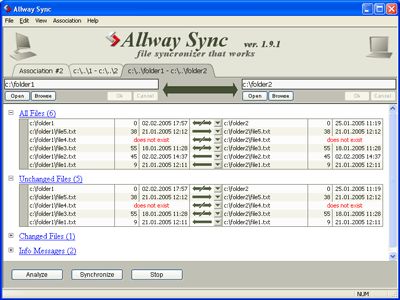 Allway Sync lives up to its name with an all-around file and folders syncing performance. This tool comes ad-free and supports almost all file systems. It not only offers an interface that's easy to operate but is also available in over 30 languages. The syncing process becomes even smoother with its application of the cutting-edge formula.
A free for personal use application, Allway Sync tracks all the changes and removals in a database. However, this tool has its own restrictions. Some of its features are:
Comes with a handy graphical user interface;
Syncs data files between laptops and desktops over the network;
Facility to adjust customization and composition;
Helps sync more than two folders at a time;
Offers support for any file size;
Compatible with a wide range of file systems like Netware, UDF, FAT, X-Drive, NTFS, etc.
Download: http://download.cnet.com/Allway-Sync-64-Bit/3000-18511_4-75205824.html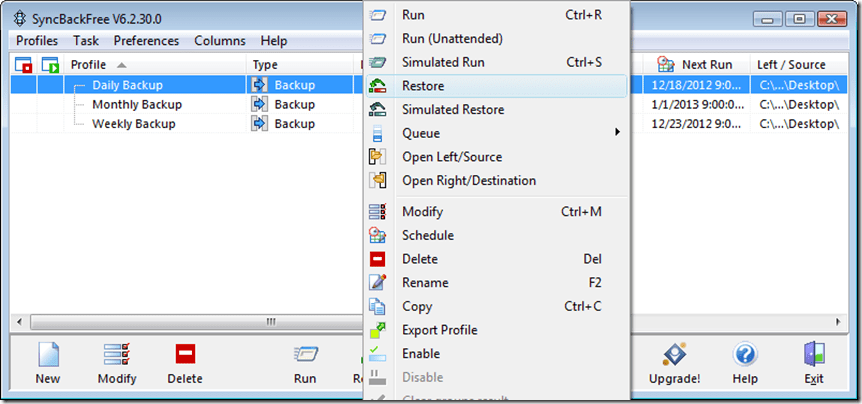 SyncBackFree is one of the best applications for Windows operating system that helps users backup files and even sync easily and at no cost. You can sync and backup files either at the same location, different locations like on compact flash, CDRW, etc., in a Zip file, FTP server or on a Network.
Wait! There's more, as it also offers you a handy retrieving tool (copies folder trees including files) that helps you find your lost files easily. The best part is that SyncBackFree is available at no cost and is free not just for personal use, but also for commercial, educational, government or charity use. Neither do you need to register nor pay anything for the download.
Some of its additional features are:
Facility to schedule backups;
Syncs and backups data in both locations;
It can even read file names that are not in English;
Supports email logs;
Vast documentation provided for Help;
Available in both modes, simple and advanced;
Helps you administer programs prior to or after profiles;
Helps recover backup files conveniently.
Download: http://download.cnet.com/SyncBackFree/3000-2242_4-10413802.html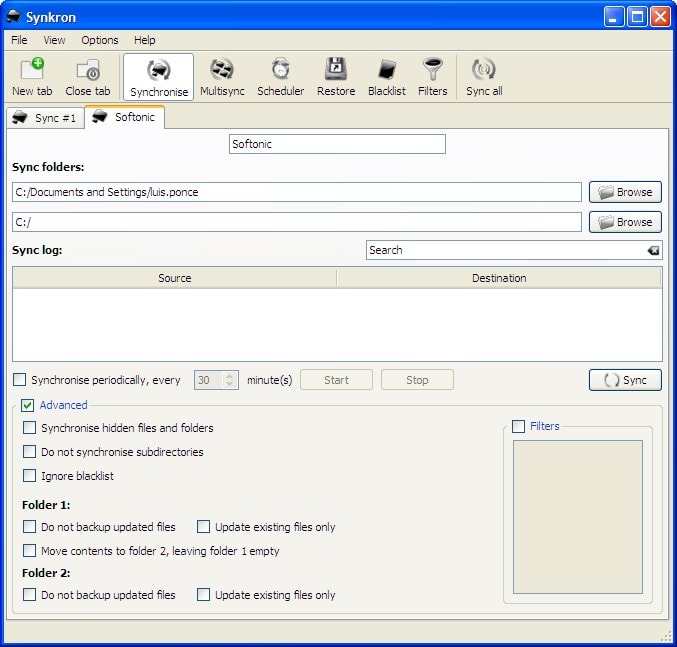 A multi-platform application, Synkron is compatible with different operating systems like Windows, Linux and Mac. This application is totally free of cost while it helps you to maintain your files and folders in up to date condition. The application is pretty simple that lets you sync many folders at a time. However, the best part is that it runs a complete check before syncing files.
It can recover overwritten files easily and even the files that have been removed. Besides, there are many effective features of Synkron using which you can format the syncing options. So, let's see what are they.
You can synchronize many files and folders at a time;
Helps recover any files that have been overwritten or removed during the previous syncing process;
It's a cross-platform application;
You can sync only the files you want and rule out the ones you do not want;
Configure sync options in detail with the various choices available.
Download: http://synkron.en.softonic.com/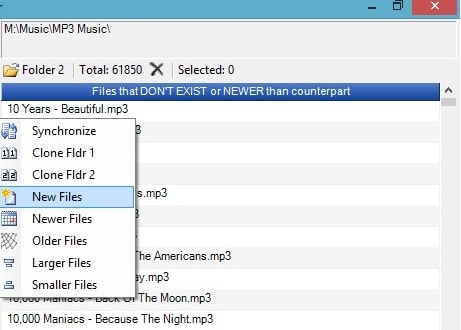 If you have a huge collection of media files, for example, Videos, MP3s and more, File Synchronizer can be a great choice for you to sync such files. What we love is that it does not even require you to copy each file for the synchronization process. Moreover, apart from the syncing files, it can also work as a fantastic backup tool for you.
Only those files that have advanced for faster backups are backed by File Synchronizer. Not just that, this freeware also compatible with PCs or external drives that are linked over networks (wired/wireless).
Download: http://www.karaosoft.com/ProductDetails_FileSynchronizer.aspx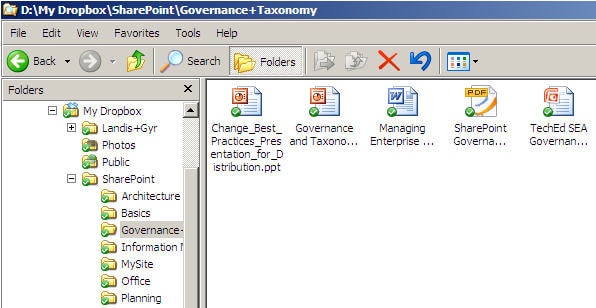 Most of us by now know about this cross-platform syncing utility, Dropbox which is available for Window and Mac. This application promises some real quick and instant sync process and file allocation via the desktop computer or the web interface. You can get up to 2GB free space by default on signing up, however, if you want more space and advanced features you need to upgrade to the premium version.
Among its many features are:
Helps you move your files and folders from any location, on any device which can be shared with anyone.
It allows you to access your saved files on your mobile phone from anywhere;
Helps share large files with anyone who do not even use Dropbox;
Backup files like, photos from your computer on your phone automatically;
Helps you edit presentation with colleagues with no need to email files;
Keeps your files protected which can be accessed from any device even if you have lost your phone.
Download: https://www.dropbox.com/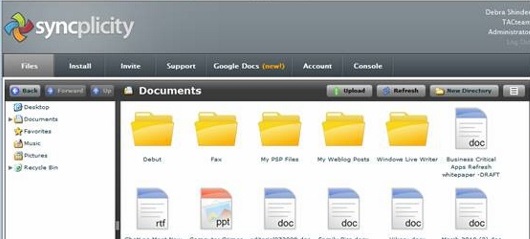 Looking for an application that can help you sync your files instantly and seamlessly? Get Syncplicity for your Windows device which is a synchronization tool for free! While it offers free space up to 2GB and useful symbols that can keep the trail of your file's syncing status just like the Dropbox, Syncplicity can also include any files or folders to your current syncs which are a distinct feature from the Dropbox. Unlike Dropbox, it also offers additional state-of-the-art features along with a separate premium pricing for those who need space more than 2GB.
Some of its highlights are its ability to protect and backup your files in real-time, replacing email attachments, syncing and sharing in a secure environment, helps protect your data, and more.
Download: https://www.syncplicity.com/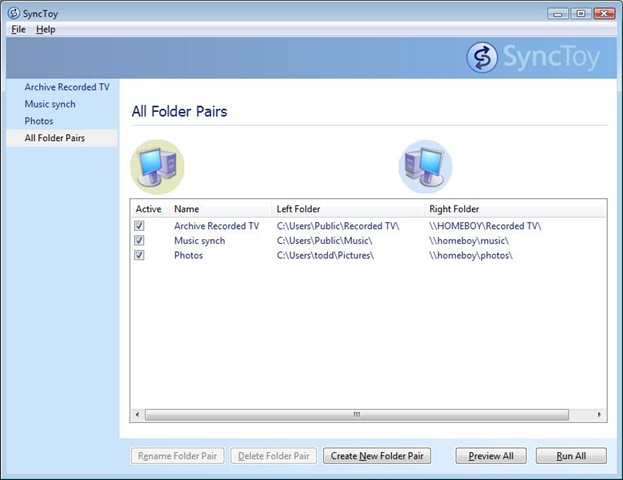 Sync your files and folders conveniently with SyncToy 2.0 between different locations. If you are a Windows user, this program is the just right option for you that helps you sync your files locally. Files like, photos can be easily shared across computers while it also helps backup file copies.
With the addition of the smart drive letter detection that identifies your thumb drive even if it's designated a different letter every time, the application has moved a step higher. This is a freeware that not only works for Windows, but you can also sync your Tunes library across computers. Some of its notable features are:
True Folder Sync helps sync folder creation, renaming and removal for all of the actions of the tool;
You can now exclude files and folders based on name with either fuzzy or exact matching;
Helps rule out files based on more than one file characteristics;
Helps manage pairs of folders through the command line interface;
Comes with a native 64-bit support for Windows 64-bit versions.
Download: https://www.microsoft.com/en-us/download/details.aspx?id=15155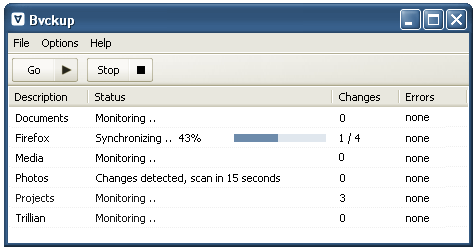 One of the other fantastic synchronization/backup tools in the category is Bvckup 2 that uses "delta" copy technique that is; it only relocates modifications to a single file or multiple files instead of copying the entire thing all over again. It comes with a neat interface where you can create a fresh backup profile under the "File" option and then configure the same.
You can then choose the source and the target folders along with the other specifications for the task. While you are carrying out all these actions, you will realize that the configuration happens only for one-way syncing actions with Bcvkup 2. The syncing method is comparatively faster, saves modem speed for network backup and can also assist the flash media to survive longer by decreasing the total number of disk writes.
That's not all, as this application can perform intermittent or manual backups in real-time, and also works as a medium that helps copy files that can pause and even restart network and local transfer processes. It also highlights the progress while the synchronization is in the process.
Download: http://www.portablefreeware.com/?id=2655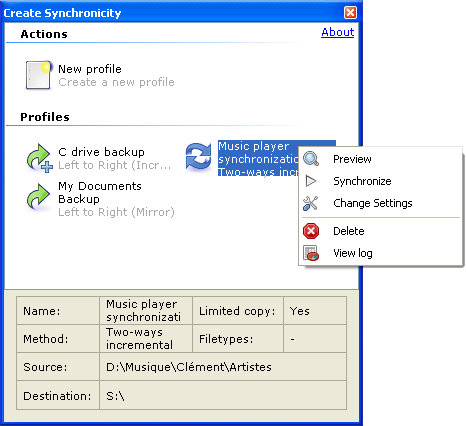 Create Synchronicity is an open source software which is easy to configure and is pretty basic compared to the others in the category. It does a decent job in syncing your files both one-way and two-way which is perfect for most of us who do not a lot to be done. It also comes with a few more additional features that can be configured during the composition of a fresh syncing task.
It also facilitates a preview that shows exactly what will take place next when you perform the syncing process. However, you will not be able to make any alterations to the syncing task at the last minute and will rather have to open the syncing configuration again to make the changes.
While the synchronization process is on, you will be able to view all that you want to know such as, the time elapsed, the progress of the task, process speed, number of files and folders added or removed, and the number of files and folders left.
Some of the key features of create Synchronicity are:
Handy graphical user interface based on profiles;
Helps synchronize and backup files and folders;
Runs integrity checks frequently;
Available in 15 languages;
Daily, weekly or monthly scheduling with automatic updates;
Offers DST correction;
Comes with a command-line interface;
Facilitates network file transfer;
Helps with additional or mirror backups;
Helps translate environmental variables automatically and much more.
Download: https://sourceforge.net/projects/synchronicity/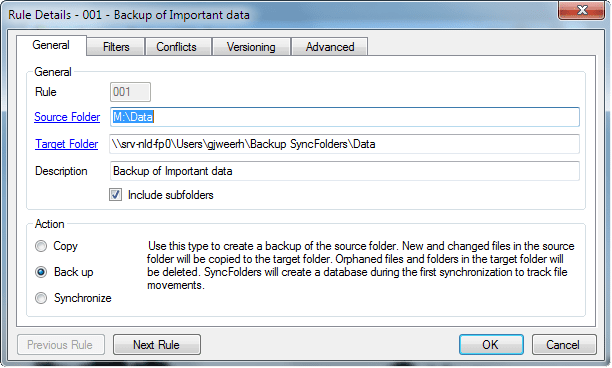 If you are looking for a freeware that can help you with effortless syncing of data of two folders (along with subfolders), SyncFolders is just what you need. Whether the separate disk drives, on the network, or on the portable storage devices connected to the USB ports (flash drives, USB storage device, external hard disks, etc.), they can be easily synced using this free tool. It helps you to copy new and restored files/folders in either one or both the locations without any hassles.
You can run this utility on Windows XP and higher versions and can be used for free for any requirement. What we love about SyncFolder is that it offers simple installer which is free of spyware and does not allow installation of unnecessary programs. It is perhaps the most painless program to setup among all the others due to its neat interface.
You simply need to click on the "New" button and you are guided to the configuration page where you can proceed to configure any syncing tasks. It's suggested to run a scan before you start the sync procedure. It displays the entire list of files and folders that you want to sync, the overall volume of the data and any errors that might have been detected.
While you can check the error details by clicking on them, you can also see the choices to reverse the default guidelines in operation by right-clicking on the files and folders. For example, you can restrict files from being replicated or synced.
Download: http://www.syncfolders.elementfx.com/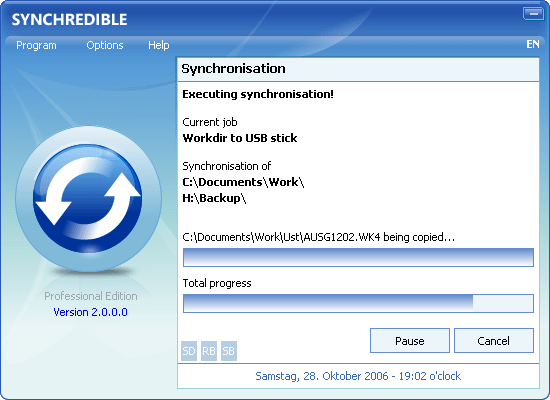 Nothing can be as simple as this where you are taken directly to the task interface that helps you to create your first synchronization task, and that's when you install the free tool named Synchredible. A single file or an entire drive, this utility helps you to sync, copy and save the files for you, and to achieve this it serves you with this user-friendly software wizard that helps you to assign tasks. These tasks are either scheduled from earlier or to be carried out via a USB device.
The best part is that this tool helps identify modifications automatically, and syncs the freshly edited files and folders locally and safely. It helps saves you a lot of time by letting you skip any unedited files (if needed), courtesy its avant-garde system for detecting identical files. The syncing operation is not only functional on your local computer, but you can also sync files using an external drive or via a USB device.
So, when you want to add your first synchronization task it is not at all difficult as the wizard explains all the steps clearly.
Choose the two folders you want to sync along with any subfolders that you may want to include;
Take a call whether you want to sync all files or only the fresh ones, and activate the one-way sync or two-way sync method;
Include more specifications such as removal of any unnecessary files, overlooking any discreet files or folders, or comparing file data;
Create filters to add or remove files or folders from the task;
Establish automatic operations, and lineup sync jobs or simply configure the tasks to carry out based on specific conditions;
Include operations that you want should run prior to or after the sync process;
Assign a name, add a system wide hotkey for the job, and activate the preview option.
It gives you the option to either run the sync tasks manually or only manually according to your preference. The group option is another cool feature that helps you add multiple tasks to a group to perform all tasks of that particular group in one operation. Check the preferences listed first before you proceed with your first syncing task.
Verifications are activated by default, but not the saving option. It allows you to email the reports, hide error messages during the task, modify the buffer size or deactivate the creation of the log file. While it displays the progress in the interface during the sync process, it also allows you to pause the operation.
Download: https://www.ascomp.de/en/products/show/product/synchredible