If you are someone who's still following the primitive process of file transfers or manual file backup each time, file and folder synchronization tools are just for you. Simply keep your duplicate sets of files and folders in more than two different locations or computers at the same time using these tools.
You can even choose to save the two identical files on separate disks, online storage or even on two different USB drives. For example, you can easily keep updated variants of the identical data on your home as well as an office computer. Moreover, whenever you create data files, modify them or even remove them from one location the file syncing tools help you keep track of these actions.
Not just that, these tools can also help you create the same files, modify them or even remove the files from other location at the same time. So, till you have the opportunity use your files and data directly from the loud, a compelling file and folder synchronization tool is your best option.
Must-haves for a good file and folder synchronization tool
If your main aim is to sync your data between devices in a local network, using a good file syncing tools would be a wise choice rather than a cloud syncing option. So, let's take a look at the must-haves for a good file and folder synchronization tool.
Ability to simulate any source folder even while the files engaged;
Ability to sync files both one-way and two-way;
Ability to encourage removals and identify renames with a log file of earlier actions;
Availability of dual modes of operation that is, manual and automatic;
Should be able to identify file variances in cases where the file altered in both the locations during the last sync process;
Compatibility with portable devices, hard drives (internal and external) and a whole lot of other devices;
Ability to filter files or folders by including/excluding them based on the guidelines specified by you;
No file limits or use limits specified for the syncing operation;
Ability to generate preview of the ongoing operations during the sync process;
Ability to support file synchronization for both local and network locations.
So, now that we know about the requirements for a good file syncing tool, let us find out some of the best free file and folder synchronization tools.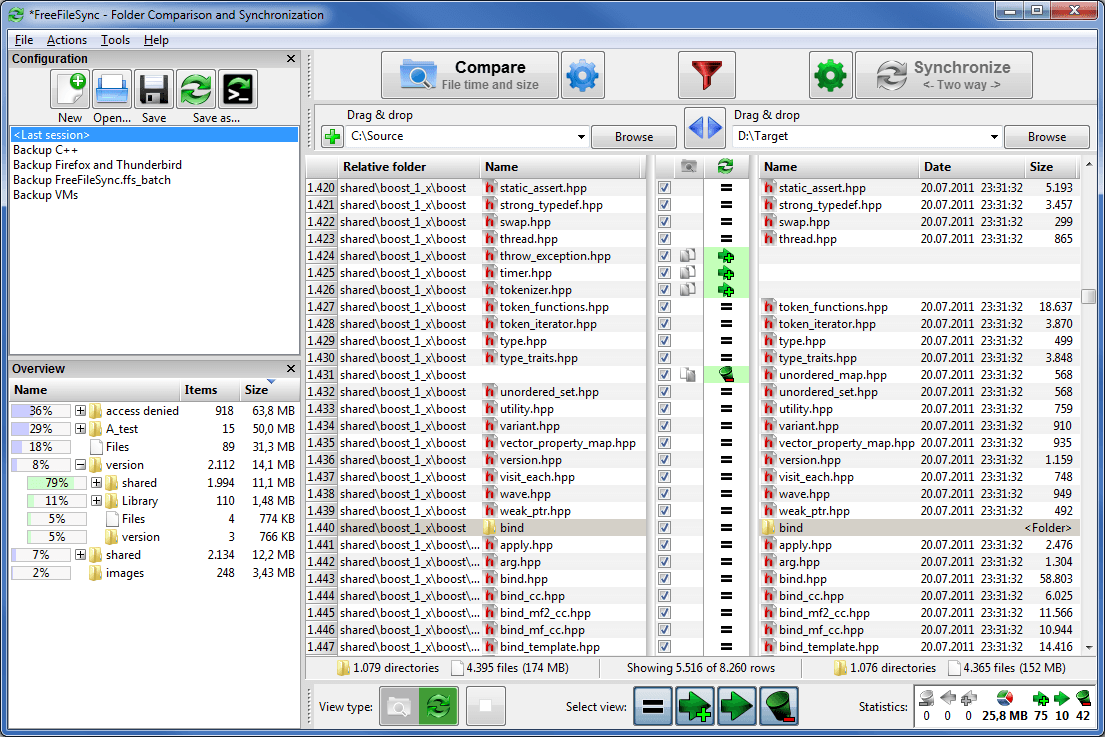 Enhanced for maximum performance, FreeFileSync is an open source tool that assists you to sync files and folders for different operating systems like, Windows, Mac OS X and Linux. It comes with a simplified interface and offers an optimized usability. Using this tool you can compare data by date, size or content. You simply need to drag and drop the folders you want to synchronize and you are done.
Shift the selected data files manually between the locations or sync them automatically, you can do a lot with FreeFileSync easily. While you can also create your own guidelines for synchronization, you can also use the various filters to manage overwritten files. It makes sure that you do not lose any critical data while syncing.
Some of its highlights are:
Comes in 32 bits and 64 bits build;
Offers support for larger files (over 4GB);
Identifies shifted and renamed data files;
Available in removable versions;
Facilitates replication of restricted files with the help of Windows Volume Shadow Copy Service;
Available in many local languages;
Helps shift files to Recycle Bin instead of overwriting or removing;
Option to choose automatic online update;
Inherent support for extended file names.
Download: http://www.freefilesync.org/download.php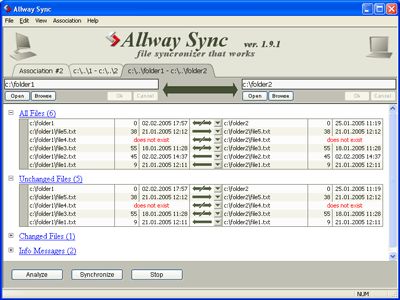 Allway Sync lives up to its name with an all-around file and folders syncing performance. This tool comes ad-free and supports almost all file systems. It not only offers an interface that's easy to operate but is also available in over 30 languages. The syncing process becomes even smoother with its application of the cutting-edge formula.
A free for personal use application, Allway Sync tracks all the changes and removals in a database. However, this tool has its own restrictions. Some of its features are:
Comes with a handy graphical user interface;
Syncs data files between laptops and desktops over the network;
Facility to adjust customization and composition;
Helps sync more than two folders at a time;
Offers support for any file size;
Compatible with a wide range of file systems like Netware, UDF, FAT, X-Drive, NTFS, etc.
Download: http://download.cnet.com/Allway-Sync-64-Bit/3000-18511_4-75205824.html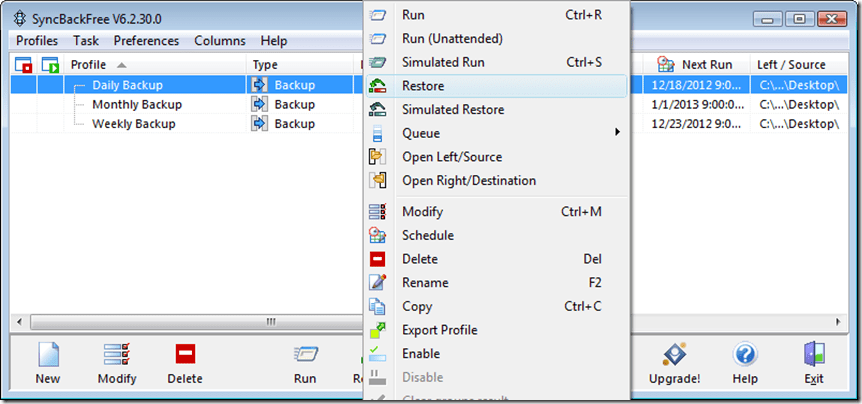 SyncBackFree is one of the best applications for Windows operating system that helps users backup files and even sync easily and at no cost. You can sync and backup files either at the same location, different locations like on compact flash, CDRW, etc., in a Zip file, FTP server or on a Network.
Wait! There's more, as it also offers you a handy retrieving tool (copies folder trees including files) that helps you find your lost files easily. The best part is that SyncBackFree is available at no cost and is free not just for personal use, but also for commercial, educational, government or charity use. Neither do you need to register nor pay anything for the download.
Some of its additional features are:
Facility to schedule backups;
Syncs and backups data in both locations;
It can even read file names that are not in English;
Supports email logs;
Vast documentation provided for Help;
Available in both modes, simple and advanced;
Helps you administer programs prior to or after profiles;
Helps recover backup files conveniently.
Download: http://download.cnet.com/SyncBackFree/3000-2242_4-10413802.html