In Windows 10, there are many tweaks that you can perform in your taskbar. If you feel that your taskbar is too crowded with applications or wish to make a customization, I am sure this post will be of great help.
#1 – Hide System Icons in the System Tray
The system tray consists of icons such as volume control, battery status, network status etc. If you wish to remove or change the icons that appear in the system tray, follow the steps below.
1 – Press Windows key + I together to open Settings.
2 – Click on Personalization.
3 – Further, click on Taskbar.
4 – Now, Click on select which icons appear on Taskbar.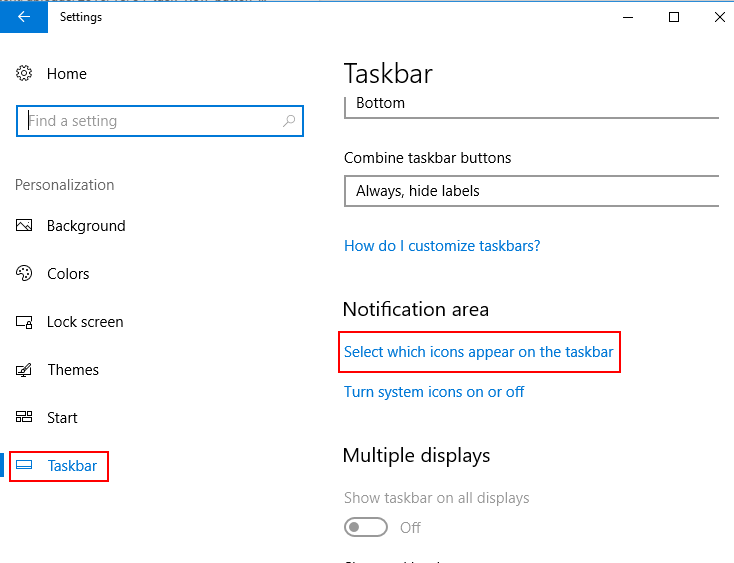 4 – Toggle the options on or off to choose or remove the icons.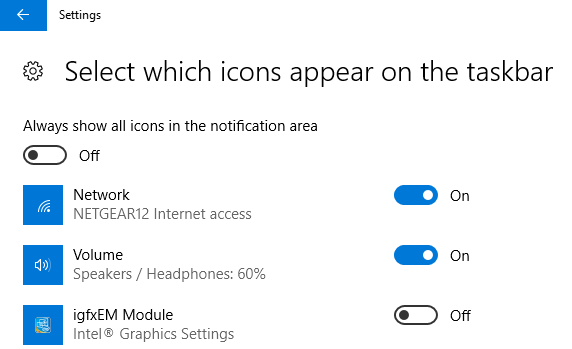 #2 – Change the Color of Taskbar
You can alter the color of your taskbar and set it to your favorite one!
1 – Open Settings from the Start menu or by pressing Win + I.
2 – Click on Personalisation.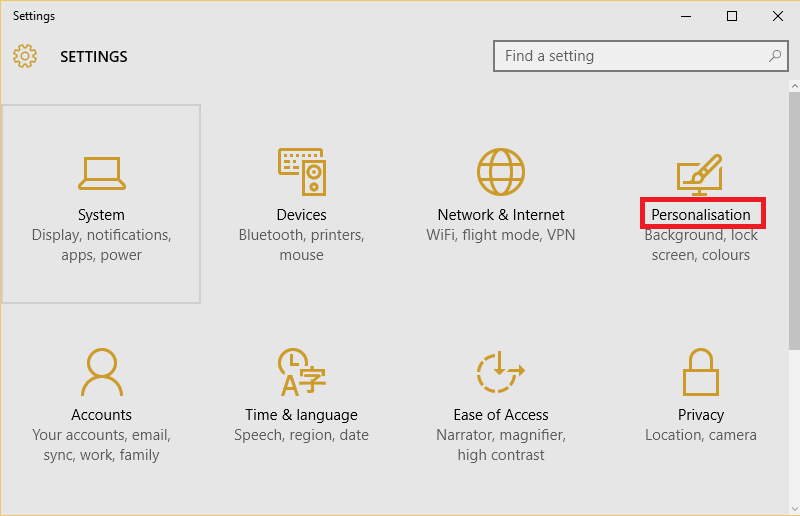 3 – Click on Colors. Scroll down and check the option saying "Show accent color on the following surfaces "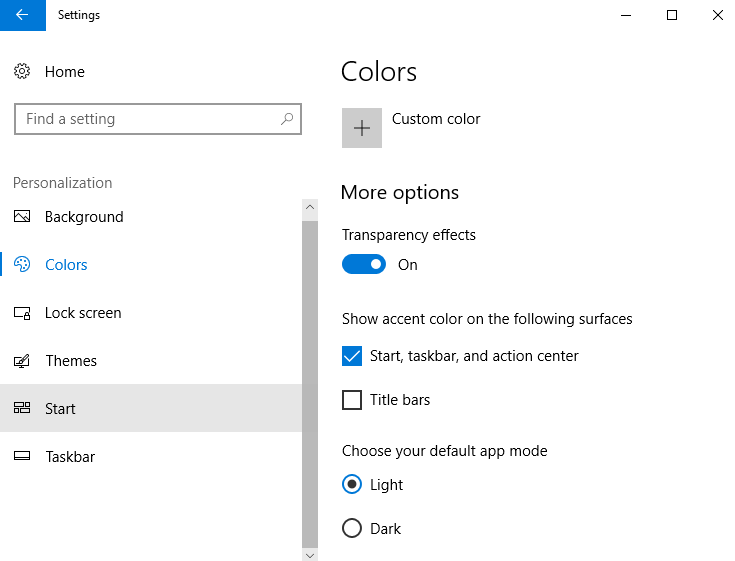 #3 – Remove Task View Icon


For the task view function, you have Alt + Tab keyboard shortcut. So to get some extra space, you can remove the Task View icon from taskbar.
1 – Right click on the empty space in taskbar.
2 -Click on the Show Task View button option and unmark it.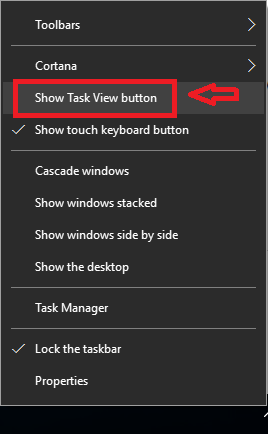 For devices such as tablet or note which have touch keyboard, it wouldn't be wise to remove this icon.
#4 – Show Cortana as an Icon
We all have the Cortana bar which takes up most of the space in your taskbar. Unlike other apps that you have pinned in your taskbar, Cortana requires more space. Now if you have too many programs or applications in your taskbar and feel that your taskbar is crowded, you can make Cortana appear as an icon. This would release a lot of space from the taskbar which is exactly what you want! Here's how:
Right click on the empty space in taskbar. Hover your mouse around Cortana.
Click on Show Cortana Icon.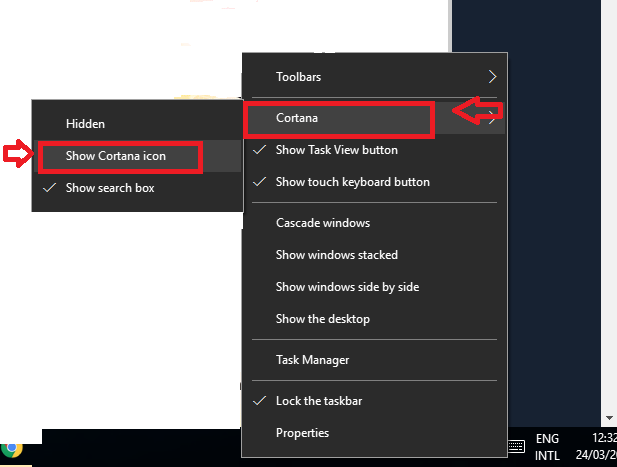 As you can see in the image below, Cortana will now appear as an icon.


Now if you wish to remove Cortana altogether, you can choose the Hidden option. Cortana can still be accessed using the following keyboard shortcuts.
Win + S – To open Cortana in keyboard input mode
Win + C – To open Cortana in listening mode
#5 – Move taskbar to left or right
1 – Right click on any empty space of taskbar and click Taskbar Settings.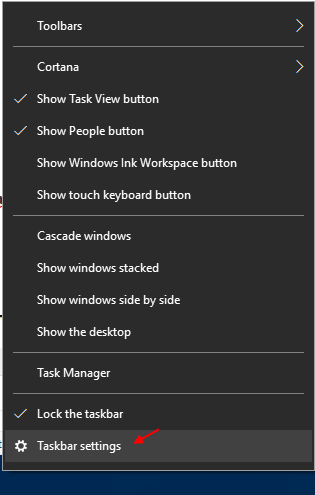 2 – Now, you can choose Taskbar location on screen and change it to left, Right, Bottom or top as your wish and preference. Just Choose any option from Taskbar location on the screen.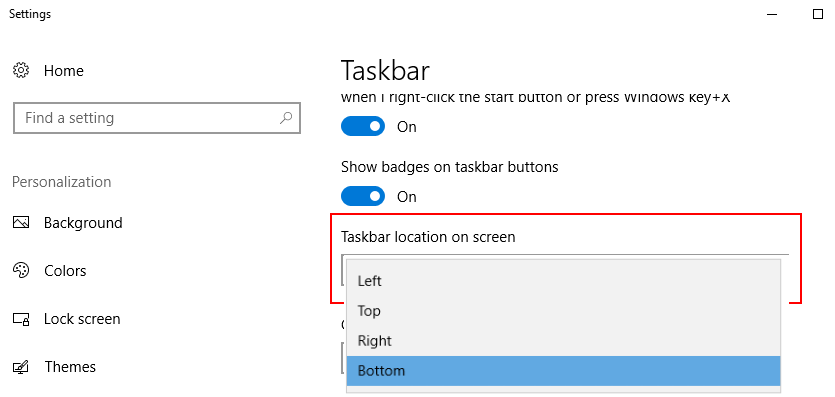 #6 – Auto-Hide the Taskbar
When you open a document and you want that document to take up the entire space of the screen, you can hide the taskbar and make it appear only when the mouse is hovered near it. This way, you will get more space if you are using a device with a small screen size.
1 – Right click on any empty space of taskbar and click Taskbar Settings.
2 – Toggle Auto-hide taskbar option On to automatically hide the Tasbar while in Desktop mode.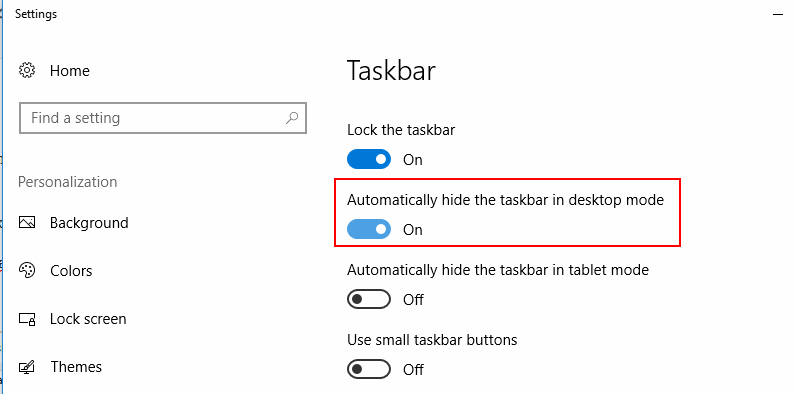 Another option that you can try is Use small taskbar buttons. This would make your taskbar appear sleek and compact when you have many apps taking up all the space.


So, These are ways with which you can easily customize the Taskbar in Windows 10 according to your needs.