There may be many concerns in your mind on how to track the activities of your loved and dear ones in case of worries, anxiety, suspicions or doubts. Are the employees being a nuisance by trading off your business secrets? You may also be stressed on how to restrict your kid's browsing pattern or social media usage. Also, at this point you may be having your doubts regarding your spouse behavior or cheating issues. Just sit back and relax as you go through this article on Best Spy Apps for Android.
Read: interesting Android apps
Today, the technology is so offbeat that there are solutions for almost every problem of yours. The Android platform provides many applications which may come to your rescue for the above mentioned issues. The spy monitoring software provides many in-built functions to monitor the activities of your children or spouse.
Read: Best secret whatsapp tricks you should know right now
There are some android applications which provide you the flexibility to track down each single activity of the target device like instant messaging, SMS, media files, call history or just their GPS location. These services can be availed with a minimum subscription fee, and then you are good to go. Android devices come with the option of Jailbreaking or Rooting to have a complete access over the target's device.
Best Spy Apps for Android
Below mentioned are some of the best applications which you may find handy: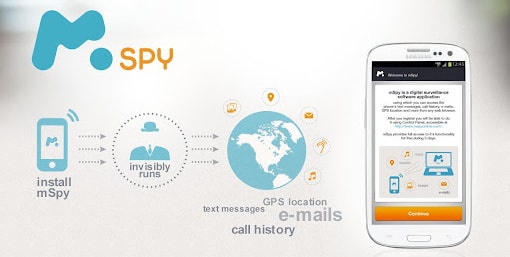 mSpy is one the best spy applications with exceptional features. This application is the first choice of parents, spouses or even employers to spy on their respective targets. mSpy has a customer-centric and user friendly approach, with services extendable to Android, iOS and Windows platform.
mSpy helps you to retrieve call log history with minute details like recipients name, duration of the call along with data regarding time and date. mSpy tracker also permits you to access private messenger chats from Viber, Facebook, Snapchat and Whatsapp. It also helps you to view the personal text messages, passwords or even mails of the targeted Android phone, using Advanced Keylogger feature.
mSpy tracker also provides you with a fancy name option called Geo-fencing. This feature will allow you to mark "Allowed" and "Forbidden" areas, and generate alerts if such areas are accessed over other Android phone.
This app also provides features to restrict the use of particular websites like gambling or even social networking, and helps to track down the browsing history of the person you want to spy on. mSpy provides you with an option for GPS tracking, where you can track down current and previous routes travelled.
mSpy offer you with a wonderful feature of "audio spy". You can listen to conversations secretly with the help of this app. All you have to do is to set a secret pin for the application and turn your phone to silent mode, and then hide your phone at such a place which is untraceable. For the next step, you will have to send an SMS to your cell phone. The app will call you back immediately and you are good to go.
mSpy also helps you to avail Premium support services like Rooting and Jailbreaking operations with which you can have unrestricted access to any Android phone.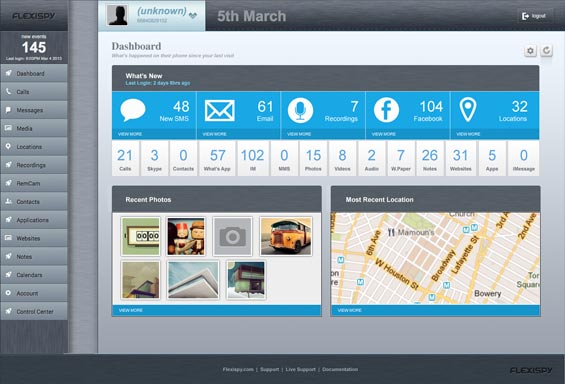 Do you notice change in your spouse's behavior or have doubts concerning your children? Then FlexiSpy is the application you are looking for. FlexiSpy is a high-end spy software solution. It will help you with a complete access to the information you need on Android, Symbian or iOS devices and take actions accordingly. But go for this application only if you are an expert with complex applications, and ready to shell out enough money.
FlexiSpy has been ruling the spy software business since 2005 by providing high-end features to track down the person you want to. This app provides you with all the data that is present on the device you are tracking, ranging from text messages, photos, videos and audios to Facebook, BBM, WhatsApp, Snapchat's history and current log.
FlexiSpy also provides with the options to track down GPS locations and browsing history of the target person. The activity log is stored on FlexiSpy servers, which can be accessed from the control panel of your mobile device. The only catch is that you cannot block any websites or application from being used, but FlexiSpy's user friendliness and compatibility will make you neglect that aspect.
This application's service can be availed in two versions, FlexiSpy Extreme and FlexiSpy Premium. As the name suggests, the Extreme version is more far-fetched with high-end features to cater your needs as compared to the Premium version.
What should you expect with the Extreme version?
Instant retrieval to GPS data

Hidden access to camera of the target's device and take pictures remotely.

Know phone or social media account passwords as target types.

Allows making changes on the target device which is an uncommon feature.

Permits listening to a live call on the targets phone.

SMS remote commands to other devices.

Restart the targets device.
If you want to use Jailbreaking feature of FlexiSpy, try using it on iOS platforms, as the app may sometimes crash on Android devices. As the FlexiSpy application comes with super rich features, its cost is also high as compared to other apps. You will have to pay around $149 to use a Premium version, and $349 or 23200 INR to avail the service of Extreme version. You will have to opt for 'Rooting' option to access all the advanced features on Android devices.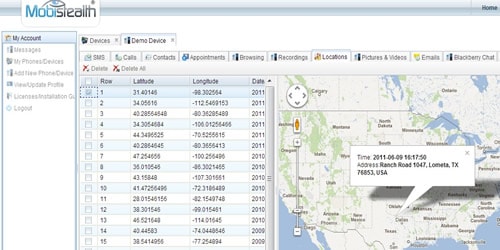 MobiStealth is a very excellent application for Parents to monitor over the activities of their children round the clock. This application helps you to restrict your beloved children from  and social media websites, and also to keep them away from cyber-crime related activities.
The application has the most user-friendly interface, affordable price range in the market and is compatible with Android, iOS, Symbian and Blackberry platforms. MobiStealth comes in three different types of versions called, MobiStealth Basic, MobiStealthLite and MobiStealthPro with MobiStealth Pro X.
What can you expect after buying this spy software application?
Track the websites visited frequently.

Access to all the videos and pictures of target's device remotely.

Track the location of the device even if the GPS is turned off,

Monitor message history of the target device.

Sim change notification

Track IM chats on the target device.

Take screenshots of the target's device screen

Monitor videos being watched and also track video calls.
To install this application on target's device, you will need around 10-15 minutes. The next step would be to set up an account and you can get working. The drawback of this spy application is that it requires good Wi-Fi or internet connectivity, so as to track target's activities and actions. It also cannot track emails on the target's device and cannot even block certain websites.
MobiStealth also allows you to block or interrupt calls on real time basis for target's devices, if you think such calls pose a threat to you loved ones. If device is lost under any circumstances, this app provides you with a unique feature of completely wiping off the data on target device remotely.
The service can be availed at a low price of $19.99 for two weeks, which is very reasonable compared to other spy softwares.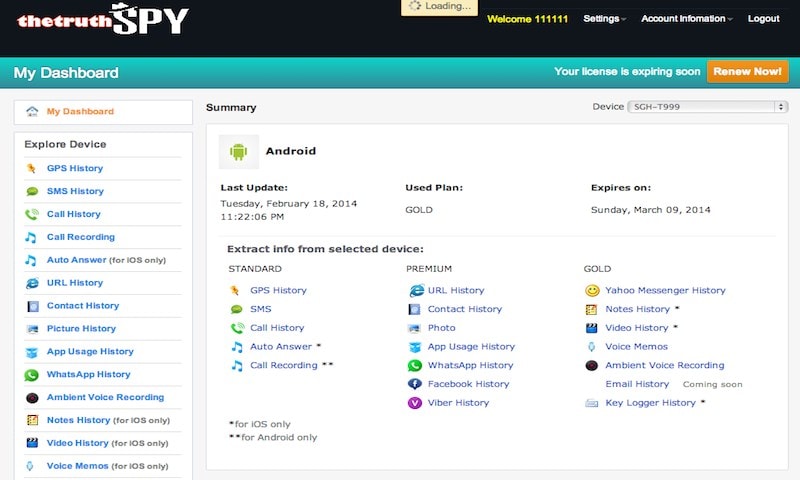 TheTruthSpy is one of the most affordable spy software solutions with features available in different packages for android versions 2.2 to 5.0 and above. This application works in a stealth mode. You can possess remote access to the target's device, and usually remain undetected.
All the basic features like message tracking, location finder, access to multimedia files like photos and videos are included in this application. TheTruthSpy also monitors browsing history and social network loggings.
This application allows you to record audios and videos on target's device with flexibility to block them remotely with the help of control panel or SMS commands. Similar to other few apps, TheTruthSpy also consist of feature like keylogger, where you can track the passwords and related information from the target's Android device. It also provides notifications when restricted website or data has been accessed on the other device, along with the sim card change alerts.
TheTruthSpy also allows you to track location of target Android device via GPS tracker on a real time basis.
TheTruthSpy comes with three different packages called Standard, Premium and Gold. TheTruthSpy Standard version is for $16.99 covering all the features except call recording, monitoring contacts, tracking messenger chats with no access to photos and videos on target's Android device. TheTruthSpy Premium version can be obtained for $19.99 with almost all features except video and call recording. TheTruthSpy Gold version's services can be availed for $23.99 with all the advanced features of the spy software application. It also comes with a 48 hours free trial feature.
This application faces drawback in the support area where your issues and problems in connection with the software would not be answered quickly as compared to other applications.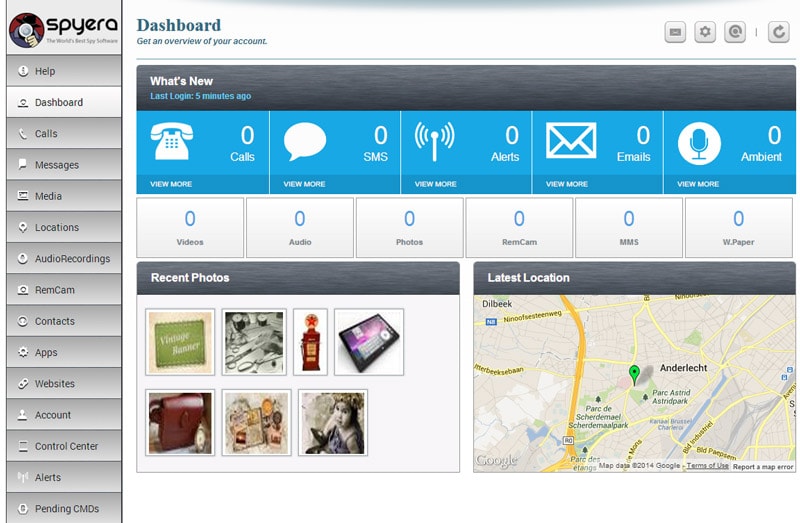 If you are in need of a spy software solution, which will cater to your personal needs, then Spyera application is the solution for you. Spyera ranks among the top few excellent software solutions in the Android market for monitoring and tracking activities.
Spyera is highly compatible with all the Android devices even if it is not rooted. It may sometime face issues with Android version 5.0 and above, due to excess battery usage. The installation just takes 2-3 minutes of your time.
It provides the user with great interface to carry out their spying activities. Each and every activity like listening to target's conversations remotely, accessing media files and interrupting calls can be carried out with ease by using this application, and it automatically stores information on your web account.
Spyera allows monitoring the target's activities like instant messaging, calls, browsing patterns and emails at the very instant. You can track down the GPS location of target on a real time basis. This app also alerts you when a sim card has been changed on the targeted Android device.
Spyera comes with a Password Cracker feature which helps you to fetch email, applications and Android phones passwords. This feature notifies whenever a password is changed or notified on an Android device by accessing local cache or a temporary memory.
 Spyera is completely undetectable from home screen, task manager and launcher. You can also remotely update the server, uninstall application or even move the app to different platform.
Ear Spy -Audio spying tool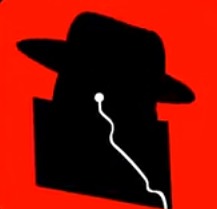 Ear Spy is one of the best spy applications, exclusively for spying on conversations, which help you to monitor the conversations around you. This application can be called as the best high-powered Eavesdropping tool. Your Android device microphone comes handy when using this application, as it amplifies the sound around for you to easily listen to conversations even at distant locations like room other than yours.
Ear Spy comes with a graphic audio equalizer to aid the process of simplifying audio signals. The only necessity to utilize this app is headsets, without which you will fail to listen to conversations properly.
Ear Spy Pro versions comes with super benefits like Echo cancellations, noise suppressions, MP3 recording and virtualizer. This application is absolutely free of cost and comes with no hidden charges. It is useful to people who just want to eavesdrop or try getting more information from a secret conversation. You can also spy on people by using a Bluetooth headset with the Ear Spy application. All you need to do is turn on your Bluetooth device and leave your phone at a place where you want to spy, and this device will do wonders.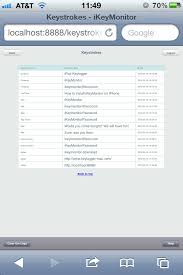 iKeyMonitor is a reliable and secure application when it comes to monitor your business, children and employees, and track down their activities through compatible Android devices with versions 2.0 to 6.0.
iKeyMonitor allows you to block certain social media websites like Facebook and Snapchat to prevent the children or the target from using it. It also helps you to track down browsing history over the internet, instant messaging chats and whereabouts of the target device.
This application will help you to directly retrieve the confidential information like SMS, passwords, call history, GPS locations and even screenshots of the data required over your remote web account. If your device is lost, then you can access the thief's information with his picture in no time.
This app comes with a 3-day free trail that enables you to try out different features of the application, without having the need to actually shell out a single rupee. The Full version of the application is priced for $39.95.
The iKeyMonitor app can only be installed with physical access to the device on which you want to spy. Also, for WhatsApp and screenshot logging, you will need to root the device.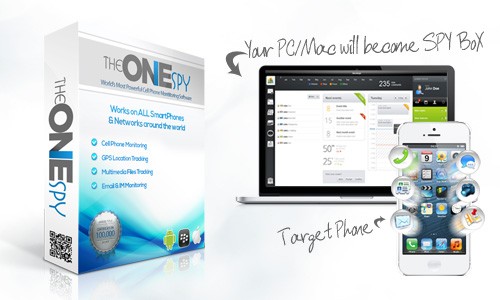 TheOneSpy is one of the most affordable spy application solutions that also happen to cover almost all the features for the monitoring purpose for your children, spouse or even employees. Once the application is installed on their Android devices, you will receive each activity log from their device to you TheOneSpy control panel.
While the application runs on the target device, it remains totally undetectable and continues the spying activity without any glitch.
This application lets you access the GPS location of the target Android device, and the representation of the information is done on the Google Maps for exact and accurate results. TheOneSpy also helps to accumulate all the information regarding the currently used app on the target device with the access timings.
TheOneSpy lets you view the pictures and videos remotely on other Android devices on a separate TheOneSpy web account, without even a slightest chance of detection. The most unique feature of the application which actually distinguishes it from its competitors is its flexibility to monitor and track multiple devices at a time.
It also helps you to track target's calendar with appointments and scheduled meetings. It can also track their browsing history with social network accounts.
TheOneSpy ranges from $55  for three months to $140  for 12 months on the Android devices with the facility of two packages of TheOneSpy Lite and TheOneSpy Extreme. It allows you to try out a demo version of the cell monitoring software before actually purchasing it. This application is compatible with Android versions from 1.5 to the latest 6.0.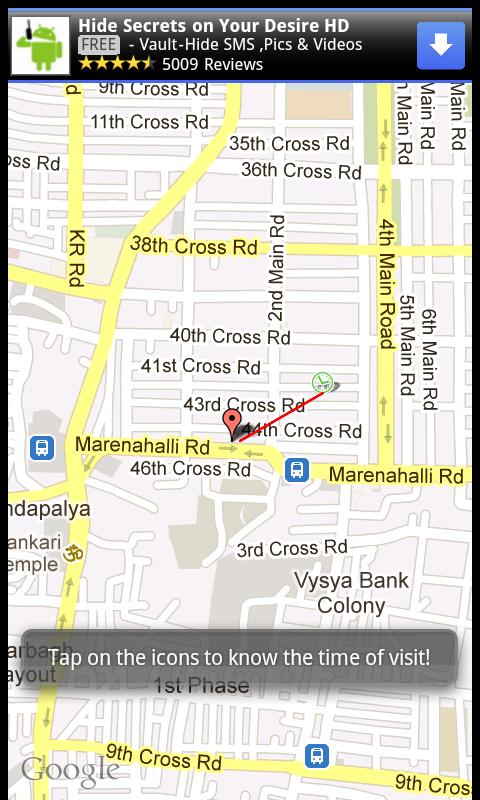 Do you want to know the whereabouts of your friends, children or spouse? Cell Tracker is definitely the app you might be looking for. It is not a typical spy app but helps you monitor GPS locations of the target Android device.
It allows you to track down the places and the overall activities for the day of the target device. The application provides a very user friendly interface for the users. You get the information on an hourly or daily basis. All you need to do is install the app, and check the box in the control panel for timely collection of information location.
Cell Tracker automatically collects the information about the whereabouts of the target device holder through Wi-Fi or GPRS service every half an hour. It is compatible with all the Android versions and comes free of cost.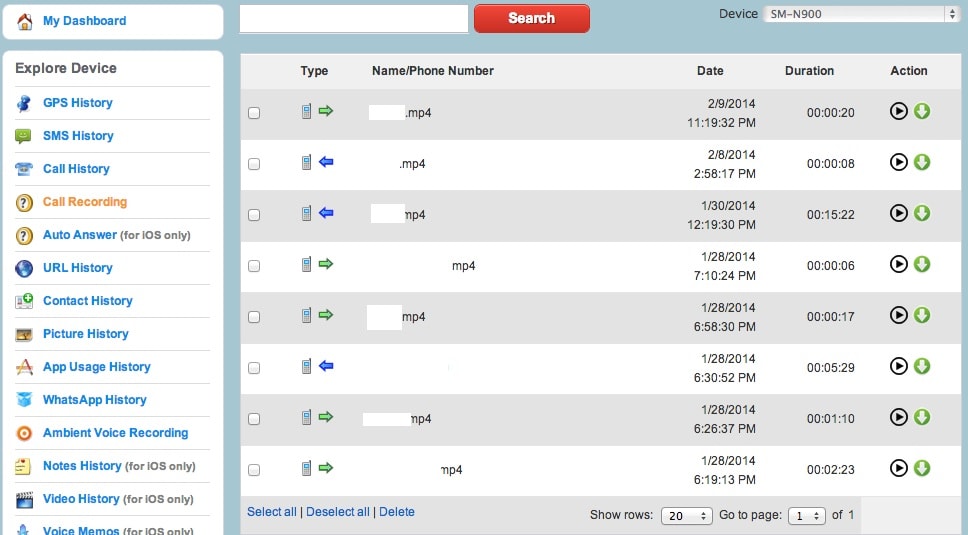 iSpyoo is a popular spy software solution in the Android market. It is compatible with top Android cell phones and caters to your needs with ease. iSpyoo helps to track down all the hidden information over the target device.
It also covers the basic features of tracking messages, social media website contents, call history and also the browsing history over the target device. iSpyoo provides unrestricted access to the Android device to fetch all the media files like images, videos and audios.
At any point of time, if your cell phone is stolen, you can just download the data to a remote location and erase it from the original device.This application comes in three service packages like Standard package for $16.99 You can also try out the application free for 48 hour time period, before opting to buy it.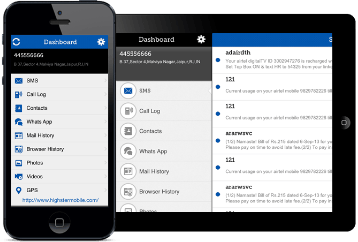 Highster Mobile is the most advanced spy software, low cost and a very convenient application with high recommendation for parents and employers. It is up and running since 2009. Except for recording and call intercept options, Highster comes with almost every feature to spy your children or employees.
The feature which differentiates it from other apps is OTA (Over the air) link. This helps the application to be downloaded on the target's device without having the need to possess it. It just takes two minutes to install, and after that, it works anonymously without even a single popup on any devices. And you will be surprised to know that it exceptionally undetectable.
The application allows you to spy on current text messages and messenger chats, and also provides full access to deleted messages. Highster Mobile allows you to view emails and private browsing history of the targeted Android devices. This application displays the GPS location spy results on Google maps, so that you get to know detailed information of target's location.
Highster Mobile alerts you when any particular highlighted term or website has been searched or visited on the target's device. This application allows you to even block particular applications so that they cannot be installed on the designated Android device. The Stealth Camera option allows you to take pictures from other devices and the snaps taken from target's device are automatically sent to your account.
Highster Mobile Pro Edition is one of the most affordable spy software application packed with almost all the features you desire. You can avail the service after paying a one-time fee of $69. The users will get lifetime updates for the application, once they buy it with no monthly charges.
Passionate writer. It's a 'writing on the wall' that my writing skills will take me to places.